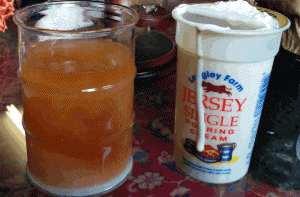 Cold brewed coffee is a revelation of complex, bittersweet, intense flavor. Cold-brewed chocolate? Even better. (Holy. Crap.)
Read the rest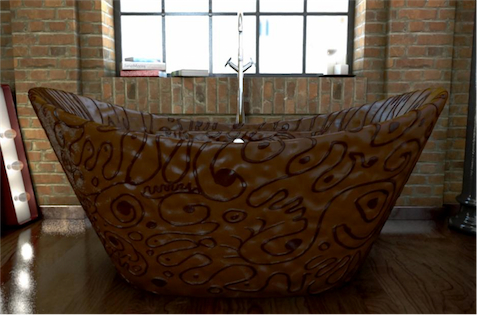 The chocolate bathtub, bidet, toilet, and sink in this $133,000 fixture collection will last for six months at room temperature or until eaten. At least they hide the dirt.

Read the rest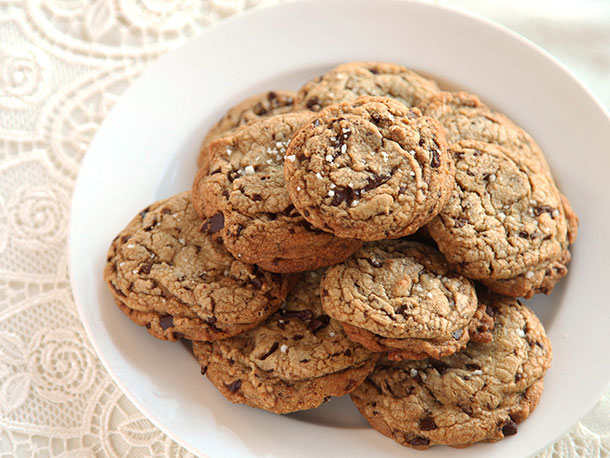 J. Kenji Lopez-Alt, chief creative officer for Serious Eats, delved very, very deep into the science of making the perfect chocolate chip cookie. He's got a very specific definition of "perfect" ("...Barely crisp around the edges with a buttery, toffee-like crunch that transitions into a chewy, moist center that bends like caramel, rich with butter and big pockets of melted chocolate... with crackly, craggy tops and the complex aroma of butterscotch...that elusive perfect balance between sweet and salty").
But the food science in his piece is deep and fascinating, and provides a kind of road-map for any definition of cookie-perfection. If you've ever wondered about the chemistry of eggs, sugars, flours, rising agents and butter, and how they interact with mixing, cooking, "resting" and cooling, this is pretty much the ultimate, definitive guide thereto. I also defy you to read this without developing a craving for chocolate chip cookies.

Read the rest
Boing Boing reader Stefan Jones shares a photo of the "Boing Boing Wake Up Cake" recipe from "internet chef" Tyler Capps.
"There's no better way to start the work week than a chocolate/coffee cheesecake with chocolate covered coffee beans on top," Stefan says. "I followed the 'Wakeup Cake' recipe from Boing Boing to make six of them for my co-workers."
Woohoo! We aren't kidding about the Boing Boing part.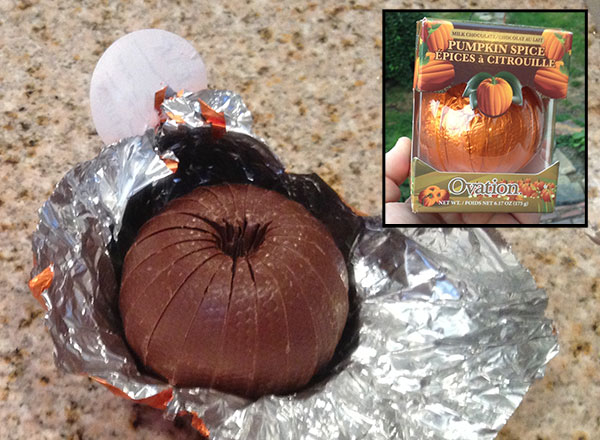 Terry's Chocolate Orange
is among Britain's finest confectionaries. The very concept of a
life-size chocolate orange
is so compelling that I didn't think twice about trying out a generic copy spotted at a local craft store.
In the matter of Ovation's Milk Chocolate Pumpkin Spice Break-A-Part chocolate orange, however, I was gravely mistaken. It looked, smelled, and tasted just like the scented candles shelved unsettlingly nearby.
Four unicode turds out of five.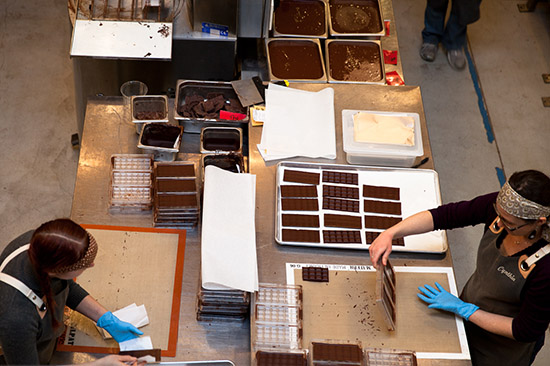 Elaine Wherry took a break from working in San Francisco high-tech startups to work at Dandelion Chocolate, the chocolate maker/cafe that her husband co-founded. She calls her tenure at the chocolate factory her life as "an oompa loompa," and in a fascinating post, she writes about the differences and similarities between working in data-driven startups and in physical, retail-based hard-goods business. It's a wonderful study in contrasts.

For loops are a veritable miracle — At the chocolate factory, something breaks every single flippin' day. Each morning I gave my evil eye to the roasters, melangers, temperers, wrapping machine, dishwasher, or anything with a screw, fuse, gear, glue, belt, or oil level and asked, "Okay, which one of you little buggers is going today?"

In comparison, code brings tears to my eyes. If that for loop worked yesterday, then barring catastrophic hardware failures or someone checking in code they shouldn't, it'll likely work today. That type of, "if you don't touch it, it'll keep working" certainty seems divine. I've always loved the Web but I have renewed appreciation for redundancy, unit testing, and monitoring now.
A mechanical engineer (awesomely) named Anjan Contractor has won a NASA grant to prototype a 3D printer for food -- specifically pizza. It will lay down layers of food and flavor powder and melt them together; the powders are room-temperature stable for long periods and can be made from relatively abundant, sustainable foodstocks like insects and soylent green. He prototyped the concept with the 3D chocolate printer in the video above, and he holds out hope that food-printing could solve world hunger by allowing billions to feast on low-wastage, low-energy-input, low-carbon-footprint foods that are printed to order.
Contractor's printer is RepRap based, and is open source hardware; he promises to keep the plans open and free.
I suspect that there's a lot of nutritional subtleties lost when you turn food into processed elements that are recombined (in the same way that beta-carotene in carrots is reliably shown to have health benefits, while beta-carotene supplements are far more questionable). But as a form of food processing, it certainly is exciting!
Pizza is an obvious candidate for 3D printing because it can be printed in distinct layers, so it only requires the print head to extrude one substance at a time. Contractor's "pizza printer" is still at the conceptual stage, and he will begin building it within two weeks. It works by first "printing" a layer of dough, which is baked at the same time it's printed, by a heated plate at the bottom of the printer. Then it lays down a tomato base, "which is also stored in a powdered form, and then mixed with water and oil," says Contractor.

Finally, the pizza is topped with the delicious-sounding "protein layer," which could come from any source, including animals, milk or plants.
The audacious plan to end hunger with 3-D printed food (Thanks to everyone who sent this in!)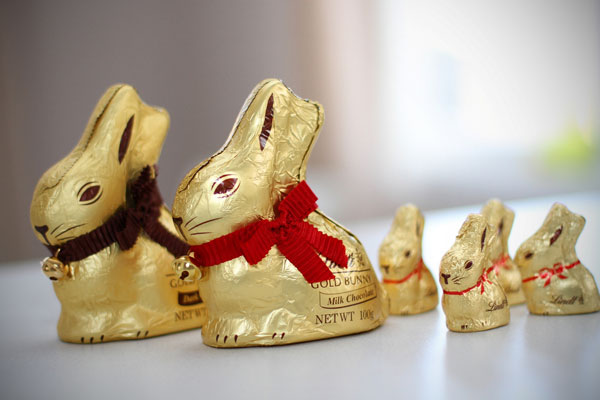 "Lindt Bunny Family," a photo shared in the Boing Boing Flickr pool by Paul J. "Leave them alone, and they multiply."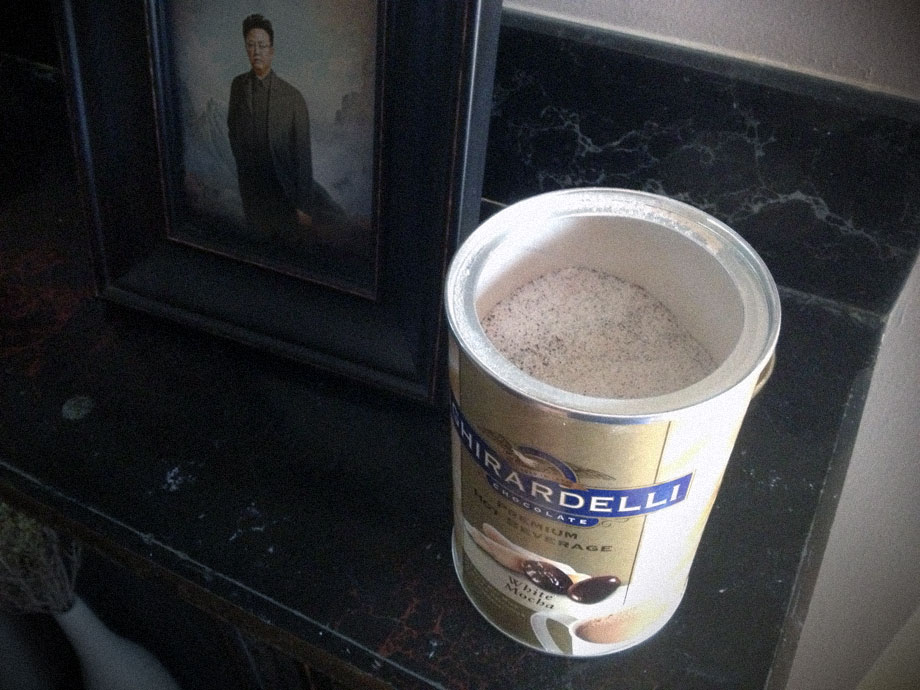 ★☆☆☆☆
Fond as I am of white chocolate, mochas and Ghirardelli's Double Chocolate Premium Beverage Mix, their White Mocha Premium Beverage Mix sounded promising.
Drinking this stuff was a profoundly bad idea. Not bad in the way that drinking methanol is, but bad enough. The flavors, cloying and ersatz, offer only a vague impression of the concept. One wonders at the chemistry of what just happened in one's mouth. Somewhere in its undisclosed inventory of natural and artificial flavors is "white mocha"; one may as well throw Sunday evening's last forlorn Walmart Celebrations Center cake into a blender with some coffee.
Ghirardelli Chocolate Premium Hot Beverage Mix, White Mocha [Amazon]
French DJ/producer Breakbot recently released a limited version of his album "By Your Side" pressed in chocolate. Yes, you can play it. Amazingly, sugar-and-chocolate records have been produced since at least 1905!
Have you ever wondered what castrated testicles would look like, if they were lovingly rendered in chocolate?
Wonder no more
.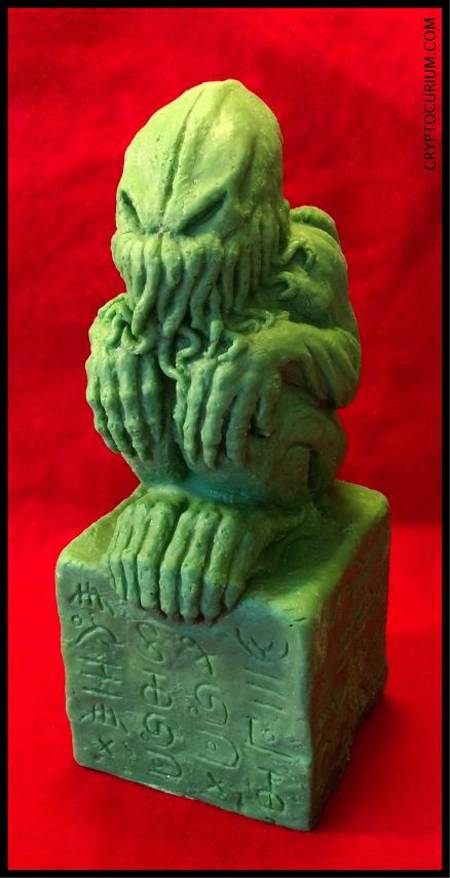 Jason sez, "A follow up to last years insanely popular Chocolate Cthulhu Idol comes the Giant Chocolate Cthulhu Idol. Standing 7.5 inches tall and weighing a sanity shattering 2 lbs, this solid green chocolate treat is a must have for the devoted cultist." (Thanks, Jason!)
Americans rejoice! Chocolatier Paul A Young's chocopornoholic recipe book Adventures with Chocolate is out in the USA, in mouth watering goodness. I reviewed the book in 2009 when it was released in 2009, and for those who've missed it, I've included it below. Paul was good enough to supply some images from the book for an accompanying gallery as well. This is my favorite chocolate in the world, and the recipe book is pretty much edibly good.
Adventures with Chocolate: 80 sensational recipe is chocolate genius Paul A. Young's first foray into cook-books, and, like his wonderful shops in London, it's playful, inspiring, delicious and surprising.

Young's gifted touch with truffles, brownies and drinking chocolate have made his Islington store a fixture in our orbit around London. My wife's pregnancy was eased with his sea-salt caramels; we celebrated the birth with kalamansi truffles. The baby practically melted when she first tried a crumb of his cherry brownie. I am visited by Paul's chocolate in my dreams. I have been conditioned to start salivating when I reach the end of Camden Passage, and by the time I reach the shop, I need a bib to catch the dribble.

And here are all of Paul's secrets, laid bare in a superbly designed and printed book whose pornographically chocolated pages make you want to surreptitiously taste them (I tasted them. Tasted like clay-coated heavy paper stock). Paul's recipes are easy to follow and are equal parts inspirational (he makes it clear enough that even ham-fisted me believes that I can make them) and aspirational (in reality, it's a lot more likely that I'll just pop in on the Camden Passage shop and buy another box). And his essay on how he became a chocolatier, as well as his essays on buying and preparing chocolate, are sensational.

And truth be told, there are some recipes here I'd like to try for a special occasion: the savory chocolate recipes, if only because Paul doesn't actually sell these in the shop and I want to find out what a honey-cured bacon, Stilton and chocolate sandwich tastes like, or sip some cocoa-bean infused vodka, or try a salted black-olive bar with 600g of Ghanian tempered 68% dark chocolate.
Adventures with Chocolate: 80 Sensational Recipes

Read the rest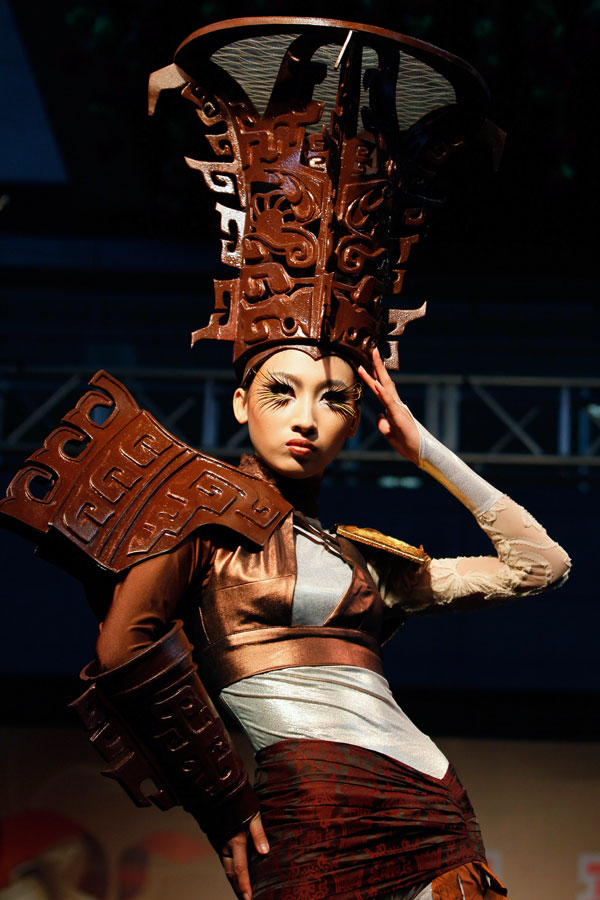 Photo: Aly Song, with Reuters