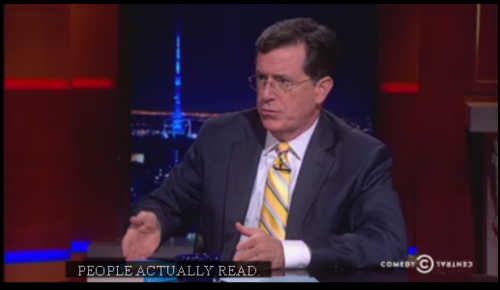 Stephen Colbert nails it: "A young adult novel is a regular novel that people actually read." (via Super Punch)

Read the rest
Ever since RSA got caught
sabotaging its own products to aid the NSA
for a piddling $10M, it's been corporation-non-grata in the security world.
Prominent experts
are bailing on the RSA conference where they'd been scheduled to speak. Now, a
Fight for the Future petition
is asking Stephen Colbert to walk away from
his guest speaker slot
. I hope he does -- Colbert's reputation is worth more than the fee he commands from RSA.
— Cory
•
77
Here's the brand new video for The Postal Service's "A Tattered Line of String," one of the fresh bonus tracks on the deluxe 10th anniversary edition of their classic LP "Give Up." This was the song the reunited group played during their first ever TV appearance on last night's episode of The Colbert Report. You can watch the live performance here and the interview segment below. I can't wait to see them live!

Read the rest
The Colbert Report is
off the air
and no one knows why, or if they do, they're not saying.
— Cory
Stephen Colbert provides some perspective on the net-wide blackouts yesterday, as well as some alternatives in case the Internet needs to stand up for itself again. Now I've got to find that video of Vader eating cheesy bread...
The latest Colbert PAC attack ad points out that Mitt Romney says "corporations are people," but he also made his fortune as a raider buying up, gutting and killing corporations. Conclusion: Mitt "the Ripper" Romney is a serial killer.
Colbert explains the science behind the net-killing SOPA, the worst proposed Internet law in American legislative history.
(UPDATE: Autoplaying videos moved after the jump)