It's September, and what better way to mark back to school season than with a little bit of mind-rotting comic bookery? We'll try to keep the grey matter melting to a minimum with the following selection. We've got two bits of autobiographical excitement, some cardboard-come-to-life for the kids and something for the omnipotent cosmic deity in your life. Also: calendars!
Gabrielle Bell: The Voyeurs (Uncivilized Books)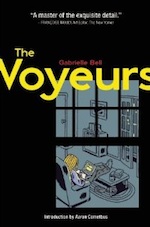 I don't know that I've ever seen Gabrielle Bell without a sketchbook in her hand. Such things are, naturally, common accessories for indie cartoonists, but Bell seem to don hers like a pair of eyeglasses, as though the world might be headache-inducing and blurry without them. Her autobio strip "Lucky" is the fruit of those sketches, and The Voyeur is the bunching of those fruits, as ever with Bell, at its best when the lines between mundane realities and magical realisms become ever more entangled, the further one ventures into a story.
No better when the cartoonist relates an attempt to adapt Valerie Solanas' infamous SCUM Manifesto into sequential form, unraveling into a tail of adult movie theaters and Japanese assassins, related by Bell's infinitely interesting mother. Not that the realities themselves are entirely mundane, of course -- particularly in the wake of the artist's rise to an indie comics celebrity of sorts. There's the stormy relationship with filmmaker Michel Gondry, the mind-numbing trip to San Diego Comic Con (as highlighted in the first iteration of this nascent column) and the mattress-on-the-floor living that comes with living on an artist's paycheck in the Big Apple. It's simultaneously nakedly honest and whimsically untrue (like getting called out by Gondry for skinny dipping merely for the sake of comics fodder), because being a voyeur doesn't always mean you can trust what you see.
Read the rest