A Chinese R&D shop has 3D printed 10 buildings' worth of prefab slabs using enormous fused deposition modelling printers that extrude concrete.

Read the rest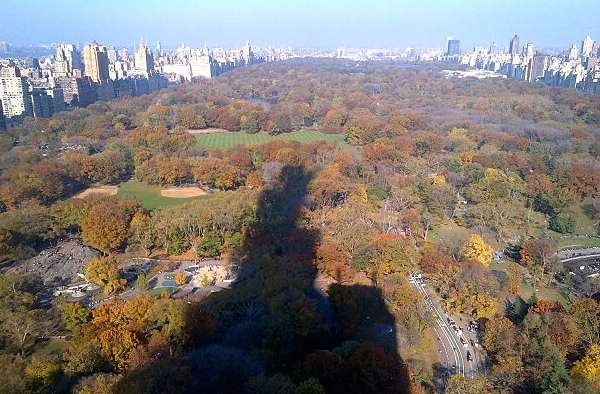 Some New Yorkers are upset about the shadows cast by the new supertower skyscrapers near Central Park and other public hang-outs. Above, the shadow of One57, an 85-story skyscraper currently under construction, on Central Park. At a community meeting on the issue, the president of Extell Development, the firm behind One57, responded that "the shadows cast by tall, slender buildings, which is what most of the buildings going up are, are very brief — maybe they're 10 minutes in any one place — and cause no negative effect on the flora or fauna of the park." According to City Councilman Corey Johnson, the apartments in the superpowers "are being sold to foreign investors, who have tens, if not hundreds of millions of dollars, who are not making this their primary home." Central Park receives 40 million visitors annually. "New Yorkers Protest Long Shadows Cast By New Skyscrapers" (NPR)
In Japan, engineers are attempting to contain radioactive contamination from the Fukushima power plant by freezing the ground around it into
"ice walls" that will remain frozen for years
. At Nova, Jessica Morrison writes about this weird technique, which has been around for over half a century and is more commonly used as part of massive construction projects with large underground components, including Boston's Big Dig.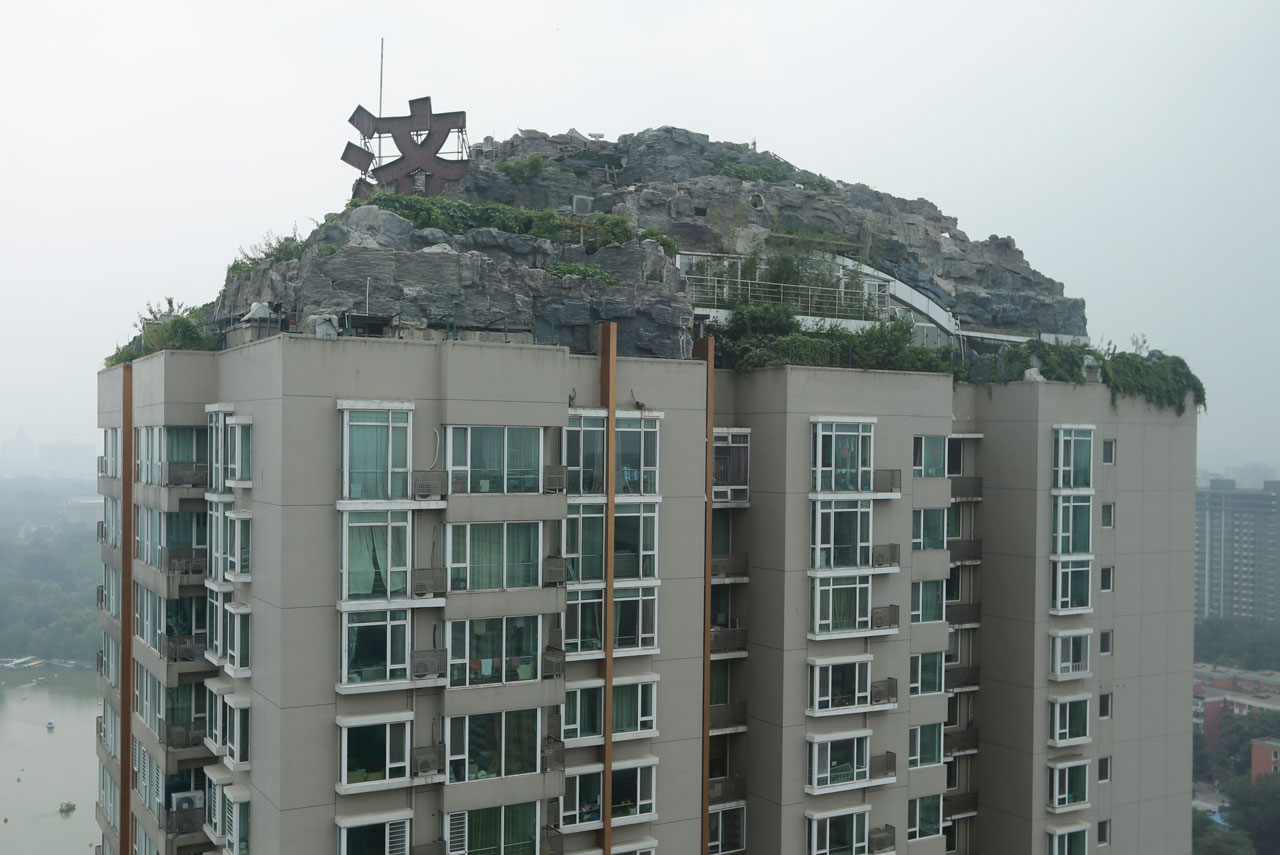 A privately-built villa, surrounded by imitation rocks, is pictured on the rooftop of a 26-floor residential block in Beijing. Construction on the residence took six years, and the huge dwelling offers 1,000 square meters of living space. Residents in the building complained about the villa and its perch, according to the Xinhua News Agency, fearing that the agglomeration's weight may cause the building beneath it to collapse. The local bureau of city administration attempted to investigate the allegedly illegal construction, but the owner "has not shown up so far." (Photo: Jason Lee, Reuters)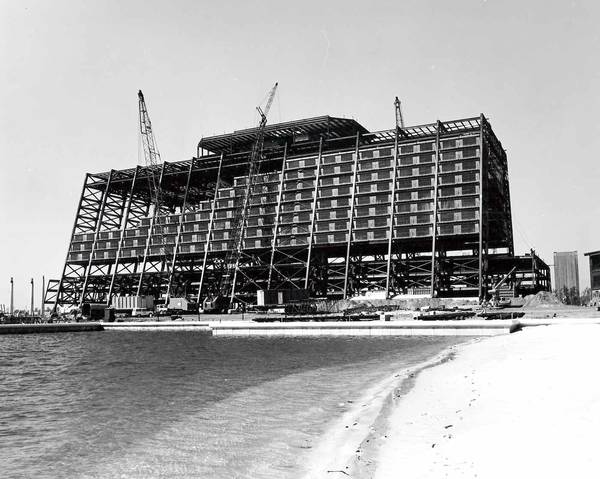 Imagineering Disney has a great gallery of construction shots of the Contemporary Resort, a huge, modernist A-frame structure whose rooms were all prefabbed offsite and crane-lifted into place.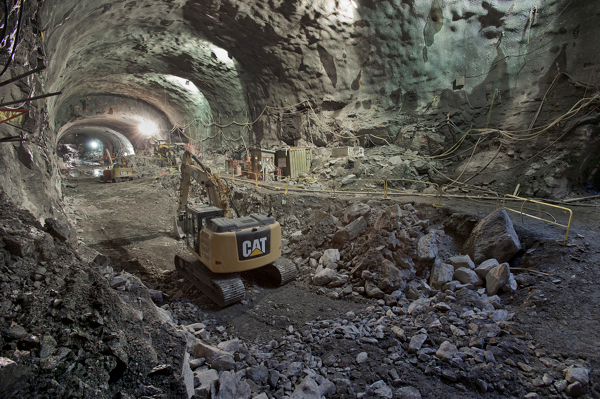 New York's Metropolitan Transportation Authority is digging an artificial cavern for a future Second Avenue Subway stop below 86th street. Patrick Cashin is photographing the massive operation. Fortunately, the tunnel has been blessed by a Catholic priest. Check out more of Cashin's photos on Flickr and a brief riff on the project by Geoff Manaugh at BLDGBLOG.
Remember when you had to build a bridge out of popsicle sticks in high school science class? The goal was to construct the miniature bridge that could withstand the most physical stress. Your materials were just sticks and glue. So the real challenge was to find strong shapes.
On the day of testing, we all learned very quickly what those shapes were. Bridges built out of lots of squares collapsed almost instantly. Bridges built out of triangles made the finals.
This is a pretty basic lesson, but it's not one that the global construction industry has learned yet, says the US Geological Survey's Ross Stein. Last week at the meeting of the American Geophysical Union, he began a talk on "Defeating Earthquakes" by demonstrating the difference between the cube-centric structures we build all over the world and how much stronger those structures can be if you just add triangles in the corners. It's a powerful demonstration of how simply having the technology to solve a problem isn't enough. You have to get people to use it.
This whole video is worth watching and easy for laypeople to follow. And it's just one of a huge collection of lecture videos from AGU 2012 that are now available online. They cover everything from the chemistry of lighting to the geology of volcanoes to the effects of space storms and solar flares. Very cool stuff!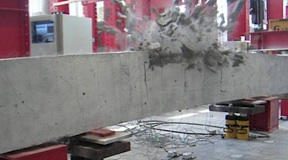 How do engineers know that the pillars supporting a bridge can withstand the force of thousands of cars driving over them for decades?
Read the rest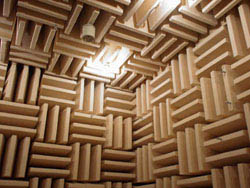 Anechoic chambers are pretty damn awesome. Basically, they're rooms designed to be sound-proofed against outside noise, while, inside, sound is prevented from bouncing off the walls. There's no echo. There's a number of ways you can build this, but one system at the University of Salford in England, is actually a room within a room, with the innermost chamber actually mounted on springs, rather than the floor of the outer room.
Anechoic chambers are often used to test out audio equipment or to get accurate audio measurements on systems that are supposed to operate very quietly.
Minnesota Public Radio recently went inside the room that holds the title for world's quietest—an anechoic chamber at Orfield Laboratories in Minneapolis.
To get into the anechoic chamber, you go through two bank vault-like doors. The floor in the room is mesh like a trampoline so there's nothing on the floor for the sound to bounce off of. The walls are lined with sound-proofing wedges that are a meter long so they absorb the sound.

...A typical quiet room you sleep in at night measures about 30 decibels. A normal conversation is about 60 decibels. This room has been measured at -9 decibels.
Listen to the rest of the story at Minnesota Public Radio's website.
Read about the history of anechoic chambers.
Image: Photo of an anechoic chamber taken at the Kyushu Institute of Design's anechoic chamber by Alexis Glass. Free to use under GDFL.