How Daniel Clowes remastered Eightball
Read the rest
The great illustrator Drew Friedman drew a portrait of the great cartoonist Daniel Clowes. Amazing! 10 prints are available.

Read the rest
Can you recognize all the characters on the cover for Daniel Clowe's upcoming Complete Eightball 2-volume set?
This is a two-volume, slipcased facsimile edition of the Daniel Clowes comics anthology; it contains the original installments of Ghost World, the short that the film Art School Confidential was based on, and much more. Before he rose to fame as a filmmaker and the author of the best-selling graphic novels Ghost World, David Boring, Ice Haven, and The Death Ray, Daniel Clowes made his name from 1989 to 1997 by producing 18 issues of the beloved comic book series Eightball, which is still widely considered to be one of the greatest and most influential comic book titles of all time. Now, for the 25th anniversary of Eightball, Fantagraphics is collecting these long out-of-print issues in a slipcased set of two hardcover volumes, reproducing each issue in facsimile form exactly as they were originally published. Included are over 450 pages of vintage Clowes, including such seminal serialized graphic novels/strips/rants as "Like a Velvet Glove Cast in Iron," "Ghost World," "Pussey," "I Hate You Deeply," "Sexual Frustration," "Ugly Girls," "Why I Hate Christians," "Message to the People of the Future," "Paranoid," "My Suicide," "Chicago," "Art School Confidential," "On Sports," "Zubrick and Pogeybait," "Hippypants and Peace-Bear," "Grip Glutz," "The Sensual Santa," "Feldman," and so many more. Full color illustrations throughout
Can you identify all of the silhouettes in these new drawings that Daniel Clowes drew for the Modern Cartoonist exhibition murals and "Chicago Views" prints? If you can, you will have a chance to win fabulous prizes! Visit Daniel's website for details.
Daniel Clowes ranks among the top three of four greatest living cartoonists. I've been following his work since 1986, when I came across his Fantagraphics comic book Lloyd Llewellyn, about a retrofuturistic detective with a misanthropic streak.
Clowes is not only an amazing artist, he's also a fine observer of human behavior, which make reading interviews with him as much fun as reading his comic books. This month Fantagraphics published The Daniel Clowes Reader: A Critical Edition of Ghost World and Other Stories, with Essays, Interviews, and Annotations.
I'm relishing all 358 art-laden pages. They include the entire Ghost World story (made into a movie directed by Terry Zwigoff) with annotations, plus a number of rarely seen stories. Several of the twelve essays about Clowes' work were new to me, and I enjoyed re-reading Joshua Glenn's sharp interview from a 1990 Hermenaut interview. This is an essential book for all serious readers of Clowes' work.
The Daniel Clowes Reader: A Critical Edition of Ghost World and Other Stories, with Essays, Interviews, and Annotations
I loved the cover painting for Daniel Clowes'
Eightball
no. 18, and now it's available as a limited-edition print.
This is a limited edition, archival, facsimile print of the cover painting used for issue no.18 of the comic Eightball by Daniel Clowes. It has been reproduced at a 1:1 scale to match the size of the original painting that is currently on display as a key part of the "Modern Cartoonist: The Art of Daniel Clowes" touring museum exhibition. This giclée print was created to the highest standards of production under supervision of the artist. The finest quality materials were used including an eleven-color, high dynamic range, process inkset on conservation grade 100% cotton acid and lignin-free paper and tested by the Fine Arts Trade Guild and guaranteed to resist fading and discoloration in excess of seventy five-years. Each print is signed and numbered by the artist and includes a registered certificate of authenticity. Don't miss out on this chance to have a museum quality piece of art for your very own.

An optional logo was made for this print in the style of a "paste-up" that the artist would use in his formative years in a pre- digital era. Each logo is hand-cut by the artist and can be mounted (with archival PVA adhesive) by us at your request, or included 'loose' for you to choose to mount yourself (or not) when framing. The colorway for this logo differs from the one used on the printed cover of Eightball no.18. These are the exact colors the artist originally intended and are seen in this print for the first time.
[
Video Link
] Here's a fun short film about a couple who are very excited to meet Daniel Clowes at an event at
Meltdown
in Los Angeles last month.
Daniel Clowes spent a very special night at Meltdown Comics on April 5th, 2012. Carlos, a collector of Clowes' work, and his fiance Timony were living the experience as a dream come true. Follow them through this short documentary about the master cartoonist. Directed and Edited by: Rocío Mesa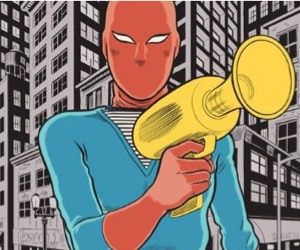 Daniel Clowes' comic book, Eightball # 23 contained a 48 page story called "The Death–Ray." It's a superhero origin story about a teenage boy named Andy who discovers he has superpowers whenever he takes a puff of a cigarette.
Read the rest