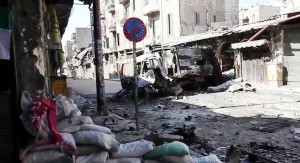 In the fog of war, it's not easy to figure out how many people die. Even in the cleanest combat, accurate records are not really a common military priority. Worse, there are often incentives for one side or the other to play up the death counts (or play them down), alter the picture of who is doing the killing and who is dying, and provide evidence that a conflict is getting better (or worse).
All of that creates a mess for outside observers who want to see accurate patterns in the chaos — patterns that can help us understand whether an evenly matched war has turned into a bloodbath, or a genocide. The Human Rights Data Analysis Group is an organization that takes the messy, often conflicting, information about deaths in a warzone and tries to make sense of it. Today, they released an updated version of a January report on documented killings in the Syrian civil war.
They say that there were 92,901 documented deaths between March 2011 and April 2013. That number is extremely high, and tragic. But the number alone is maybe not the most important thing the data is telling us.
Read the rest