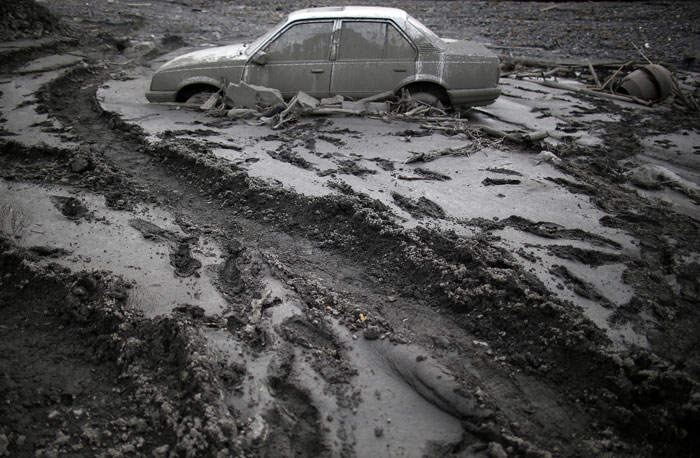 Jasmina Tesanovic on the recent floods drowning the Balkan region, in which, it seems the sorrow never stops.
Read the rest
The battle of the bands, featuring acts from Ireland to Israel, is underway as we speak. Embedded above is Cezar Ouatu's particularly excellent It's my life, this year's Transylvanian entry. Our Europe Correspondent Leigh Alexander will be filing a report, but not until she's had a bit of a lie down.
Medieval Europe is generally known for its animosity toward actually testing things out, favoring tradition over experimentation and earning a reputation as being soundly anti-science. In particular, it's easy to get the impression that nobody was doing human dissections at all, prior to the Renaissance. But it turns out that isn't true.
In fact, some dissections were even prompted (not just condoned) by the Catholic Church
. The knowledge medieval dissectors learned from their experiments didn't get widely disseminated at the time, but their work offers some interesting insight into the development of science. The quest for knowledge in Europe didn't just appear out of nowhere in the 1400s and 1500s.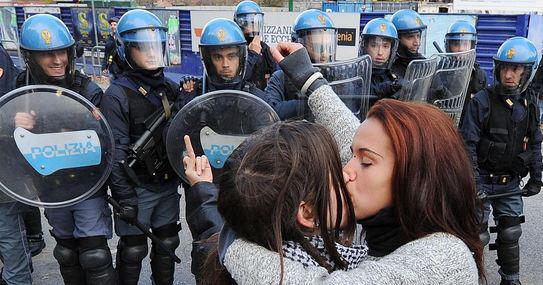 When I myself was a protesting student, I remember vividly remembered the cold warning in the text by Pier Paolo Pasolini. He reminded us youngsters that the police we faced in the streets were also someone's children, that not all young people were fortunate enough to be in colleges rather than wearing uniforms, and that we should join all together against the general oppressor, the system, capitalism, the corporations, name it…
That was then, and this is now, and while the students and policemen still have the same interests, they are still on the opposite sides of the barricade. Austerity has driven Italy to its knees. Day by day the future of Italy's young people is vaporizing, and now the streets are flooded by torrential rains, to boot. Italian cities rocked by earthquakes might as well settle for witchcraft, rather than find responsible and competent government officials who can rescue the nation's casualties.

Read the rest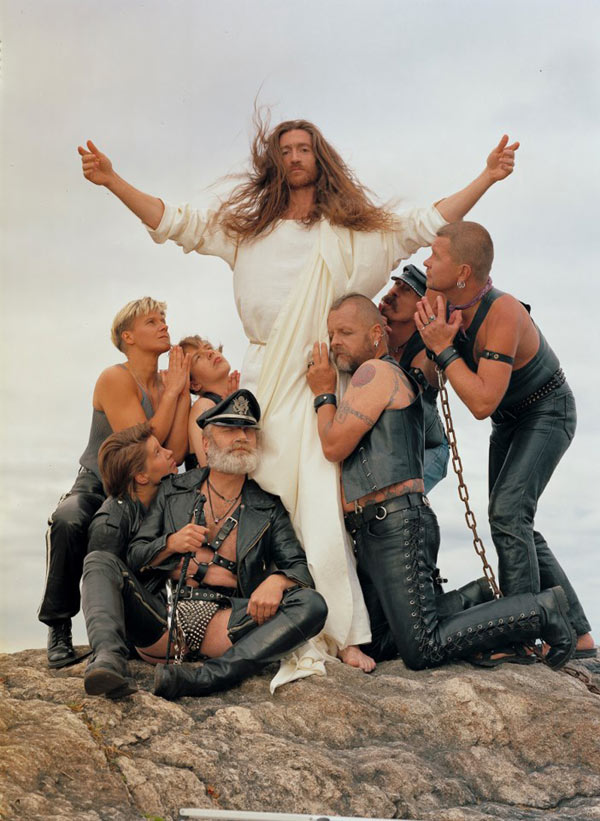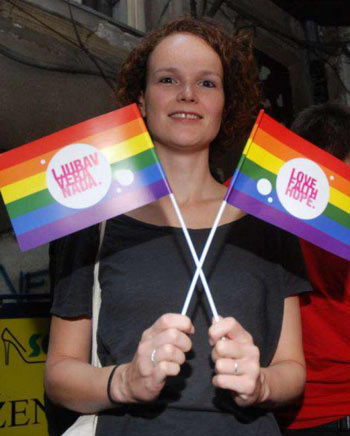 Years ago during the reign of Milosevic in Serbia I wrote an essay called "Decent people". It was about that 80 percent of Serbian people, the classic silent majority, who lived in denial of the genocide in Srebrenica, the snipers in Sarajevo, the shelling in Dubrovnik.
These so called decent people who could not grasp cruel political and military reality. Eventually the damage to daily life became impossible; the decent people could not go through with their charade of normality as postmen, engineers and dentists. On October 5th 2000 a million people took to the streets in Belgrade and physically deposed the tyrant.
However, time stopped then in Serbia. An October 6th never dawned for a bewildered Serbia, not even 12 years later, on the anniversary. Milosevic died behind the bars in the Hague, my Yugoslav-era parents are deceased, my postman is on pension but the inhabitants of the Serbian parliament today are the next generation of those decent people. No painful truths were admitted and confronted; there was a rebellion of the decent, but not a thorough change in the society.
Typically, a few days ago the new elected premiere of Serbia forbade the Gay Pride annual parade. He claimed that 80 percent of the Serbian population is against gay manifestations, and warned against the risky and inevitable gay-bashing that would follow in the streets. This new premiere is an old member from the deposed Milosevic' s party. Crushing the aspirations of Serbian gays has become routine, and he has already handled the trouble successfully before.
The Frisian Islands are barrier islands off the coast of the Netherlands. Between these islands and the mainland, there is an area called the Wadden Sea. This sea is only wet in some places, at some times. Instead of being a proper body of water, it's speckled with shallow pools, wetlands, mud flats that flood and dry up depending on storms and changing tides.
That geography makes the Frisian Islands, including the island of Texel, a great place to go beachcombing. During high tides and storms, water from the North Sea flows into the Wadden Sea through inlets. Not all of this water flows back out again, some evaporates. And water isn't the only thing in the North Sea. Wander the mud flats after the tide goes back out and you'll find all manner of random things washed up on Texel's shores—from buckets and signs, to bottles stuffed with anonymous letters.
On a more practical level, current patterns in the North Sea push whatever is in the water towards Texel. That means when a container ship loses something like a box full of luxury coats, the beaches of Texel are a great place to find it again. All that flotsam and jetsam (both the useful and the whimsical) helped create a culture of beachcombing on Texel. For generations, people went down to the shore and finders-keepers was the name of the game.
You can watch a new 14-minute documentary on Texel beachcombers and the goodies they've found. It's called Flotsam & Jetsam and it's available on Vimeo and it's really interesting—a great example of how the realities of nature and science can shape the way culture develops.
Watch the documentary Flotsam & Jetsam
Read a geosciences master's thesis that explains in more detail how the tidal mud flats at Texel work.

Support Tom the Dancing Bug and receive untold BENEFITS and PRIVILEGES by joining the brand new INNER HIVE right now!
"I signed up the second I read about it. It's a lot of fun. I enjoy hearing Ruben tell the story behind each of his comics. Good luck, Ruben!" -Mark Frauenfelder, INNER HIVE member since three weeks ago
Read the rest

[Video Link.]
A weekend of fear and mourning in Italy.
Early this Sunday morning, an earthquake struck near Bologna: at least six killed (ceramic workers, and a hundred year old person), and big material damage in the region. The US Geological Survey heard the tremor: a magnitude-6.0 quake struck at 4:04 a.m. Sunday between Modena and Mantova, about 35 kilometers north-northwest of Bologna. Civil defence says that the quake was the strongest in the region since the 1300s. And the damaged building are valuable historical sites. In Italy such loss goes without saying.
We felt the earthquake in Torino, 260 kilometers from Modena at dawn. The apartment building shook and the late-night party people yelped with alarm in the streets. As I write this we hear the building crack and we tremble: I am checking on twitter. Yes, it' s an aftershock at 15.19.
Not unusual for Italy to deal with deadly earthquakes, but what comes afterward can be nearly as troublesome: state neglect and real estate speculation. Those who are not under earth may have the skies as a roof forever! The last big earthquake in Aquila in 2009 speaks about that.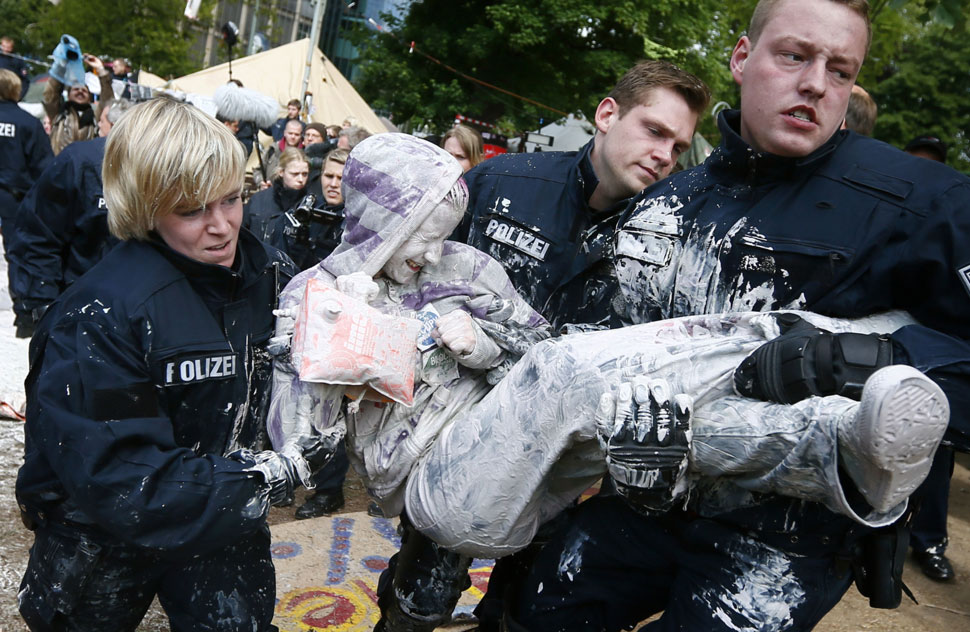 German riot police carry a demonstrator fully covered in paint as police clears the camp of occupy protestors in front of the European Central Bank (ECB) in Frankfurt, May 16, 2012.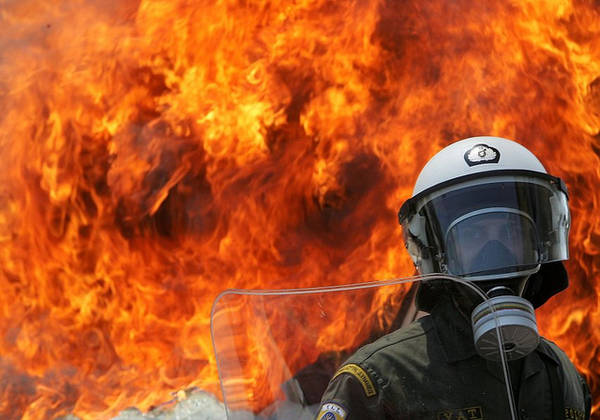 Laurence Lewis's Daily Kos editorial, "The cruel stupidity that is economic austerity," is a blazing indictment of austerity as a means of recovering from recession, and it cites experts and statistics showing that austerity programs (in Europe, particularly) are deepening the recession, destroying lives, and demolishing vital social institutions that are especially needed in economic downturns. Lewis's citations are not to the usual suspects in the fight against austerity, but rather to rock-ribbed conservatives and publications like The Economist, the chief economist of Standard Chartered, the IMF, the World Bank and the WTO. And there's Joseph Stiglitz, who compares austerity to medieval blood-letting: "when you took the blood out, the patient got sicker. The response then was more blood-letting until the patient very nearly died. What is happening in Europe is a mutual suicide pact."
How bad is it?

* In Greece, we now have record unemployment, which includes the majority of young workers. Homelessness is up 20 percent, with soup kitchens in Athens reporting record demand, and the usually low suicide rate having doubled.
* Portugal has complied completely with the austerity demands it accepted for its bailout deal, but its debt is growing and its economy is shrinking, its unemployment rate continues to reach new heights, there is a crisis in medical care, and a 40 percent rise in emigration, with the Portuguese government acknowledging its own failure by actually encouraging its citizenry to leave.
* In Spain, austerity has resulted in falling industrial output and deepening debt, with record unemployment and a stunning rate of 50 percent youth unemployment. And the Spanish government's incomprehensible response is to impose even more crushing austerity.
* Ireland has fallen back into recession as austerity has led to falling economic output. A better future is being sacrificed, as young workers look for work abroad, "generation emigration" expected to number 75,000 this year.
* The success of Italy's wealthy technocrat government was concisely summarized in similar terms: Italy's austerity measures are stunting activity in the euro-zone's third-largest economy, recent budget and economic data show, suggesting the steps are backfiring.
The cruel stupidity that is economic austerity (via Making Light)
(Image: GREEKS PROTEST AUSTERITY CUTS, a Creative Commons Attribution (2.0) image from piazzadelpopolo's photostream)
Back in high school, I purchased an old travel guide to Europe at a library book sale. It taught me some valuable lessons about inflation and changing social expectations. But I really only used it for ironic comedy value.
My friend Doug Mack, on the other hand, took his interest in 1960s travel guides a bit further. He actually went to Europe, following the advice and directions of Arthur Frommer's groundbreaking Europe on Five Dollars a Day. He's written a book about his experiences, called (appropriately) Europe on Five Wrong Turns a Day.
It's a bit more than just wacky hijinks, though. One of the interesting things Doug gets into in the book is the history of why Frommer's guide ended up being so important. It's hard to imagine today, but there was a time, not so very long ago, when the concept of "budget travel" did not exist. Frommer represented a major shift in how Americans thought about vacationing, especially vacationing to Europe.
To demonstrate just how profound that shift was, Doug put together a video illustrating the packing advice of Temple Fielding—the most prominent travel author before Frommer.
The list of items comes from a 1968 profile of Fielding by John McPhee in The New Yorker:

"Fielding uses two suitcases, and in them he packs thirty-five handkerchiefs (all of hand- rolled Swiss linen and all bearing his signature, hand- embroidered), ten shirts, ten ties, ten pairs of undershorts, three pairs of silk pajamas, eight pairs of socks, evening clothes, three pairs of shoes, a lounging robe, a pair of sealskin slippers, and two toilet kits. . . . He wears one suit and carries two."

Also, to get around baggage fees— a headache even back then—Fielding carried a raffia basket (the airlines didn't know how to classify it, so they essentially just ignored it; try that on your next trip). Its contents included "a bottle of maraschino cherries, a bottle of Angostura bitters, a portable Philips three-speed record- player, five records (four of mood music and 'one Sinatra always'), a leather-covered RCA transistor radio, an old half- pint Heublein bottle full of vermouth, and a large nickel thermos with a wide mouth." He also had a calfskin briefcase that he designed himself and whose copious compartments held another forty-one items, including bottles of brandy and Johnnie Walker, a yodeling alarm clock, plus more standard items like toothbrushes and notebooks.
Read more about the Fielding vs. Frommer culture clash on Doug Mack's blog.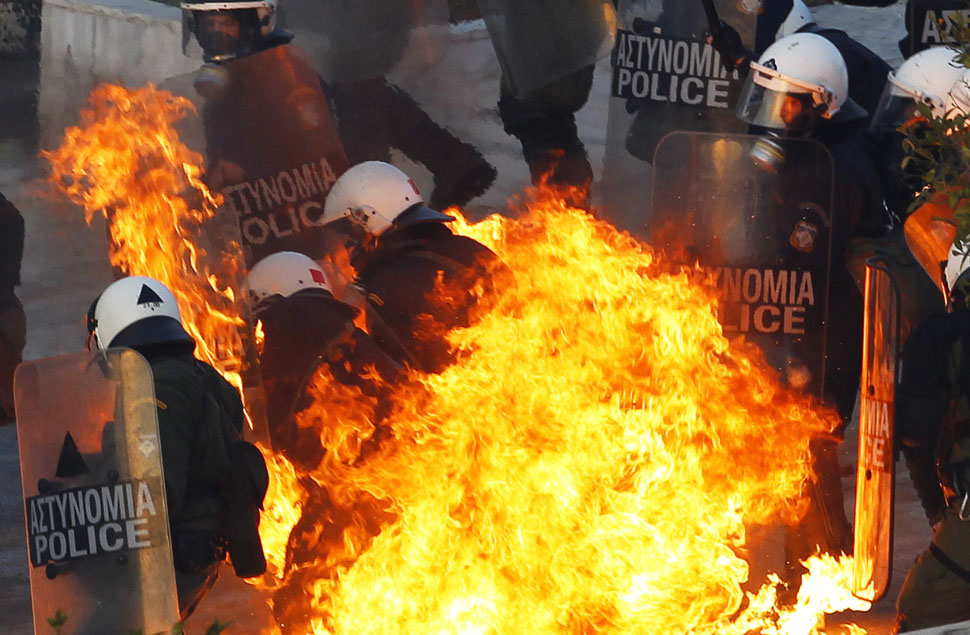 A gasoline bomb explodes at riot police during a huge anti-austerity demonstration in Athens' Syntagma (Constitution) square February 12, 2012. Historic cinemas, cafes and shops went up in flames in central Athens on Sunday as black-masked protesters fought Greek police outside parliament, while inside lawmakers looked set to defy the public rage by endorsing a new EU/IMF austerity deal. Below, a protester hurls rocks at riot police; another flees.
(photos: REUTERS)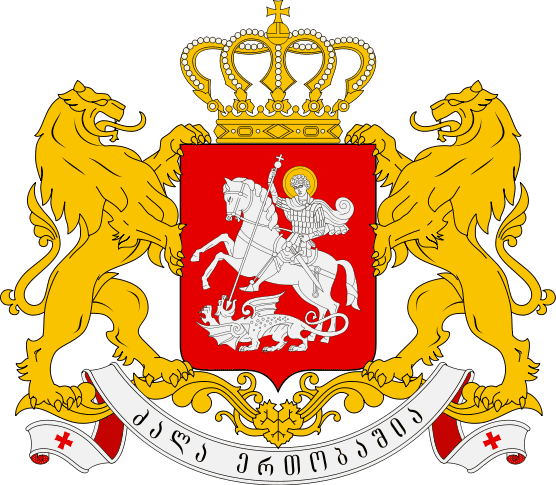 Editor's Note: In response to an anonymously-sourced wisecrack we published about police corruption in former Soviet states, the Georgian Ministry of Internal Affairs has responded with a statement, which we are more than happy to publish in full.

Georgian Police: Model for Successful Transformation
The article published on [Boing Boing on] January 12, 2012, about the initiative by the Ministry of Internal Affairs of Georgia to introduce new portable field computers (so called "Police Pads") ends with an anonymous quote declaring that "100% guaranteed those crooked, fat, lazy cops will be using these devices primarily for porn and Russian gambling services."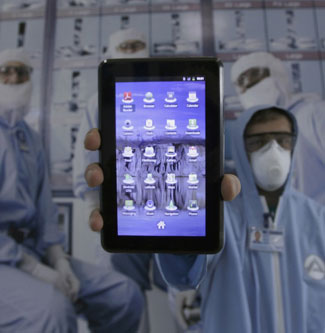 Stereotypes like this are easy to toss out—but are quite simply incorrect. This quote does not reflect the productivity, effectiveness, transparency, and reliability of the police force in Georgia today, but rather the bygone era of the 1990s, a reality that has drastically changed thanks to an ambitious and successful reform process.
The reform process in Georgia began immediately after the 2003 Rose Revolution. The new government inherited a completely corrupt and bloated law-enforcement system. The systemic corruption and the high level of crime throughout the country resulted in a very low level of public trust: fewer than 10% of Georgians had confidence in the police, according to 2003 polls. And the very low average policeman's salary (approximately $68 per month) made the soliciting of bribes routine. 
Georgia has since made the creation of an efficient and modern police force a national priority, undertaking a series of reforms that sought to rebuild the national police force literally from the ground up. The entire national police force was fired, and a new force hired, trained and deployed with the aim of meeting the highest international standards of professionalism.
These reforms are widely regarded as an unqualified success. Having reduced corruption and bribe taking to levels comparable to those in Europe, the police in Georgia have earned the trust and respect of the public they serve: