Not yet. Not yet. Not yet.

Read the rest
Now you can accessorize with cruelty-free "leather" created from discarded fruit, thanks to Fruitleather Rotterdam.

Read the rest
Pumpkins blush with shame when they watch this video. [h/t Richard]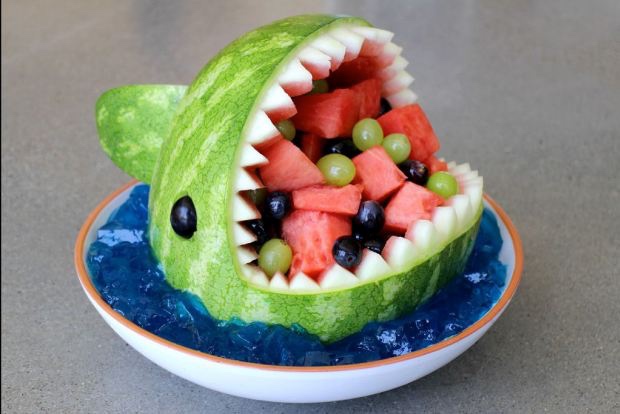 Mike Warren carved a watermelon into this delightful shark fruit bowl!

Read the rest
Josefina Tometich has some mighty fine mangoes growing on a tree in her Florida home. But don't even think of taking one: she's got a BB gun, and she knows how to use it. The 64-year-old mango enthusiast was arrested after she allegedly shot out the rear window of Christopher Richey's truck for trying to steal one of her beloved fruits.
Tometich's family says "no trespassing" signs are on the property, and they'll put up more, to deter mango thieves. But Richey maintains the mango he saw was in the roadway, and therefore free for the taking. In the end, he and his wife left without any mangoes. Tometich was arrested for firing a missile into a dwelling, vehicle, building or aircraft.
[via]
Random Mango Fact: "In India, a certain shade of yellow dye was attained by feeding cattle small amounts of mango leaves and harvesting their urine. Of course as stated above, this is a contraindicated practice, since mango leaves are toxic and cattle are sacred. It has since been outlawed." [via]
A real life Fruit Ninja! (via Laughing Squid)
Some thoughtful internet person dumped a bunch of photos of exotic fruits on imgur. I suppose if you live in a tropical climate where there's a wide variety of such fruits, there's nothing weird about them. I've eaten like half of these! I love traveling to new places and seeing others on this list I've never seen before. The world is so diverse and delicious. [via
reddit
]
Over the weekend, I stumbled over a great Damn Interesting post about the history and future of the banana. Some of you already know the basic story here: Bananas, as we know them, cannot reproduce. The ones we eat are sterile hybrids. Like mules. The only way that there are more bananas is that humans take offshoots from the stems of existing banana trees, transplant them, and allow them to grow into a tree of their own. It's basically a cheap, low-tech version of cloning, and it has a long history in agriculture. (Note: This would be why Christian evangelist Ray Comfort's video on bananas has become a classic Internet LOL. In the video, Comfort presents the banana—particularly its seedless flesh, handy shape, and easy-access peel&mash;as a testament to the perfection of supernatural design ... completely ignoring the fact that all those things are the result of human-directed agricultural selection.)
The downside to this is that clones are, shall we say, not terribly genetically diverse. Turns out, a lack of genetic diversity is a great way to make yourself vulnerable to disease. Back in the 1950s, a fungus all but wiped out a variety of banana called the Gros Michael. Up until then, the Gros Michel had been the top-selling banana in the world. It was the banana your grandparents ate. You eat the Cavendish, a different variety that replaced Gros Michael largely on the strength of its resistance to the killer fungus.