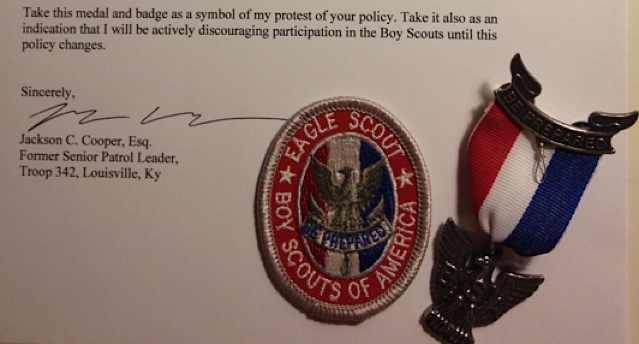 On Monday, I published a letter from my husband, Christopher Baker, to the Boy Scouts of America. In that letter, Baker returned his hard-earned Eagle Scout award and explained that he no longer wanted to be associated with an organization that discriminated against gay teenagers and GBLT parents. By the end of the day, I'd posted six updates to that story—adding letters from other Eagle Scouts who had joined my husband in resigning from a fraternity they had loved and had worked incredibly hard to join.
The Boy Scouts of America is a private organization. The Supreme Court has said they have the right to discriminate. What these Eagle Scouts are saying is that legal precedent doesn't make the discrimination right. Overwhelmingly, they've said that it makes them sad to see the organization that meant so much to them go against the very values of inclusion that it taught them as children. As Baker wrote, "banning openly gay scouts and leaders is not a neutral position any more than separate-but-equal was a neutral position on race."
Yesterday, I received more letters from other Eagle Scouts who want the Boy Scouts of America to know how disappointed they are, and that they choose to stand with the persecuted rather than with the people doing the persecuting. In this post, you can read inspiring words from 13 Eagle Scouts who asked that I share their letters. In most cases, I've included a photo of the letter, and quoted text for easy reading. They're worth reading. These are amazing men.
Well, amazing men, and one woman. I'm starting out this collection with the letter of Dr. Julie Praus.
Read the rest