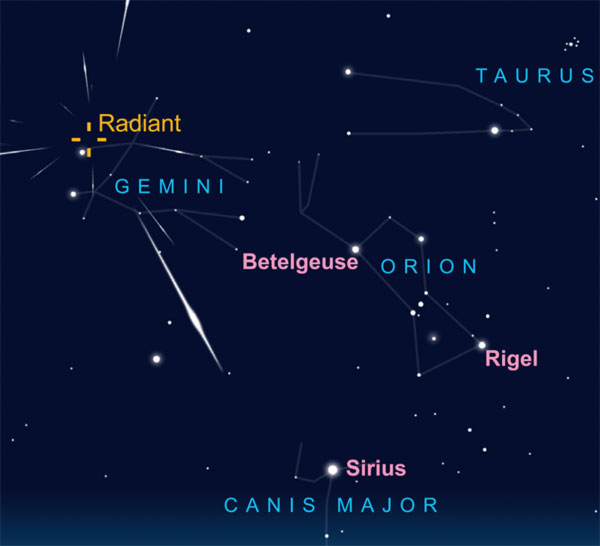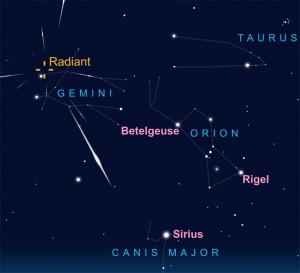 Mother Nature is offering up her
best fireworks show of the year tonight
. All you have to do is hope for clear skies, pour a warm beverage in a thermos, put on some layers and head outside tonight to take it all in.
I am talking about the Geminids Meteor shower which emanates from the Gemini constellation. Finding it should not be hard - even for a night sky newbie. Find Sirius. Up and to the right will be Orion's Belt. Up a little higher to the left will be Gemini. The meteors will emanate from there (astronomers call this the radiant).
NASA is running a chat during the shower and will also be sending out a live image from the Marshall Spaceflight Center on their Ustream channel tonight. This is nice if you would prefer to stay warm and in your jammies! More on all of this here.
My friends at Universe Today also have a good Gemind viewing guide.
There are, of course some apps for this if you have trouble navigating in the dark. Star Walk is a good one for the Apple Nation. I cannot personally vouch for anything Android, but I would guess the Google Sky Map would be a good place to start.
They show goes on from about 9:00pm until 4:30am wherever you happen to be. Peak viewing should be around midnight to 1:00am
To get some deeper gouge, I Skyped the folks at AtronomyNow.com. I spoke with their night sky consultant, Mark Armstrong. You can watch, or read the transcript, or both!