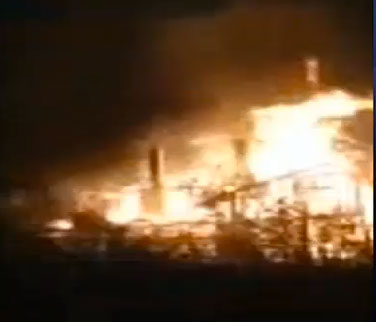 The LeBeau Plantation house in St. Bernard Parish, La., was long considered haunted. Now it's considered toast, having allegedly been burned to the ground by stoned ghost hunters. Local Sheriff Jimmy Pohlmann said that the fire broke out at about 2 a.m. Friday, reports Fox News, with the mansion "fully engulfed in flames" by the time firefighters arrived. [via Fortean Times]

Read the rest
Who ya gonna call? Anniston Police Department! [Daily Mirror]
The Daws brothers' "Missing in the Mansion" is a great little Blair-Witch-style short horror movie about ghosts in Disneyland. It's actually plenty scary. Inside the Magic's Ricky Brigante, an association producer on the movie, notes that it was shot mostly on location at Disneyland, which must have taken some doing.
Video: Real ghosts revealed(?) in The Haunted Mansion at Disneyland on newly found footage depicting an eerie encounter (Thanks, Ricky!)
[
Video Link
] Here's the highly polished trailer for a very cool book I received this week, called
Yurei Attack! The Japanese Ghost Survival Guide
Yurei is the Japanese word for "ghost." It's as simple as that. They are the souls of dead people, unable—or unwilling—to shuffle off this mortal coil. Yurei are many things, but "friendly" isn't the first word that comes to mind. Not every yurei is dangerous, but they are all driven by emotions so uncontrollably powerful that they have taken on a life of their own: rage, sadness, devotion, a desire for revenge, or even the firm belief that they are still alive.

This book, the third in the authors' bestselling Attack! series, after Yokai Attack! and Ninja Attack! gives detailed information on 39 of the creepiest yurei stalking Japan, along with detailed histories and defensive tactics should you have the misfortune to encounter one.
According to this report in the Iceland Review, Terry Gunnell, associate folklore professor at the University of Iceland, has surveyed Icelanders and discovered a large number who believe in elves and ghosts (and a larger number who wouldn't rule them out).
Only 13 percent of participants in the study said it is impossible that elves exist, 19 percent found it unlikely, 37 percent said elves possibly exist, 17 percent found their existence likely and eight percent definite. Five percent did not have an opinion on the existence of elves.

More admitted to believing in ghosts. Only seven percent said their existence was impossible, 16 percent unlikely, 41 percent possible, 18 percent likely and 13 percent definite. Four percent had no opinion on the existence of ghosts.
I can't locate the research (here's
the researcher's website
), and I'm not sure how that compares to other western societies, though I believe it to be higher than US, UK and Canadian beliefs in supernatural phenomena (apart from those incorporated into Abrahamic religions) (oh, and homeopathy).