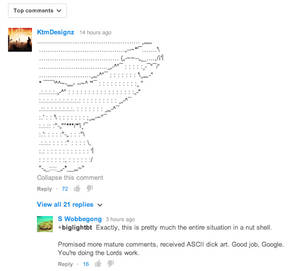 Earlier this month, mathematics vlogger Vi Hart posted a ringing denunciation of the new integration of Youtube comments with Google Plus, arguing that the ham-fisted change had brought Youtube comments to an even lower low. Hart said that the new system gave precedence to people who were able to provoke lots of replies with trollish and insulting behavior, crowding out good commenters.
Now, Youtube has officially recognized that the new system has led to an increase in spam, flaming, and the posting of ASCII art pornography.
It's part of a wider program through which Google is attempting to drive all its users into Google Plus (largely because advertisers are willing to pay higher rates for "social" ads, this being the latest industry mania). Googlers' annual bonuses are being paid out based on Google Plus's success, meaning that across the business, Google Plus is being crammed into every possible corner . The latest Android system, KitKat, tries to force users into Google Plus accounts for sending and receiving SMSes, and makes you opt out of Google Plus about six times during setup.
When Google Plus came in, its company proponents insisted that forcing people to use their real names would improve civility. As is often the case when doctrine fails to line up with reality, they have now doubled down on their folly. If Google Plus hasn't made the Internet "civil," the problem can't be that Real Names don't work -- the problem must be that Google Plus hasn't been wedged into enough corners of the Internet.
It's hard to believe that Google managed to make Youtube comments worse, but there you have it. It turns out that if you provide Google engineers and product designers with sufficient motivation, there's no limit to how bad things can get.
---
Update
: Thanks to David Otaguro for clarifying that the Google bonuses for Google Plus success was a one-year only affair to coincide with the service's launch, and that the bonus was only partially based on Google Plus's success.
---
Read the rest