There are side-effects to being an HIV controller
— a person whose body naturally suppresses the virus without medication. They have a higher risk of developing cardiovascular disease, diabetes, and more ... all linked to an over-active immune system. Now, researchers think they may have a solution that can keep those patients more healthy.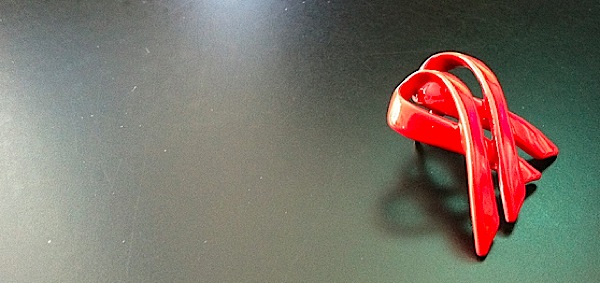 Last summer, researchers in Boston announced that they had two patients, men who had battled HIV for years but who now appeared to be virus free. The men had received a treatment similar to that of Timothy Ray Brown, the "Berlin Patient". Like Brown, the men had cancer and had received radiation and chemotherapy treatments followed by bone marrow transplants. But there were some key differences. Brown's radiation and chemo regimes were much harsher, for one thing. For another, his new bone marrow came from a donor with the CCR5-delta32 mutation, which seems to provide natural resistance to HIV infection. The Boston men got their new bone marrow from donors who did not have that mutation.
Nevertheless, both men had seen their viral loads fall to undetectable levels. They hit the news in July after being off of antiretroviral drugs for seven and 15 weeks, respectively, with no return of the virus. Unfortunately, the virus re-emerged in one of the two men the very next month. It re-emerged in the other man in November.
Read the rest
Stephen Crohn lost a boyfriend and many friends to AIDS before realizing that there must be something different about him that kept him from contracting HIV. He eventually became one of the key patients that helped scientists discover
the delta32 mutation
— a very rare genetic anomaly that makes a person immune (as far as we know) to HIV.
Crohn died on August 23rd
. His family has said the death was a suicide.
Timothy Ray Brown (aka, The Berlin Patient) is the first person to go from being HIV+ to HIV-. Usually, he's described as the first person to be cured of AIDS. Scientists are a bit more circumspect about the situation. Brown got a bone marrow transplant using marrow donated by a person whose body has natural resistance to HIV. That was in 2005. Now off of anti-retroviral drugs, Brown's HIV has (so far) not returned. Two other men have been through the same treatment with promising results, although they are still taking anti-retroviral drugs, so it's impossible to say yet whether they are also actually HIV-.
Even if this is a cure, it is not the world's most widely applicable cure. Yet. But it is very interesting and, obviously, an amazing story.
I've never heard Timothy Ray Brown speak before, so I wanted to post this interview video from Democracy Now. It probably won't add much to the story that you didn't already know, but it's powerful to see the guy, himself, talking about it.
Via Samal Coff
PREVIOUSLY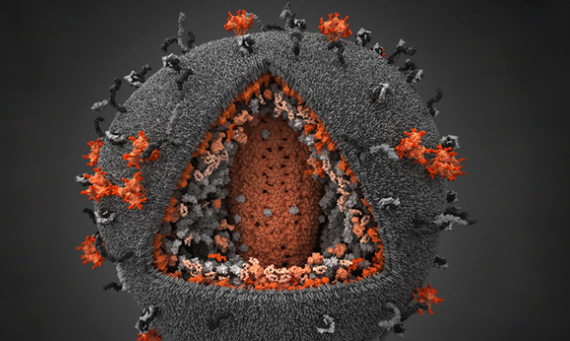 We've talked here before about the importance of the protein CCR5 in HIV/AIDS treatment research. CCR5 is a protein on the surface of immune cells. Some people have a genetic mutation, called Delta-32, which alters how that protein works, how often it appears, or changes its structure. People with the mutation have immunity to some strains of HIV, the virus that causes AIDS.
CCR5 is the key to the Berlin Patient—Timothy Ray Brown—who, until recently, was the only person to ever be cured of AIDS. Brown received bone marrow transplants from people who had the Delta-32 mutation. His body has been HIV-free for five years. And, last week, researchers announced that two other people successfully received the same treatment.
But here's the thing, until today, I didn't totally understand how the connection between CCR5, Delta-32, and HIV worked. There's a story (and some great digital illustrations) on NPR's Shots blog that makes the situation much more clear. HIV, apparently, have little spikes all over its surface. These spikes are how the virus injects itself into cells.
When it bumps into a T cell, a finger-like projection on the cell's surface, called CCR5, pushes down on the spike. This interaction pops open the HIV and releases the infectious genes into the cell. A gene therapy could protect T cells by inactivating the CCR5 gene.
Great "A-ha!" moment for me. Read the rest of the story and look at the illustrations. It'll make some thing make a lot more sense.
Read the rest at NPR's Shots blog
PREVIOUSLY:
If AIDS Has Been Cured, Why is the Victory Party So Small?
AIDS Research Done by 17-Year-Olds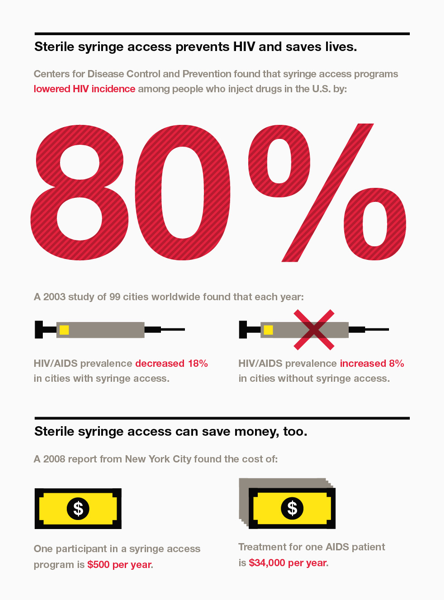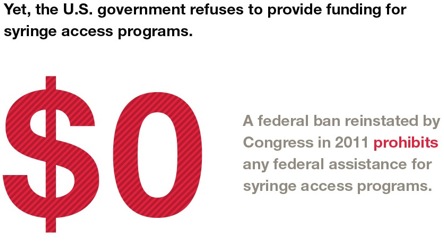 Tony Papa of the Drug Policy Alliance says:
Millions of people have died of AIDS because of bad drug policy – and millions more lives hang in the balance.

The International AIDS Conference will be held in the U. S. for the first time in 22 years this July 22-27, in Washington DC. Activists, public health professionals, and distinguished world leaders are mobilizing in Washington with a clear message: the criminalization of people who use drugs – and especially backward government policies that restrict syringe access – are driving the HIV/AIDS pandemic.

Throughout the world, research has consistently shown that drug criminalization forces people who use drugs away from public health services and into hidden environments where HIV risks become significantly elevated. Mass incarceration of nonviolent drug offenders also plays a major role in spreading the pandemic, as inhumane conditions and lack of HIV prevention or treatment measures in prison lead to HIV outbreaks and AIDS cases behind bars – and among families and communities once those imprisoned are released.

Yet in countries where addiction is treated as a health issue, the fight against HIV/AIDS is being won. New HIV infections in countries such as Australia, Germany and Switzerland have been virtually eliminated among people who use drugs, just as mother-to-child HIV transmission has been eliminated in countries that make medicines for pregnant women accessible.

In the United States, however, the federal government has resisted evidence-based HIV prevention strategies – costing us hundreds of thousands of lives and billions of dollars. Congress re-instated a longstanding ban last December that prohibits using federal funds for syringe access programs – a move that will cost thousands of more lives in years to come.

Want to know more about the drug war and AIDS? Check out the infographic and take action by urging Congress to end the syringe access funding ban.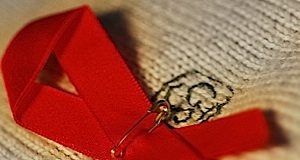 It's that time again. Maggie is back at the largest science convention in the Western Hemisphere for four days of wall-to-wall awesomeness.
Read the rest
A couple of years ago, I told you about Foldit, a computer game that harnesses the power of human putzing to help scientists unravel the mysteries of protein structure. There's a new research paper out that uses results from Foldit as a basis for a new proposed structure of a key protein in a virus that is a relative of HIV.
As important as proteins are, we know relatively little about how and why these complex chains of amino acids fold and twist the way they do and how that structure relates to function. Foldit takes advantage of the fact that, given the right rules, people can come up with possible, plausible protein structures far faster than a computer program can factor out all the possible permutations. And that's why Foldit players—citizen scientists of a sort—were so useful in this case. Ed Yong at Not Exactly Rocket Science explains:
They discovered the structure of a protein belonging to the Mason-Pfizer monkey virus (M-PMV), a close relative of HIV that causes AIDS in monkeys. These viruses create many of their proteins in one big block. They need to be cut apart, and the viruses use a scissor enzyme –a protease – to do that. Many scientists are trying to find drugs that disable the proteases. If they don't work, the virus is hobbled – it's like a mechanic that cannot remove any of her tools from their box.

To disable M-PMV's protease, we need to know exactly what it looks like. Like real scissors, the proteases come in two halves that need to lock together in order to work. If we knew where the halves joined together, we could create drugs that prevent them from uniting. But until now, scientists have only been able to discern the structure of the two halves together. They have spent more than ten years trying to solve structure of a single isolated half, without any success.

The Foldit players had no such problems. They came up with several answers, one of which was almost close to perfect. In a few days, Khatib had refined their solution to deduce the protein's final structure, and he has already spotted features that could make attractive targets for new drugs.

"This is the first instance that we are aware of in which online gamers solved a longstanding scientific problem," writes Khatib. "These results indi­cate the potential for integrating video games into the real-world scientific process: the ingenuity of game players is a formidable force that, if properly directed, can be used to solve a wide range of scientific problems."
Wayne Martin Belger created the blood camera, which incorporates HIV-infected blood that acts as a red filter for portraits of HIV+ people. Now he's taking the project, which is called "Untouchable," to Africa:
I'm taking the untouchable to Sierra Leona, Liberia, Uganda, Ethiopia, Calcutta and 5 locations in Cambodia to do portraits of people living with HIV. I'm working with a major international HIV Health organization to make it all happen and they are really excited about the possibility of this project creating a new view of the global HIV community. So far, I've photographed about 60 people all over the US. With the Africa/Asia photos it will give a world contrast on how your geo location makes all the difference in your well-being and how major pharmaceutical profits need are at the heart of life and death.

I have a publisher that wants to do a book on the project and two major venues that are excited about exhibiting the finale work next year.
Bloodworks: Africa
(
Thanks, Wayne!
)
Sesame Square, the Nigerian version of Sesame Street, will feature Kami, a girl-muppet who is HIV-positive. The show was produced with a $3.3 million grant from U.S., Agency for International Development and Obama's Emergency Plan for AIDS relief.
Apparently, the South African version of the show already has a HIV+ character, as Mark reported in 2002.
"If we're writing scripts for programs in Nigeria, the writers will be Nigerian scriptwriters," explains Farouky. "We'll often look for people who already have some experience in writing, but because we're aware [of] the format that we use and the methodology that we use, we'll provide training on how to write."

According to Farouky, collaboration is at the heart of the production process. "We work with our local teams to find ways in which we take the content that's important to them, to infuse the project with the cultural values, making sure we know which the taboo issues are and which are not," she told CNN...

"Our program is hosted by two muppets, a boy and a girl," she told CNN. "And because there is an entire region in Nigeria up in the North which is very Muslim, we had to be very sensitive. Even our publicity pictures could not have the muppets hugging, which we would normally have," she explained.

Although the first adaptation to reach West Africa, "Sesame Square" will be the latest in a long line of region-specific shows around the world, which include "Sisimpur" in Bangladesh, "Ulitsa Sezam" in Russia, and "Takalani Sesame" in South Africa.
HIV-positive muppet to star in Nigeria's 'Sesame Street'
(
via Super Punch
)