South Sudanese model Nykhor Paul is tired of professional makeup artists being unprepared to work with darker skin tones.

Read the rest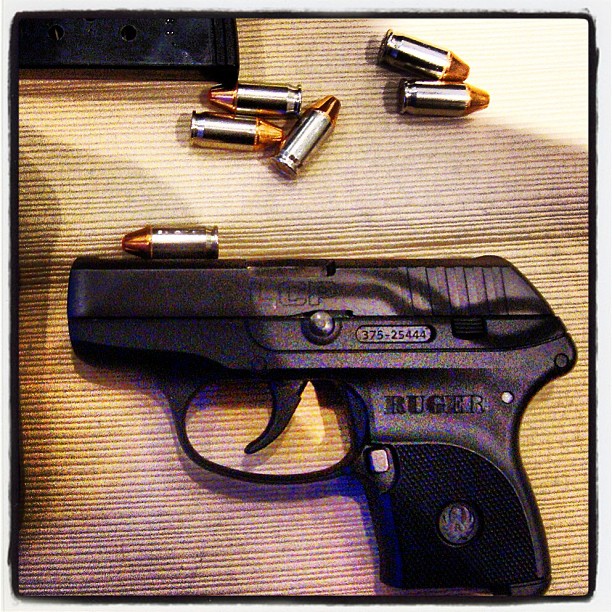 The TSA has launched an Instagram account, showing all the "dangerous items" they steal confiscate from air travellers. The message is clear: we are keeping you safe from in-flight danger.
Read the rest

Troy Maye was wanted for a string of identity thefts, but the IRS couldn't positively identify him. But after he passed a thumb-drive of stolen data to an IRS informant, investigators were able to pull his name off the drive's metadata. They used that to find his Instagram profile, and found a food-porn photo he'd taken at the Morton's steakhouse where he'd dined with the informant. Busted.
"IRS Agent Louis Babino then headed to Google and located Maye's Instagram page, which contained a profile photo of Maye. When shown the profile photo, the CW confirmed that Maye (seen at right) was the man with whom he dined at Morton's."

Well, sure, Agent Babino, but how can you be really sure this was your guy?

"A further review of Maye's Instagram page, Babino noted, revealed "a photo of a steak and macaroni and cheese meal containing the caption 'Morton's.'" The image--uploaded on January 7 at 11:24 PM--"appears to coincide" with the CW's meeting at Morton's, added Babino."

Yup, this guy food-porned his way into being arrested. The Instagram photo is reportedly being entered into evidence in the case, so one hopes the juicy steak and the creamy mac and cheese was really, really worth all the trouble Maye is now in. Once again, if you're a criminal, online narcicism is probably something you'd be best to avoid.
Criminal Nabbed By His Own Food Porn [Timothy Geigner/TechDirt], [Gabrielle Bluestone/Gawker]
Leo Kent of Humans Invent writes about a new free service in Sweden that uses Instagram to find out how to make Asian food.
Ask CT Food is a new service people can use through Instagram to find out the ingredients and methods of cooking Asian food. If you're at a restaurant and want to know how to make the Sushi that you're about to eat, you can take a photo of the dish and CT Food will tell you how. We will then see the picture and, based on what the question is, reply as quickly as possible Luong Lu, who, along with co-creative Farnaz Sajadi and web developer Nikola Romcevic, created this concept for CT Food, says, "It is a very personal, almost 24/7 customer service right in your pocket. Everytime you have a question about an Asian dish at a restaurant you just snap a picture and then put in our username @askctfood. We will then see the picture and, based on what the question is, reply as quickly as possible."
Well hey now. From the Instagram blog:
Earlier this week, we introduced a set of updates to our privacy policy and terms of service to help our users better understand our service. In the days since, it became clear that we failed to fulfill what I consider one of our most important responsibilities – to communicate our intentions clearly. I am sorry for that, and I am focused on making it right.

The concerns we heard about from you the most focused on advertising, and what our changes might mean for you and your photos. There was confusion and real concern about what our possible advertising products could look like and how they would work.

Because of the feedback we have heard from you, we are reverting this advertising section to the original version that has been in effect since we launched the service in October 2010. You can see the updated terms here.
As Dave Pell put it: "Translation: Fuck it, we're cool with just the billion."
Read the full statement here. I think that's pretty great news. I really enjoy using instagram, and my colleagues and I have had a lot of fun with our new Boing Boing instagram feed—I feel better about remaining a user now. But I don't know. Fool me once...
All that said, the new Flickr mobile app is pretty sweet. Personally, I think I'll straddle both for a while. And you?
"I'm writing this today to let you know we're listening and to commit to you that we will be doing more to answer your questions, fix any mistakes, and eliminate the confusion,"
writes Instagram co-founder Kevin Systrom
, responding to a
big brouhaha on their updated TOS
. "As we review your feedback and stories in the press, we're going to modify specific parts of the terms to make it more clear what will happen with your photos."
"Legal documents are easy to misinterpret. So I'd like to address specific concerns we've heard from everyone."
Read the full response here. Upset Instagram users, does the promise to "listen" and "modify" make you feel comfortable remaining a user? I'm curious how you feel.
A Mexican indie-pop band called
The Plastics Revolution
, who
really like
the social photo-sharing service Instagram, created what they claim is "the very first music video done entirely on Instagram without any third party alterations." The song is "Invasión." Snip from video description:
Every single frame of this music video is an actual picture that we ran through Instagram. We never shot any video. We only shot still photography. All 1905 pictures went through the normal Instagram process on an iPhone.
Video Link
.
Philip Neustrom has created Set your Instagram free!, a simple way to add Creative Commons licenses to your Instagram photos (something the service doesn't support natively, meaning that technically anyone who reposts your Instagrams risks a lawsuit). Wired has a good writeup by Nathan Hurst:
"What makes Flickr's Creative Commons licensing so great is that it's structured: You can search through their photos and just find ones that are CC-licensed and even drill down by tag, etc.," says Neustrom. "So I wanted to provide something with the same level of structure."

Users sign in with their Instagram accounts, choose the CC license they wish to use, and every photo they Instagram for the next three months (Neustrom included a re-up requirement so that users wouldn't forget they're sharing) will be CC-licensed. Take note, though: There's no way to selectively license your Instagram photos — they'll all appear on I Am CC. Whether you want them licensed in the first place is up to you, but chances are, they're not making your any money anyway.
I really enjoyed Paul Ford's New York Magazine story on the Facebook/Instagram acquisition. By building his analysis on the way that the "user experience" focus is different in different parts of Facebook, and within Instagram, Ford captures something that's been missing from the coverage, a way of looking at the acquisition that puts a name to the free-floating anxiety that many Instagram fans have felt. Plus, he uses the phrase "Facebook is like an NYPD police van crashing into an IKEA, forever." Zing!
Remember what the iPod was to Apple? That's how Instagram might look to Facebook: an artfully designed product that does one thing perfectly. Sure, you might say, but Instagram doesn't have any revenue. Have you ever run an ad on Facebook? The ad manager is a revelation — as perfectly organized and tidy as the rest of Facebook is sprawling and messy. Spend $50 and try to sell something — there it is, UX at its most organized and majestic, a key to all of the other products at once.

To some users, this looks like a sellout. And that's because it is. You might think the people crabbing about how Instagram is going to suck now are just being naïve, but I don't think that's true. Small product companies put forth that the user is a sacred being, and that community is all-important. That the money to pay for the service comes from venture capital, which seeks a specific return on investment over a period of time, is between the company and the venture capitalists; the relationship between the user and the product is holy, or is supposed to be...

When people write critically about Facebook, they often say that "you are the product being sold," but I think that by now we all get that. The digital substance of our friendships belongs to these companies, and they are loath to share it with others. So we build our little content farms within, friending and upthumbing, learning to accept that our new landlords are people who grew up on Power Rangers. This is, after all, the way of our new product-based civilization — in order to participate as a citizen of the social web, you must yourself manufacture content. Progress requires that forms must be filled. Thus it is a critical choice of any adult as to where they will perform their free labor. Tens of millions of people made a decision to spend their time with the simple, mobile photo-sharing application that was not Facebook because they liked its subtle interface and little filters. And so Facebook bought the thing that is hardest to fake. It bought sincerity.
Facebook and Instagram: When Your Favorite App Sells Out (via Making Light)
Sucks to be you
. David Benoit at the WSJ: "The social networking giant has reached an agreement to buy Instagram for $1 billion in cash and stock."
Here are some fantastic vintage-photo
Photoshop actions
by Daniel Box, for people who can't afford Instragram. [via
Gizmodo
]
Wondering why Flickr didn't try to kickstart the Instagram-style social networking photo revolution years ago? It might have were its efforts not 'squashed relentlessly' internally.
Unfortunately, Flickr is owned by Yahoo
. [MG Siegler]