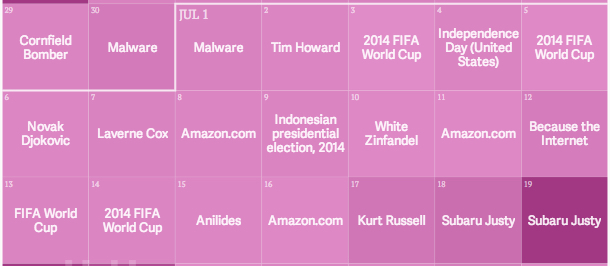 What do Laverne Cox, Crimea, and Malware have in common? Each was a top-viewed Wikipedia article for at least one day in 2014.

Read the rest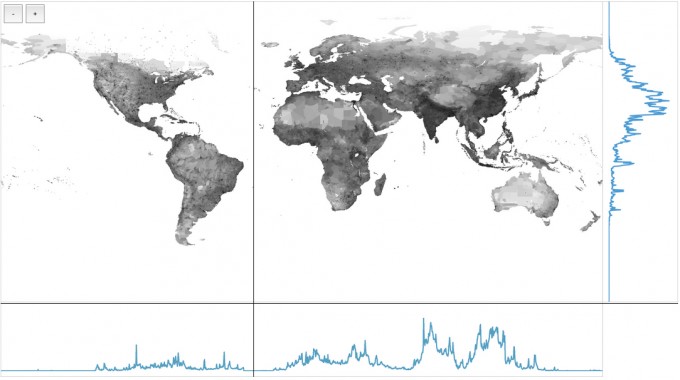 André Christoffer Andersen created this
nifty interactive map
that estimates world population at any coordinate.
Read the rest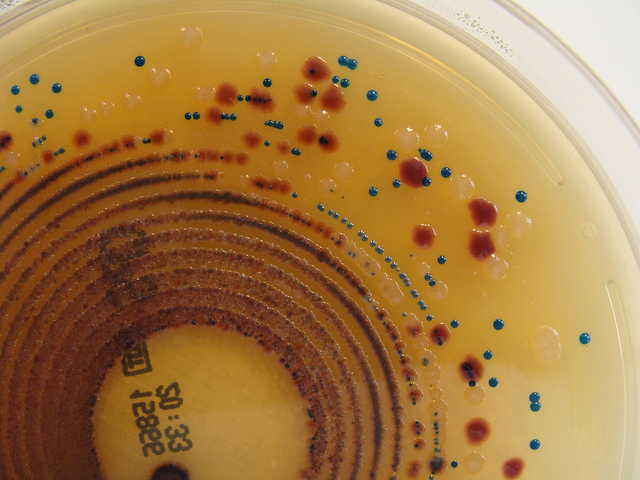 Last night, the PBS show Frontline aired a new documentary about antibiotic resistance and the growing risks we all face from the increasingly untreatable bacteria that live in both hospitals and our communities. Starting at noon Eastern/11:00 Central, I'll be moderating a live web chat with the documentary's producers and infectious disease expert Dr. Sean Elliot. We'll be talking about the film, but we'll also be taking your questions and trying to add some context to the fear. We know antibiotic resistance is a big problem. So what can we actually do about it?
You can follow along with the chat and submit questions here:
Read the rest
Later today, I'll be moderating a live web chat about antibiotic resistance with an infectious disease expert and the producers of PBS Frontline's new documentary "Hunting the Nightmare Bacteria".
The chat starts at noon Eastern/11:00 Central
and will be posted here. We'll be taking reader questions. If you can't make it, you can post questions the comment thread for this post in our BBS. Hope you can join us!
Are you the kind of person who could lie in bed for 70 days for science? If so,
you could make $18,000 in a NASA study of microgravity
. The catch (because lying on your back for 70 days wasn't already enough of a catch): The bed will be tilted 6 degrees towards your head, forcing bodily fluids upwards and replicating what happens to your cardiovascular system in microgravity environments.
Drop a message-in-a-bottle into the Gulf of Mexico, somewhere near New Orleans, and, 10 years later, your missive has a high likelihood of ending up near Cuba — or northern France.
The website Adrift
uses data from
a global system of floating buoys
to show you how ocean currents carry things like plastic debris around the planet.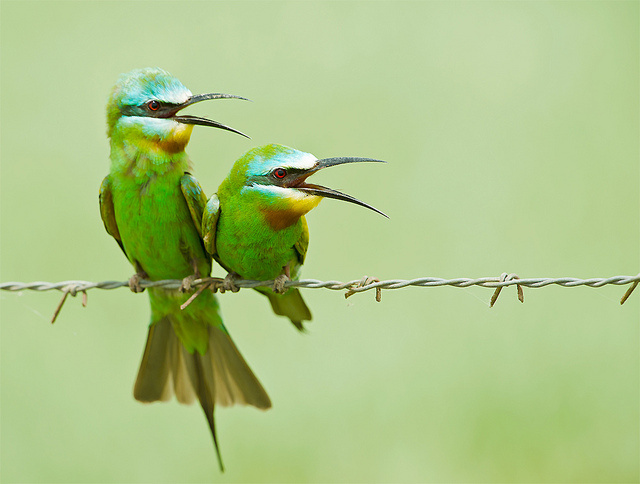 All this month, we've been telling you about a fantastic challenge from the Encyclopedia of Life. Called Armchair Taxonomist, it's an opportunity to research and write about different plants, animals, fungi, and microscopic organisms — and, in the process, help move scientific information from places where it's hard for most people to see, to an open-access sandbox on the Internet.
If you've taken the time to write up an entry, fantastic. We're looking forward to reading them. You've also got a shot at the great stuff up for grabs — including a private, behind the scenes tour of the Smithsonian's National Museum of Natural History. If you've not entered yet, though, this is the last weekend you can. The deadline is Monday, May 20th at 6:00 pm Eastern.
Read all about the Armchair Taxonomist challenge.
And be sure to check out the stories in BoingBoing's taxonomy series:
• Learn what leeches and ligers can teach us about evolution
• Meet the model animals against whom entire species are judged
• Find out what taxonomists and Mr. Spock have in common
Image: Bee-eater Courtship, a Creative Commons Attribution (2.0) image from kkoshy's photostream
The Watt? is an interactive energy primer aimed at making the complicated and completely non-intuitive world of energy use a bit more understandable to laypeople.
I wholeheartedly support any effort to make this stuff make more sense. In the course of researching my book, Before the Lights Go Out, I stumbled across tons of extremely important information that was basic "duh" knowledge to energy experts—but not to you, me, and everybody actually doing the decision making on energy issues.
I ended up focusing on the story of the electric grid, how it works today, and where it might be headed in the future. But there's no way I could cover everything. The Watt? promises to fill in some of those gaps—fleshing out the details on everything from physics and terminology, to economics and technology. There will be some really lovely-looking charts and graphics, guest "speakers" embedded into the e-book, and lots of other cool surprises.
The team behind this is trying to raise funds now through Kickstarter. Their deadline is in 18 hours. If you want to better understand energy systems (or you want to help other Americans better understand them) I suggest making a donation.
Here's the very talented Pablo Defendini -- developer, designer, artist, digital guy -- describing how "responsive" comics can be made using HTML and CSS that intelligently format themselves for a variety of devices, and addressing the writing and illustration challenges this gives rise to. He's not talking about "motion comics" -- he's talking about comics where the layouts and writing take into account a range of screen-sizes and aspect ratios.
Responsive design works for websites, why not for digital comic books?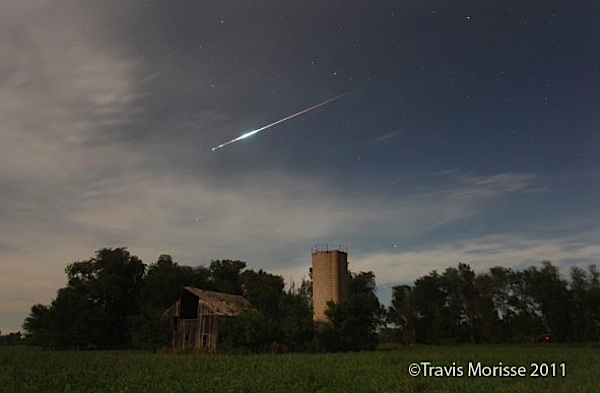 Photographer Travis Morisse took this great shot of a meteor streaking across the sky near Hutchinson, Kansas.
Which reminds me, the Moon may obscure your view of the Perseid meteor shower, but you can still listen to the meteors. It's all thanks to NASA's SpaceWeatherRadio, which translates radio waves into sound. Radio waves are beamed into the upper atmosphere and bounce off of meteors. The "echo" of that is what you'll be listening to. It's eerie and fabulous. You can listen live, or check out recordings from meteor showers past.
Via Bad Astronomy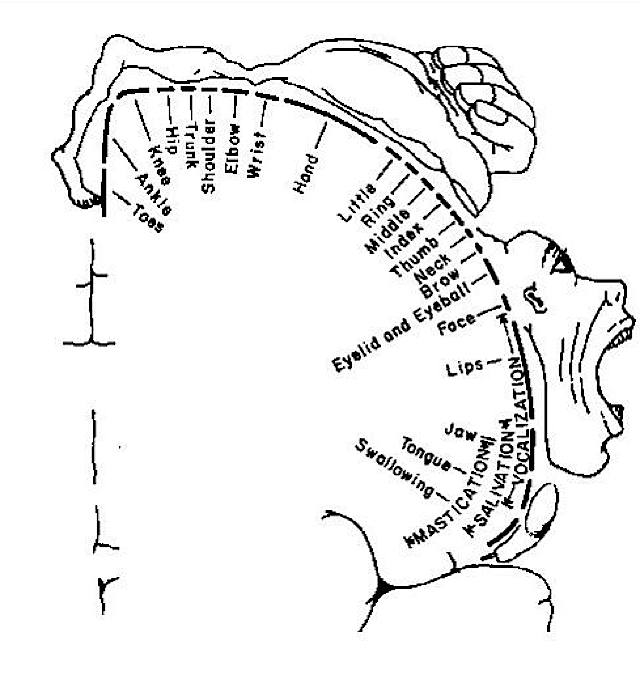 I love the thread at Quora asking users to post their favorite iconic and/or beautiful scientific images. Why? Because, while the usual suspects are certainly present and accounted for (O hai, NASA archives! I can haz Mandlebrot sets?) there's also plenty of images that are at once striking, beautiful, and not at all what you would have expected people to post.
Take, for instance, this image. Posted by Alicia Zha, it was first published by neuroscientist Wilder Penfield in 1950, as a way of illustrating connections between parts of the brain and the physical movements they seemed to control, like a pictorial atlas of the cerebral cortex. It's called the motor homunculus. And it's definitely iconic, even if it's not the kind of iconic that's liable to turn up on the evening news.
Other high points of the thread: Robert Hooke's illustrations of the cell structure of cork; the chemical structure of benzene; group photos from the first world physics conference; and early visualizations of model storm systems.
What would you add?
Via W Younes