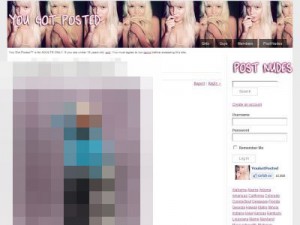 California State Attorney General Kamala D. Harris today announced the arrest of a man said to have owned and operated a so-called revenge porn website. According to the arrest warrant (PDF), the site operated by Kevin Christopher Bollaert published over 10,000 sexually explicit photos. The young women who appeared in these images, some of whom were minors at the time they were taken, were charged up to $350 each to be removed from the site.
California Department of Justice agents arrested Bollaert, 27, in San Diego where he lived. He is in San Diego County jail on $50,000 bail, and has been charged with 31 felony counts of conspiracy, identity theft and extortion. If he is convicted, penalties may include jail time and fines.
The arrest warrant is well worth a read. It includes the stories of a number of young women who ended up physically exposed and personally identified on the internet against their will. In some cases, private photos made their way online after their accounts were hacked or phones snatched. The women speak about how that violation damaged their lives and destroyed their sense of privacy.
During an in-person interview with two special agents, Bollaert bemoaned the burden of all those emails he was receiving from young women and teens, asking for images to be removed -- a service he charged hundreds of bucks for.
"At the beginning this was like fun and entertaining," he said to the agents, "But now it's ruining my life." At the end of the meeting, the agents served him with search warrants.