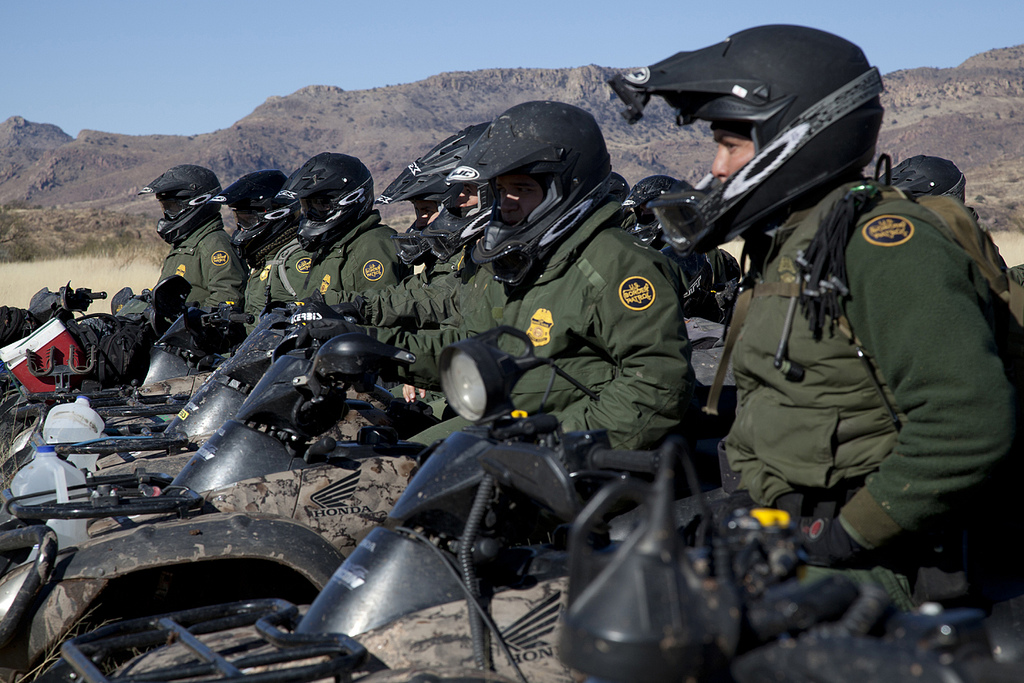 The expanding powers, vicious unaccountability and violent, invasive searching conducted in America's 100-mile "border zone" should concern you.

Read the rest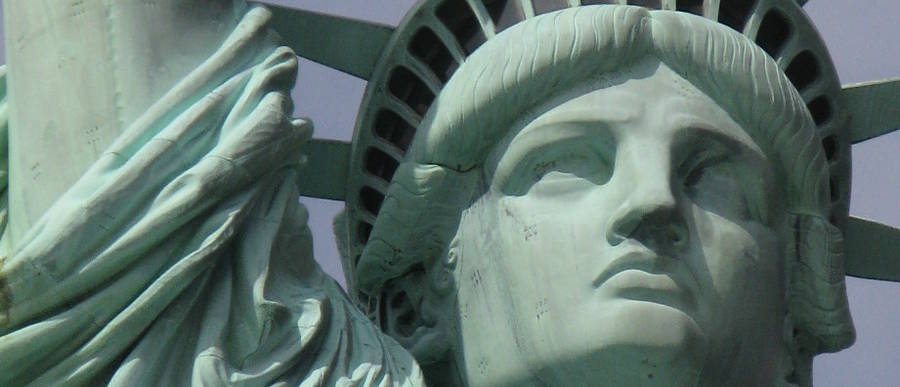 Peter Biddle recounts the stories of his migrant ancestors and their journey to America, making the point that you can't escape your fate by staying put.

Read the rest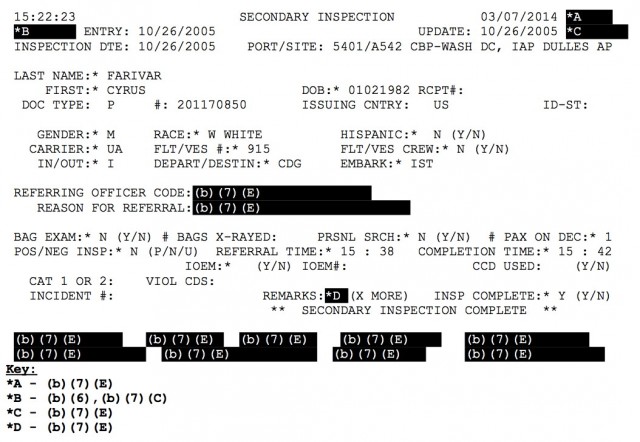 Ars Technica's Cyrus Farivar filed a Freedom of Information Act request with the United States Customs and Border Protection agency for his own travel records, including the notoriously comprehensive "Passenger Name Record" -- what he got was '72 pages of shit,' a redacted jumble of arbitrarily collected and retained nonsense. He didn't get his PNR. If you want to give it a try, he's signposted the procedure.

Read the rest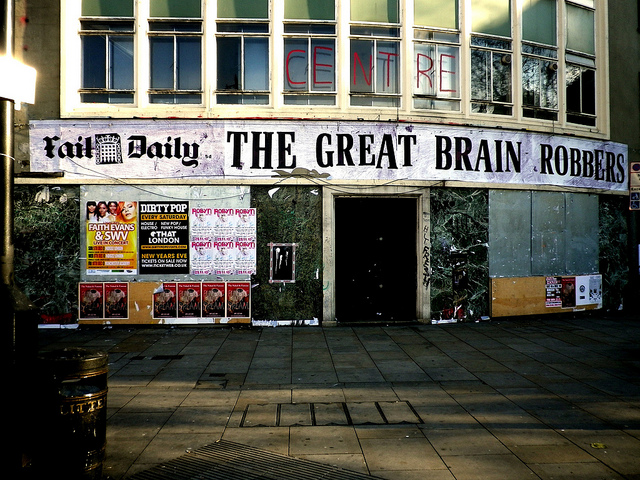 The Daily Mail is an awful, racist, hard-right UK newspaper, notorious for scare stories (see, for example, this exhaustive index of things that the Fail claims will give you cancer) and generally terrible reporting.
But even in amidst all that notorious history of deceit and hate, the Mail attained something of a new low recently, with its "reporting" on the supposed wave of Bulgarian and Romanian immigrants. According to the Mail, these people were poised to invade the UK on January 1, 2014, when those countries' EU membership would entitle their citizens travel throughout the EU and seek work without visas.
Jon Danzig, an investigative BBC journalist, plucked one of the many such stories out of the paper's pages, a mere 890 words' worth, and, with the help of a colleague in Romania, found 13 lies. He pressed the Mail to substantiate its story, and, failing to receive a satisfactory reply, he filed a formal complaint with the Press Complaints Commission.
The Mail's xenophobic campaign against Bulgarians and Romanians has been instrumental in shifting both Labour and the Tories to adopting inhumane policies, in order to pander to people who've been terrorised into a false belief that somehow migrants are coming to both take away British jobs and collect benefits (that is, to work and not work simultaneously).

Read the rest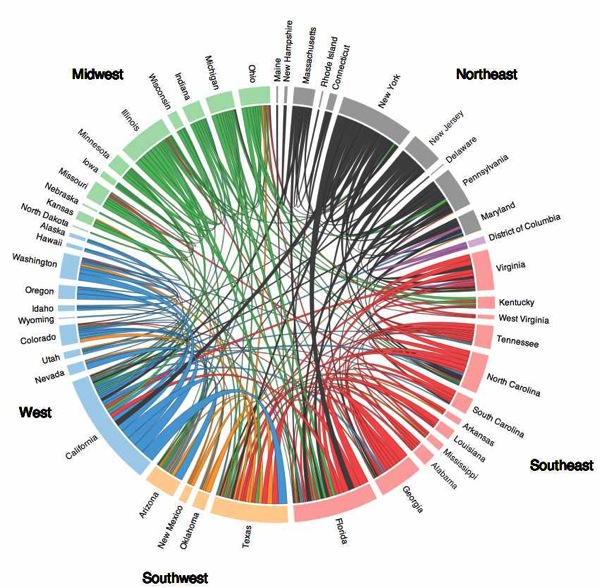 Chris Walker created a fascinating interactive graphic of migration patterns within the United States. It's based on US Census Bureau's 2012 American Community Survey estimates. Here are a few insights that Walker gleaned:

Read the rest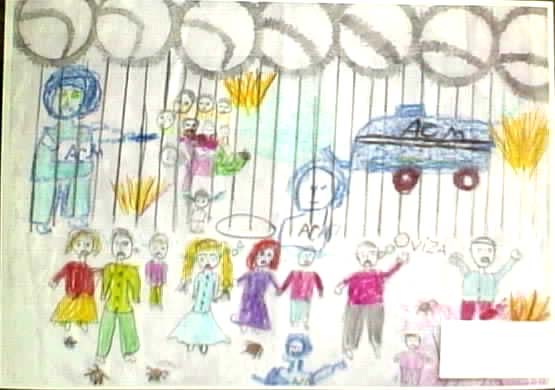 Australian Asher Wolf's taken to the Guardian to explain why her family is spending Christmas petitioning for humane refugee treatment from the Australian government. Wolf enumerates the conditions under which Australia keeps refugees in its off-shore camps -- conditions that Amenesty considers to be torture, conditions where basic sanitation and health-care are denied to families fleeing war, torture and death threats. Deprived of the shoes, hearing aids, and medicine they managed to smuggle out of their own countries, these refugees, including children, are denied sufficient water, exposed to malaria and TB, and are brutalized into suicide attempts. Gay detainees are sent to camps in PNG, where homosexuality is illegal. Orphans get it even worse -- though the immigration minister Scott Morrison is their legal guardian, these children are left with no one to advocate for them.
According to the UN High Commission on Refugees, the Australian government is spending 1000% more torturing and detaining migrants than it would spend on "community processing" on the mainland. But wasting money on cruelty curries favour with racist voters, so it is the preferred option. For now. But, perhaps, not if Australians in great number write to the minister to explain that his cynical games with innocent human lives will cost him more votes than they win.

Read the rest
The UK Home Office's war on migration has suffered a setback: an American head-teacher had lived in Scotland for nearly ten years will be allowed to stay and help his British wife of four years as she begins cancer treatments. The Home Office had been absolutely set on deporting David MacIsaac, having declared his marriage "a sham," despite the massive shortage of qualified head teachers. But after the pesky Observer newspaper called attention to MacIsaac's plight, and Scottish politicians took up his cause, the poor Home Office was forced to change direction, causing irreparable economic harm to the private security company that would have otherwise been enriched by a government contract to shackle MacIsaac and physically abuse him all the way back to America.
But have no fear: Britain's new migration policies will ensure that countless other MacIsaacs will be cruelly taken from their homes and families in an effort to pander to the Daily Mail, bigots, and crypto-bigots who say things like "Oh, I'm not a racist, but when people arrive too fast for us to assimilate them, it doesn't do anyone any good" (or its cousin, "I'm no bigot, but certain groups just don't want to assimilate.")

Read the rest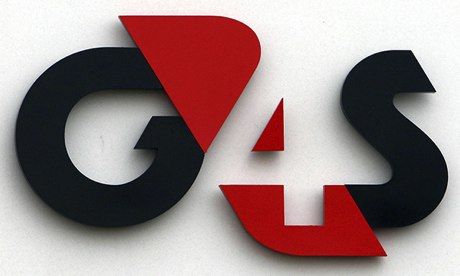 G4S is a UK-based private security contractor that is wildly profitable and rapidly expanding. They're also terrible. They totally blew security for the London Olympics (but not before illegally harassing photographers). They've been stripped of their contract to run a South African prison after total incompetence and torture. They've had new contracts with the UK government frozen while they're being investigated by the Serious Fraud Office for criminal overbilling (and despite this, the Home Office is quietly trying to expand their contract to abuse house migrants facing deportation).
Now, they're facing criminal charges for forging migrants' documents.

Read the rest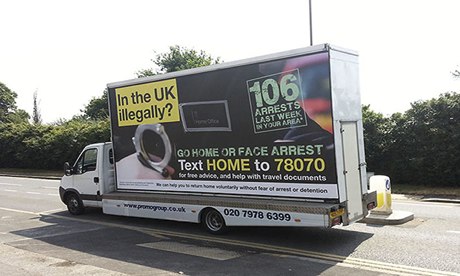 Britain continues its slide into official xenophobia: a government contractor sent nearly 40,000 texts reading "Message from the UK Border Agency. You are required to leave the UK as you no longer have right to remain." At least 400 of these reportedly went to people who had the right to be in the country, including some UK citizens. But the contractor says it's all OK, because people who received messages in error weren't deported -- all they had to do was convince a sloppy, faceless, mercenary corporation that they had the right to be in the country and the threats of deportation, deprivation of access to their homes, employment and families ceased. Theresa May, the government's Foreignerfinder General, says it wasn't her idea to send the texts -- just like all the ministers who disavowed the vans driving around London's browner neighbourhoods with giant billboards reading "In the UK illegally? GO HOME or face arrest!"
But still: No biggie!

Read the rest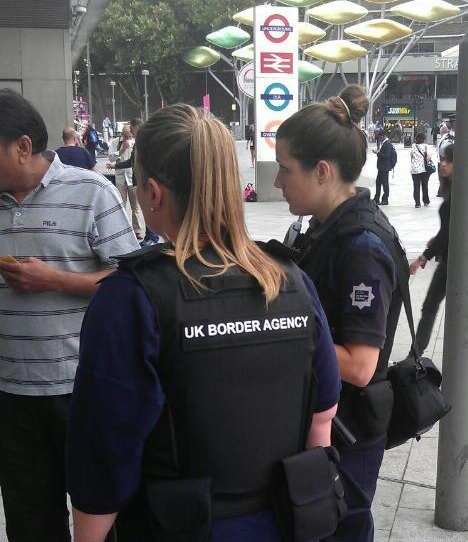 (Photo: NRBrizzle)
In London today, members of the UK Border Agency were stopping people of color at various tube stations and demanding that they show identity papers. Several eyewitnesses confirmed that the patrol officers were singling out brown people, that they were intimidating in demeanor, and that they threatened to arrest passers-by who asked what was going on. At least one officer is reported to have removed his badge number. This comes as the UKBA began to blitz London's neighbourhoods with vans threatening undocumented migrants with arrest and deportation and exhorting them to turn themselves in.


Rogue archivist Carl Malamud sez,
Public.Resource.Org has always been a strong supporter of British-American cooperation. In order to further what Winston Churchill so aptly dubbed our "Special Relationship," I'm happy to announce two hands across the sea.

If you would like to be a citizen of the United Kingdom, you need to study a book called Life in the UK. The book is published by Her Majesty's Stationery Office, which is part of the amazingly well run National Archives. These are the folks that run legislation.gov.uk, the best legislative reference site in the world. Life in the UK has the kind of open license one has come to expect for government information, so we asked our friends at the Rural Design Cooperative to take a stab at creating an open version. They totally went to town, replacing the commercial stock photos with open artwork, creating much better navigation across the book, study guide, and tests, and making the tests better, and (of course!) publishing the whole thing as valid html and open source so you can fork it if you'd like and create your own version. Thanks to Oliver Morley, the Archivist of the United Kingdom, for enabling open publishing and to the folks at the Rural Design Cooperative for creating the new version. You can read the all new Open Life in the UK here.

I'm sorry to report that another agent of the UK government, the British Standards Institution, apparently didn't get the open government memo. As you know, we've posted a bunch of crucial public safety standards from the UK as well as the rest of Europe and the world. Well, the British Standards Institution decided that they didn't like the fact that we posted a copy of BS 8300:2009+A1, which is the "Design of Buildings and Their Approaches to Meet the Needs of Disabled People" which we have on our site and on the Internet Archive. They sent us a DMCA takedown notice. We sent them a strongly-worded 4-page answer and that answer is NFW. You can read all the traffic back and forth with the standards people on our docket of RFCs.
The "Open Life in the UK" that Public Resource put together is much better than the study guide I used when I was becoming a British citizen. On behalf of all migrants to Britain, thank you, Public Resource!
Open Life in the UK (Thanks, Carl!)
John Carlos Frey investigates the deliberate cruelty of the US Border Patrol agents who work on the US-Mexican border. A humanitarian relief group called No More Deaths used hidden cameras to record smiling Border Patrol agents destroying water-caches left in areas where migrants have died of exposure. A former senior agent who left after witnessing horrific acts of torture and cruelty describes the way that Border Patrol agents delight in sadistic brutalizing of captured migrants. These accounts have been corroborated by the Red Cross and Doctors of the World.
My grandparents -- Red Army deserters -- deliberately destroyed their papers after WWII in order to become "displaced people" so that they could make their way from a camp in Azerbaijan to the DP boats in Hamburg. I don't see any difference between that sort of "illegal" migration and the sort that the US BP is currently fighting. Back then, the US, UK and Canada used very similar rhetoric about the way that migrants would take badly needed jobs, bring criminality, and fail to assimilate. But as Elie Weisel said, "there is no such thing as an illegal human being."
In his nine years working the border near Tucson, Ariz., and earning the rank of senior agent, Cruz says he frequently saw agents physically abusing detainees and denying food and water to those who were in obvious need. He also saw "individuals being crammed into cells twice beyond the posted capacity. Standing room only. I mean, you couldn't even lie down on the floor." This was done, he says, even when empty cells were available nearby. In 2003, he began warning his supervisors of this pattern of abuse. When his spoken complaints didn't elicit a response, he began to write letters. "I started at the unit level," Cruz says. "I went to the sector chief, office of inspector general — via phone calls and faxes of those memorandums. Went on to the commissioner of the Customs and Border Protection, who's over the U.S. Border Patrol Agency. And then felt the need to move on to Congress." Cruz left the force in 2007 without ever hearing a response.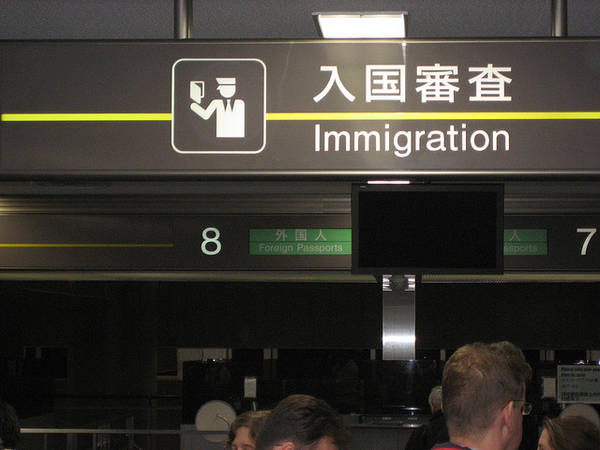 Christopher Johnson, a Canadian journalist residing (until recently) in Japan published a ghastly account of his return to Tokyo after a short pre-Christmas trip. He was flagged at the border (he implies that this is related to his coverage of Fukushima), held, threatened, and shaken down for bribes before being detained without counsel or a phone call. He says he was eventually deported, though not before being ordered to sign a falsified confession and being threatened by an official at gunpoint, who demanded that he purchase a hyper-inflated plane ticket, which, Johnson believes, included a kickback for the official.
This time, he came back with a young, stocky guy. He was wearing a blue uniform. "Do you see this gun?" he said in Japanese, turning around to show me a weapon in its holster. "I have the legal authority to use this if you refuse to get on that flight. Now are you going to buy that ticket?"

I was angry now. They are forcing me at gunpoint to buy an overpriced ticket.

The [guards] ushered me out of the room and through the airport. They still had my bag, my passport, my wallet, credit cards, everything. I had no choice. They whisked me through the airport like a criminal. I didn't have to line-up for x-ray machines or immigration. [They] pushed me through VIP lines, ahead of pilots and flight attendants.
Japan's outsourced airport detentions operation is the subject of its own Amnesty International report.
Gulag for gaijin (Thanks, arbitraryaardvark!)
(Image: Immigration, a Creative Commons Attribution Share-Alike (2.0) image from bryansblog's photostream)