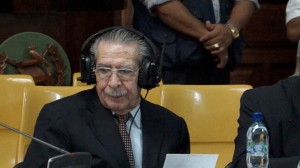 I am blogging from inside the Supreme Court in Guatemala City, where the trial of former Guatemalan Army General and US-backed dictator Guatemalan José Efrain Rios Montt and his then chief of intelligence Jose Mauricio Rodriguez Sanchez has reconvened for the 18th day. Here's a good recap of Monday's proceedings, and here's another.
For the past two weeks, I have been here in Guatemala with Miles O'Brien, observing the trial in court and interviewing people involved in the story for a forthcoming report on PBS NewsHour. We have interviewed Rios Montt's daughter, Zury Rios, who is her father's most diligent defender. We have interviewed scientists whose work is entered as evidence in the trial. We traveled to the Ixil area where the conflict at the center of this trial took place, and we interviewed Ixil Maya survivors about their experiences in the US-backed counterinsurgency attacks. We interviewed government officials who worked closely with Ríos Montt, who believe that what happened was not genocide, but the unfortunate collateral damage of a just war against "International Communism."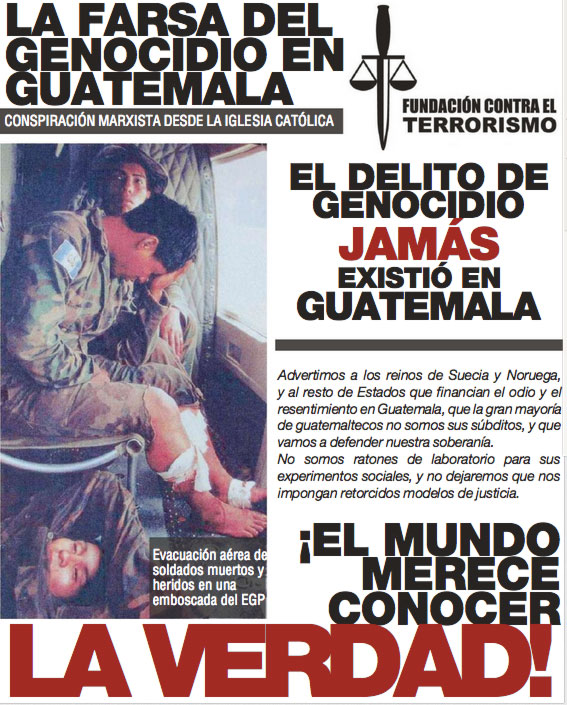 As covered in previous Boing Boing posts, the past few weeks of the trial have included personal testimonies from dozens of Ixil Maya survivors of mass killings, rapes, torture, forced adoption, and displacement. More than two dozen forensic anthropologists from the Forensic Anthropology Foundation of Guatemala (FAFG) have testified about human remains exhumed and analyzed from mass graves. Many other expert witnesses, or "peritos," have testified: among them, Patrick Ball of hrdag.org, who analyzed data of deaths during the armed conflict, to help judges make their decision about whether the mass killings constituted a focused attack by the Guatemalan Army, led by Ríos Montt, against the Ixil Maya ethnic group.
In other words: Was this genocide?
Not according to "The Foundation Against Terrorism," which published a 20-page paid newspaper supplement over the weekend here in Guatemala. "The Farce of Genocide in Guatemala: a conspiracy perpetrated by the Marxists with the Catholic Church." It's an interesting read.
The 18th day of the tribunal began this morning with defense witnesses for Ríos Montt and Sanchez.

Read the rest