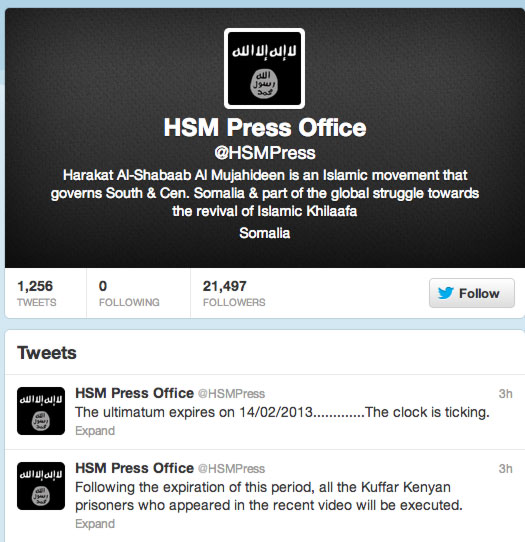 Two days after a group of Somali islamist militants vowed to execute Kenyan hostages, and tweeted a video of a captive pleading for the Kenyan government to help free them, the Al-Shabaab Twitter account @HSMPress was suspended. A Google cache is visible here. Warning: includes gruesome photos. The group took a French intelligence officer hostage, then apparently murdered him after an unsuccessful attempted raid by the French military which the US assisted). An @HSMPress press release about that killing is available on Twitlonger.
The Harakat Al-Shabaab Al Mujahideen Twitter account has been around since 2011, promoting the group's vision of strict sharia law in Somalia, 140 characters at a time. The US State Department was reportedly looking in to shutting it down ages ago. Wonder what took them so long?
For its part, Al Shabaab blames its "Christian enemies" for suspending its Twitter account. And they do sound rather miffed about being blocked on the popular social networking platform.