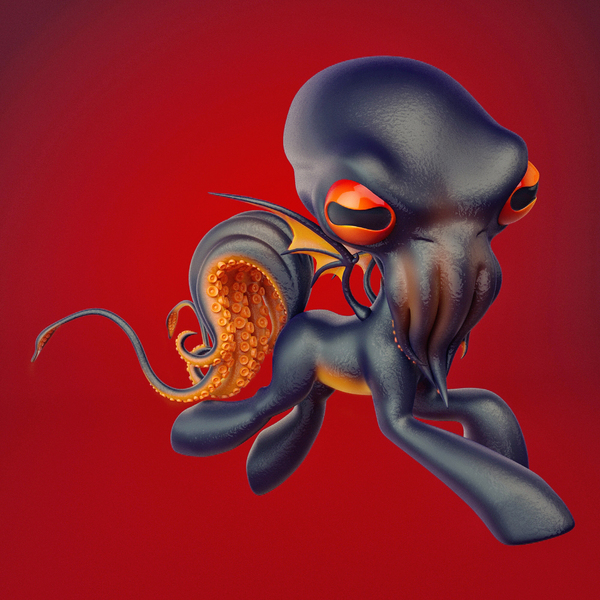 Little Maddie is Big Shot Toyworks's first character in a new toy line called "Friendship is Maddness." (via Laughing Squid)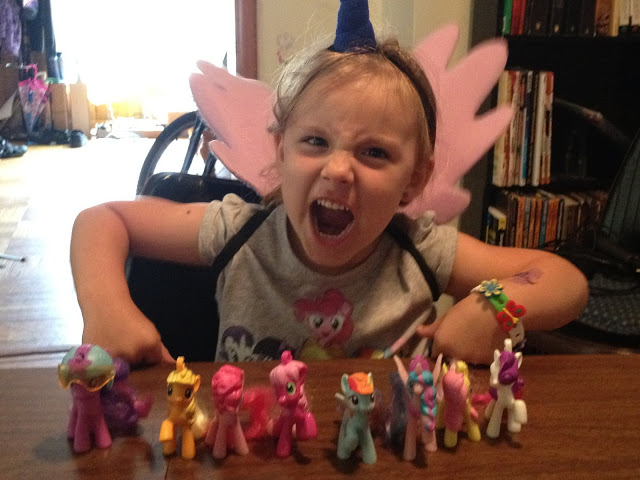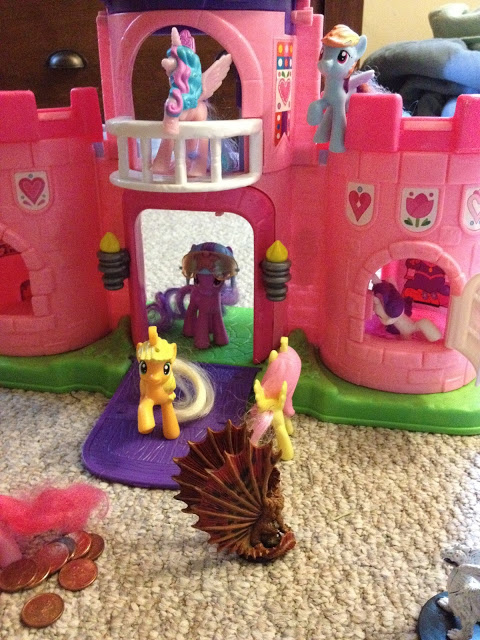 The debut issue of Gygax magazine (a reborn version of the classic Dragon gaming mag) carried an article I wrote explaining the variant D&D rules my then-four-year-old daughter an I were using. It involved a blend of random toys from the living room, painted D&D miniatures, dice, and pennies from the piggy-bank for scorekeeping.
Now, one of Gygax's readers has posted his experience playing the game with his own daughter. He used a set of My Little Pony toys (including an awesome MLP castle) to build a campaign called "Assault on Equestria" and it sounds like his daughter had an amazing time -- as did he! It's been a while since I've played D&D with my kid; this makes me want to go dig out the dice-bag!

Read the rest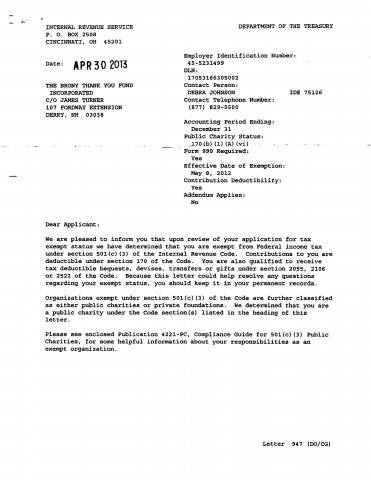 The Brony Thank You Fund spun out of a Reddit forum Indiegogo fundraiser for fans of My Little Pony: Friendship is Magic ("bronies" and "pegasisters"). After raising money to run an ad thanking the show's creators for doing such a great job, the organizers donated the hefty excess balance to Toys for Tots. The project continued to gain momentum and it is now a registered 501(c)3 charitable organization through which fans of My Little Pony can make tax-free donations that will be funneled to worthy causes. They claim that they're the first media-related fandom to register as a charity -- I'm pretty sure that some science fiction conventions are run as 501(c)3s, though.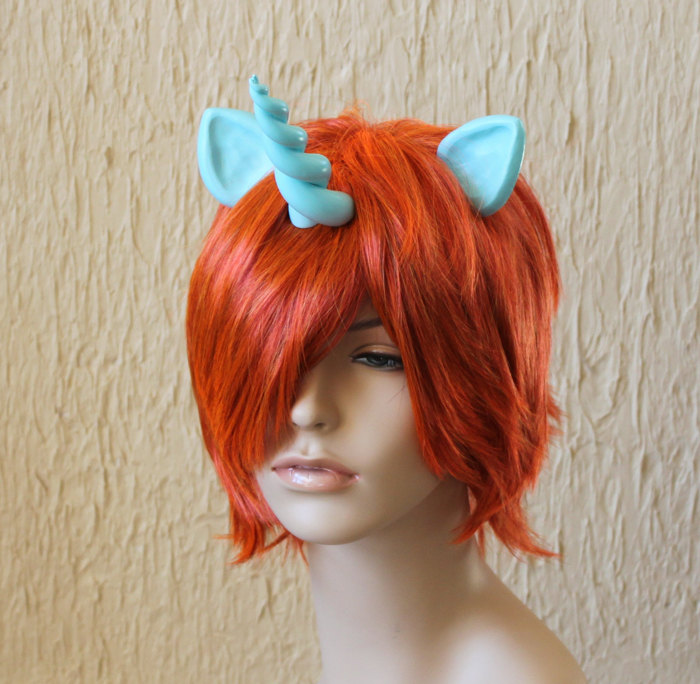 Etsy seller GimmCat makes multihued wigs with integrated unicorn horns (tails and assorted ponyana as well): "This sale is for the mischievous Snips style My Little Pony costume wig for cosplay, fantasy costumes, conventions, raves, Renaissance festivals, Brony costume or just because! This wig is especially suited for males wishing to take part in the My Little Pony fun!"
GimmCat (via Geekologie)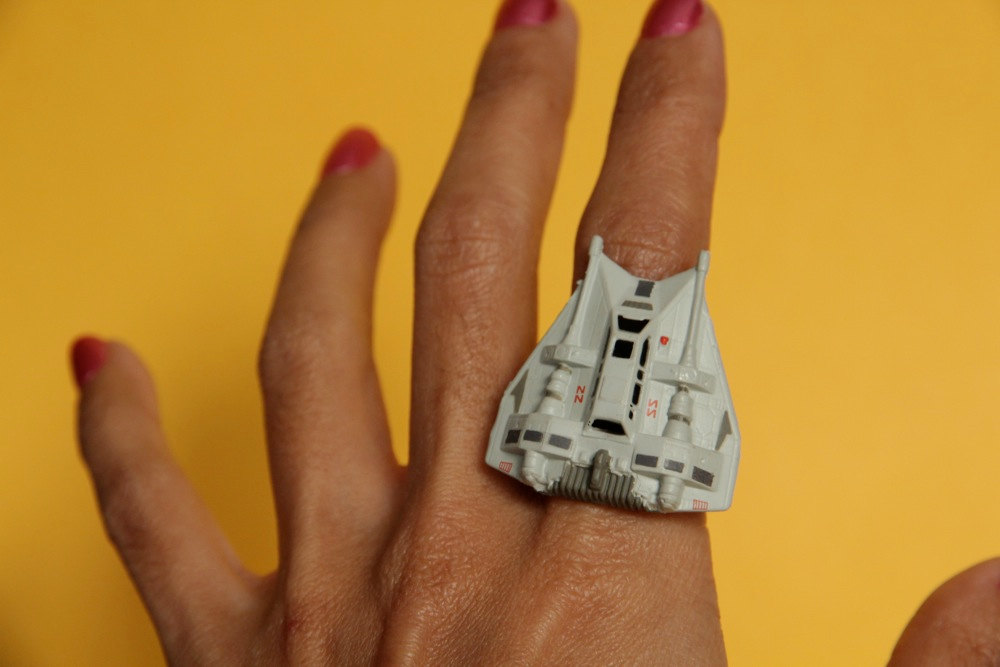 Etsy seller Rockets and Rainbows makes clever jewelry out of Star Wars and My Little Pony toys, including the Snow Speeder ring shown here. But you can't buy that one, because I just bought it as a surprise for my wife. Don't tell her, OK?
OK, nobody tell my kid about ~renegadecow's "Applejack's Apple Harvest" My Little Pony automata. Nine days left on eBay, bids open at $200:

No pony appreciates a good days work more than Applejack. She loves the hard-earned life so much that she doesn't even look like she's working at all! Of course, not everybody is gifted with the talent for apple bucking. It's also an untold mystery as to how she can send each and every single apple into a bushel with nary a one touching the ground. But I think her ever faithful, canine companion Winona has rooted that secret out. That or she's on the lookout for bad apples.

The figures, stand, tree and bushel are carved out of Philippine mahogany while the gears and apples are made out of Narra hardwood. They're painted in enamel and protected by clear flat lacquer. Applejack stands at 5 1/8" tall (with her hat down) while the entire complete piece measures 11 3/4" high, 9 1/2" long, and 3 1/2" wide. It took 161 hours to complete.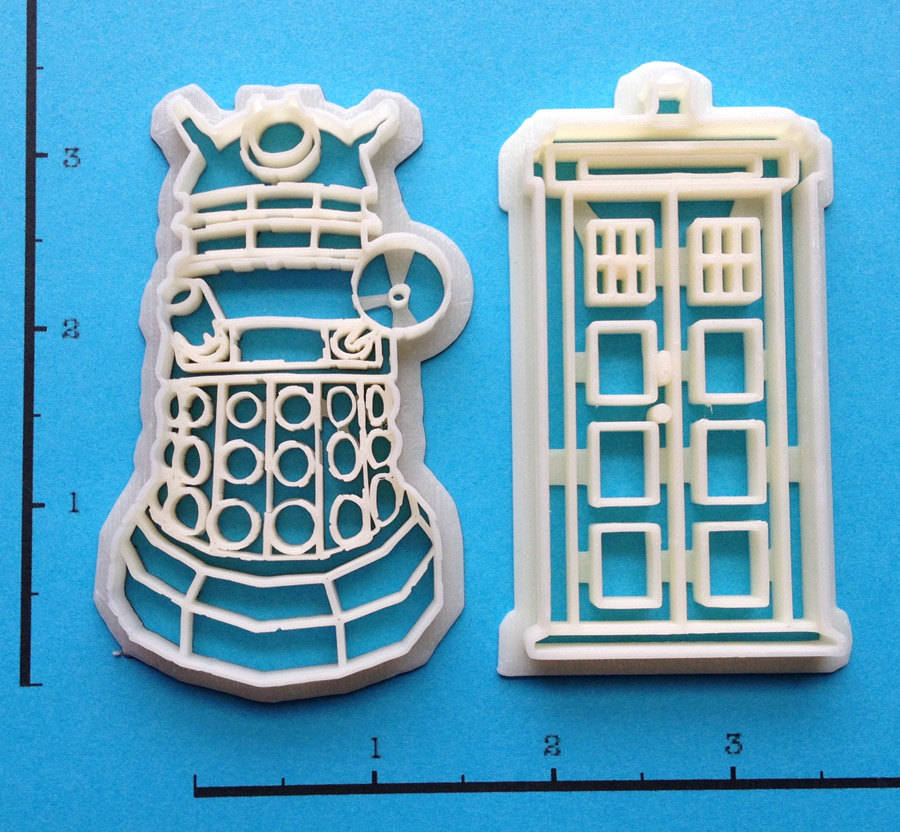 Wired profiles
Athey Moravetz
, a game developer who quit the business to raise her kids, who built
WarpZone
, a massively successful Etsy store selling 3D printed, nerdy cookie-cutters:
While many homemakers have a secret cookie recipe, Moravetz has a small fleet of MakerBots. Her four MakerBot Replicators run simultaneously to keep up with the demand for her products. She says "I turn the bots on when I get up in the morning to get my daughter ready for school. So they turn on about 8 am, and they're running all day long from that point until an automated timer I've got them plugged into, turns them off at 3am. That way I can get in one last print started as I'm going to bed."

...Designing cookie cutters requires design skill — not every game character makes for a good cookie. Moravetz says "I had a lot of people requesting Dr. Who stuff — Tardis and Dalek specifically. A Dalek just doesn't read unless you include the inner detail — the silhouette is only readable to a certain degree. It needs the inner detail. But it needs a lot of small inner detail, and I try to avoid cutters going over three and a half inches in any direction. I made a four inch Dalek, but it took nearly two and a half hours to print, and when you're getting as many orders as I am right now, any cutter that takes that long to print is hardly worth it." Like Dr. Who, she outwitted the Dalek and now offers it for sale alongside the Tardis.
Maker Mom Builds Cookie-Cutter Empire With 3-D Printers [Joseph Flaherty/Wired]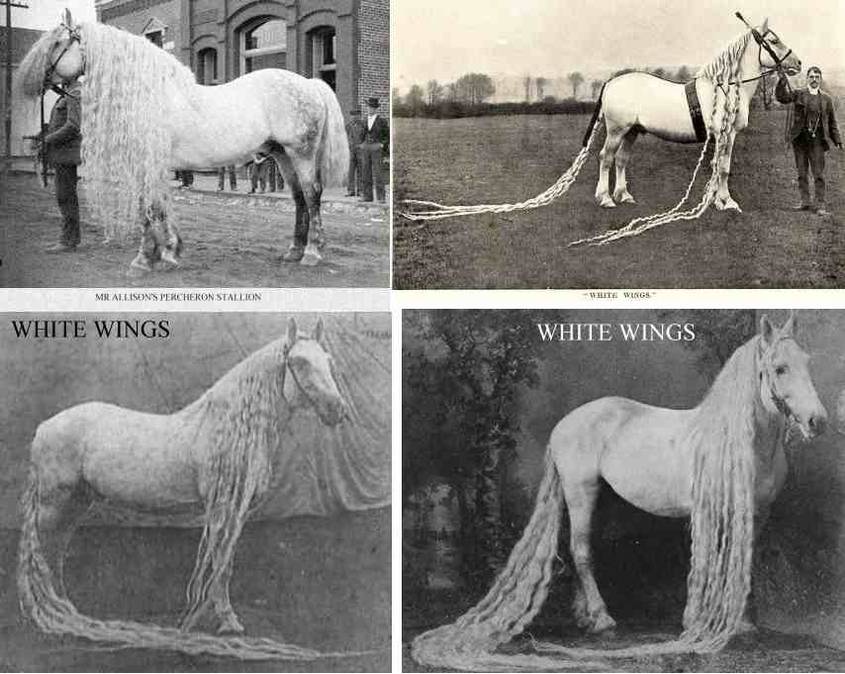 Messy Beast's learned treatise on horsies includes a fascinating section on long-maned wonder horses, exhibited at carny sideshows and the like, with their flowing, lovely locks. Let the broniegasm begin.
Circuses and sideshows often invented exotic stories about their exhibits. For example, exceptionally hirsute men were exhibited as "lion-faced men" or "wild men" along with tales that they had been captured in a remote country, were wild and ate raw meat. Despite the legends that the "Oregon Wonder Horses" had been captured from a legendary wild herd, they appear to have been bred from Clydesdale, Percheron draft horses, possibly with some Andalusian blood as well. Excessively long manes and tails would have been a severe hindrance in the wild and needed a lot of care in a domestic situation.
In a Wired report on the Brony Thank You Fund -- a project of My Little Pony fans, AKA Bronies, that used a homemade commercial to raise money for toys for the children of military servicepeople -- delves into the unlikely Brony fandom. It gets interesting when Wired's Angela Watercutter talks with an expert who describes Bronies as part of a new "ultra-cult" era:
Charles Soukup, associate professor of communication studies at the University of Northern Colorado, said that in today's cultural landscape — where heretofore "cult" topics like science fiction and comic books have become mainstream entertainment — brony-ing up might be the best option for creating a unique identity and nerding out.

"It appears we are moving toward the ultra-cult era in which media consumers discover extremely unexpected and obscure media texts to cultivate uniqueness and distinctiveness for their mediated identities," Soukup said in an email to Wired. "Bronies are a kind of perfect storm of this new ultra-cult media consumption as they combine an intense unexpectedness (adult male fans of television programs designed for little girls) with the status afforded arbiters discovering undiscovered or under-the-radar media products."

But My Little Pony fans likely won't stay under the radar much longer, and twenty-something female scientists might be the beginning.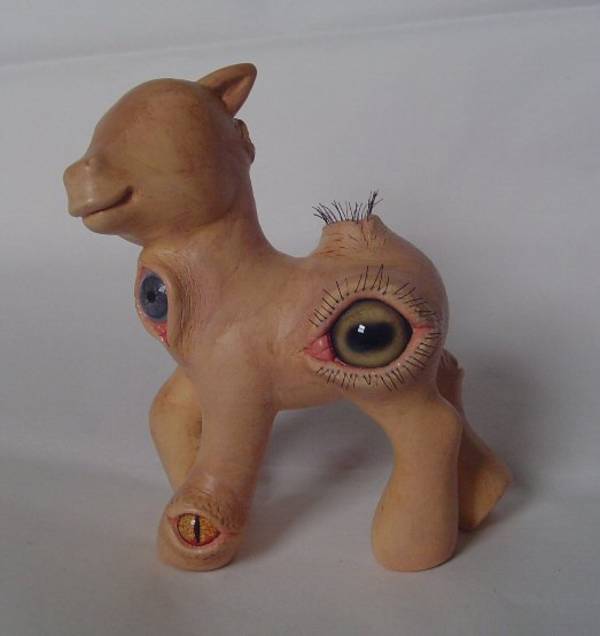 Wrenniepooh isn't your typical bronie. In 2008/9, Wrenniepooh created a series of custom My Little Ponies, including this rather magnificent specimen, dubbed Eyeball Creep.
Created for the Horror/Gore custom swap help at the MLPArena. This pony was made fom a baity G3 October Dreams birthstone pony who had her jewel cut out. I smoothed over the pony's eyes, neck seam, tail and hair plug holes with Apoxy Clay. Real glass taxidermy eyes of various types where used, super glued to the pony, then sculpted eyelids added using Apoxy Clay. I used a thin sewing needle to add tiny holes for "eyelashes" to be inserted into later.
Wrenniepooh's My Little Pony Custom Creations Gallery (via Neatorama)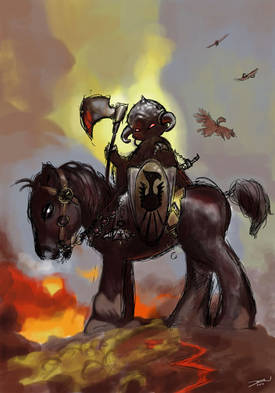 In 2010, DeviantArt's Zedew produced "My Little Death Dealer," which posits Frank Frazetta as a secret bronie.
My Little Death Dealer (Thanks, Fipi Lele!)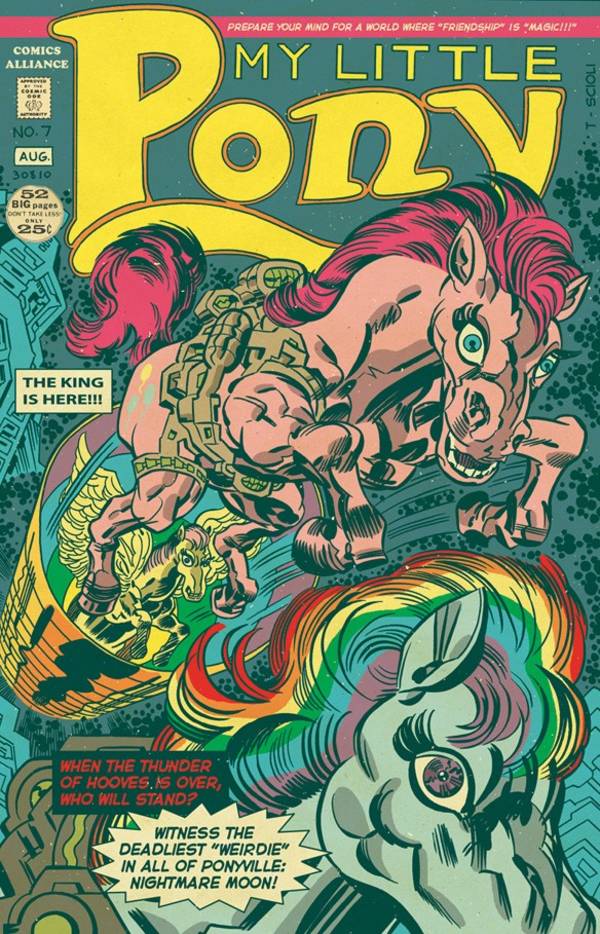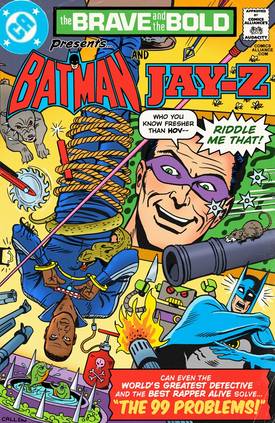 Chris Sims, Laura Hudson and Colleen Coover have executed as series of "Great Comics That Never Happened" for Comics Alliance, and they're fabulous. Exhibits A and B: Great Comics that Never Happened: Batman and Jay-Z Solve 99 Problems! (Chris Sims), and Great Comics That Never Happened #21: Jack Kirby's 'My Little Pony' (also Chris Sims) (Hudson has a good line on Christmas-themed work).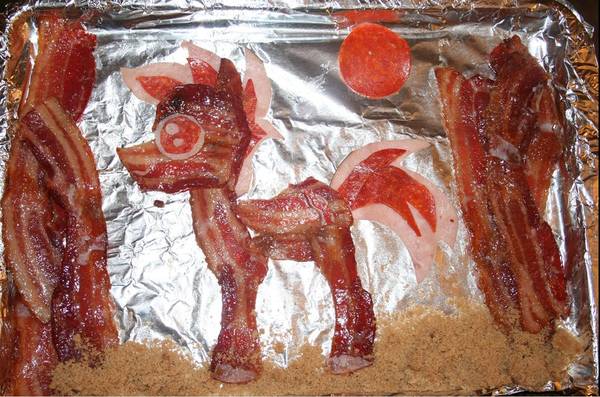 On Deviant Art, BAwesome-BAcon has crafted a pork-product pony to die for: "I have recently taken my love of My Little Pony and combined it with my love of bacon. The result, something that is borderline awesome with a hint of crazy and a smidget of cute."
Bacon Pony (via Neatorama)