Retired naval mechanic José Manuel Hermo Barreiro makes incredibly intricate models of engines like the V-12. (via Devour)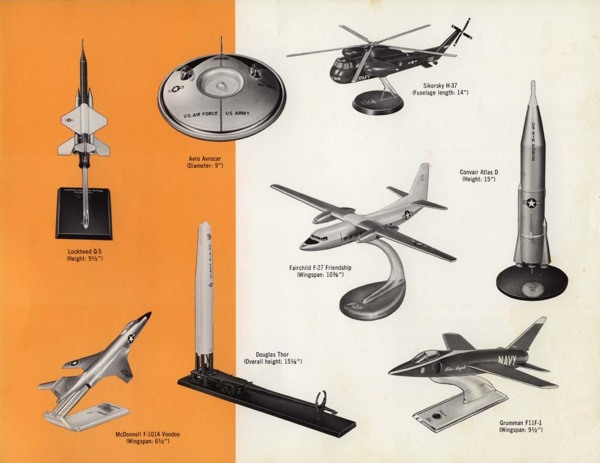 Incredibly neat models of vehicles and other stuff are offered in this attractive Topping, Inc. "sales miniatures" catalog. (Here's a history of Topping, which includes photos of its drab former headquarters in Elryia, Ohio. It went out of business in the early 1970s/).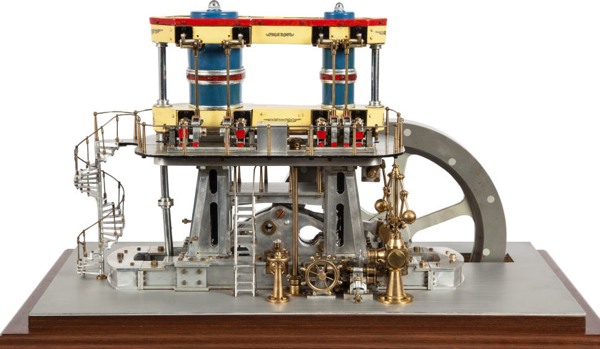 Leavitt Pumping Engine. Very finely built and presented vintage exhibition model of a massive American steam powered waterworks pump designed by Erasmus Darwin Leavitt circa 1895. Model has exceptional detail and is expertly finished with complex gearing operated by a central ship's wheel. Presented on wood stand with table base. Estimate: $3,000 - $5,000.
Check out the preview photos for this Heritage auction of magnificent mechanical models. Given the amount of time and skill that went into the construction of these hand-made machines, the estimated value seems ridiculously low. (If craftsmanship isn't your thing, you might be able to pick up a Cy Twombly masterpiece for under $1 million.)


Carl "Boutros77" BouMansour is a fine artist and modeller in the UK who makes elaborate diaoramas based on science fiction movies, especially Star Wars. These are lavishly documented in his Flickr sets. There's a lot to love here, but I recommend starting with the pictures of the Cantina on Tatooine. It's such an ambitious miniature set, and the attention to detail left me amazed and delighted.

Read the rest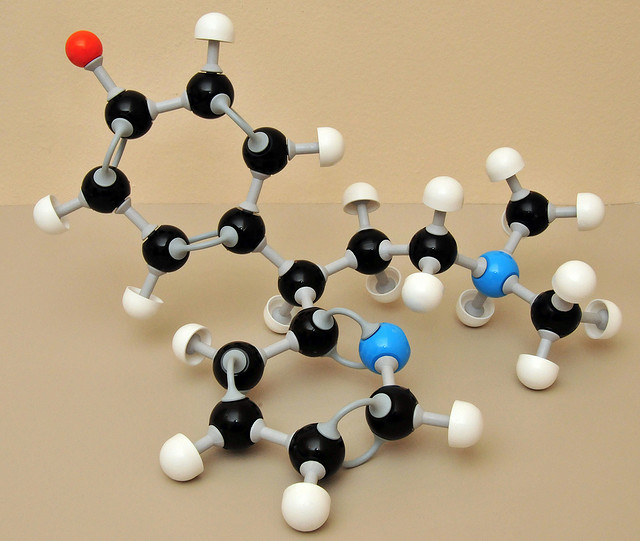 We talk about computer modeling a lot in the context of climate science — powerful algorithms that help scientists get a better idea of how climate systems work, how they spin off into weather, and how the systems and the weather are altered by both nature and humans. But modeling plays a huge role in other sciences, as well. In fact, on the flip side of the climate change coin, modeling is an essential part of designing better solar cells to turn energy from the Sun into useable electricity. If we ever do master the art of artificial photosynthesis, we'll have the three men who just won this year's Nobel Prize for Chemistry to thank.
Back in the 1970s, Martin Karplus of Université de Strasbourg, France and Harvard University, Michael Levitt of Stanford, and Arieh Warshel of USC, were instrumental in constructing the first computer models capable of predicting the effects of chemical reactions — including ones that happen far too quickly to be observed. Today, their work touches the daily lives of chemists all over the world, doing research from solar cell design to drug development.
Read the rest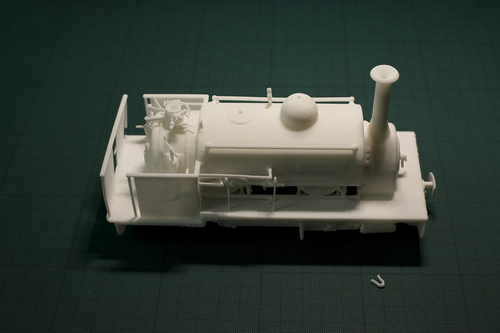 Chris sez, "The oft-touted promise of 3D printing is of personalisation and customisation. There is an alternative use though which is that of mini and micro-manufacture, where production runs of things numbering hundreds and thousands are suddenly made possible and in some cases commercially viable.
"We're investigating this space as a new way of manufacturing model kits, using laser scanning to get the data for the prototypes to make the kits very accurate. The financial advantage of 3D printing in producing kits at whatever scale people want to model in, often from the same file, is huge and makes the creation of very niche items viable. We're experimenting with crowd sourcing what potential kits to explore and using crowd funding to decide what to focus on and make."
Chris and co are scanning full-sized railroad engines at insane resolution.
We realised though that some things that you want to model were too complex even for incredibly talented CAD model makers like Vijay to create perfectly just from photographs, or at least that the time taken to produce the model would be too long and the process of checking the model's fidelity would be too involved and too risky. We looked into 3D scanning and found a firm, Digital Surveys, who normally scan petrochemical plants and oil rigs and who specialise in "as built" surveys.

They worked with us to scan Winifred, a steam locomotive that had just returned from the USA in an almost identical condition to that she left the quarry in Wales in 1965. The survey, 3D model and 3D printed model that ensued showed us that we were on the right track...

...p.s. this data is too precious to lock it up, so we're working on opening up the original data and the CAD files of individual parts with other manufacturers (of wheels and parts) and railway societies who are keeping the real things going!
How did we get here? (Thanks, Chris!)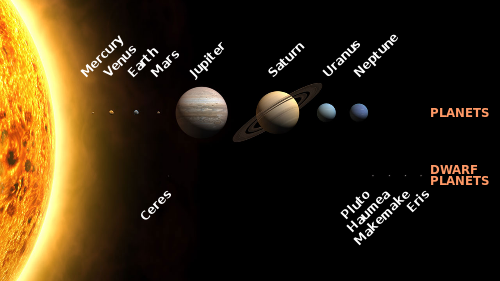 Possibly, according to some scientists who are trying to understand the early days of Sol and friends.
One way that researchers study events like the creation of the solar system is to model what might have happened using computer software. The basic idea works like this: We know a decent amount about the physical laws (like gravity) that govern the creation of planets and the formation of a solar system. So scientists can take those laws, and program them into a virtual universe that also includes other real-world data ... like what we know about the make-up of the Sun and the planets orbiting it. Then, they recreate history. Then they do it again. Over and over and over, thousands of times, the scientists witness the creation of our solar system.
It doesn't happen the same way each time. Just like you can get a very different loaf of bread out of multiple attempts and baking the same general recipe. But those recreations start to give us an idea of which scenarios were more likely to have happened, and why. If our solar system tends to form in one way and resist forming in another, we have a stronger basis for assuming that the former way was more likely to be what really happened.
That's what you're seeing in this study, which Charles Q. Choi writes about for Scientific American.
Computer models showing how our solar system formed suggested the planets once gravitationally slung one another across space, only settling into their current orbits over the course of billions of years. During more than 6,000 simulations of this planetary scattering phase, planetary scientist David Nesvorny at the Southwest Research Institute in Boulder, Colo., found that a solar system that began with four giant planets [as ours currently has] only had a 2.5 percent chance of leading to the orbits presently seen now. These systems would be too violent in their youth to end up resembling ours, most likely resulting in systems that have less than four giants over time, Nesvorny found.

Instead, a model about 10 times more likely at matching our current solar system began with five giants, including a now lost world comparable in mass to Uranus and Neptune. This extra planet may have been an "ice giant" rich in icy matter just like Uranus and Neptune, Nesvorny explained.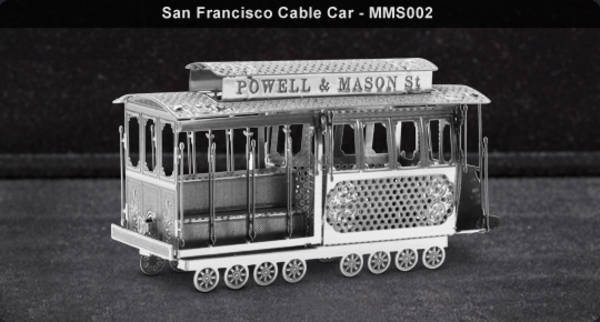 On our recent summer family holiday, I stopped in at The California Academy of Sciences, a beautiful science museum and research facility in San Francisco. In the gift shop, I grabbed a MetalWorks laser-cut trolley-car kit. MetalWorks are 11cm square sheets of tin, laser-cut and laser-etched to come apart into pieces ready to assemble into models of famous buildings, iconic vehicles, and other landmarks. I cleverly threw away the packaging (including the instructions) when we packed for home, but as I just discovered when I sat down to assemble the model, the company is smart enough to post PDFs of their instruction sheets. The model was just the right amount of challenging for me -- the kind of thing I could do in 20 minutes with a pair of tweezers while carrying on a pleasant conversation, and the finished product is a pretty cool-looking model indeed.
There are more than 30 different models on the company's website, of which a mere three can be had on Amazon. Correction: Here are 25 more -- thanks to Jeff in the comments!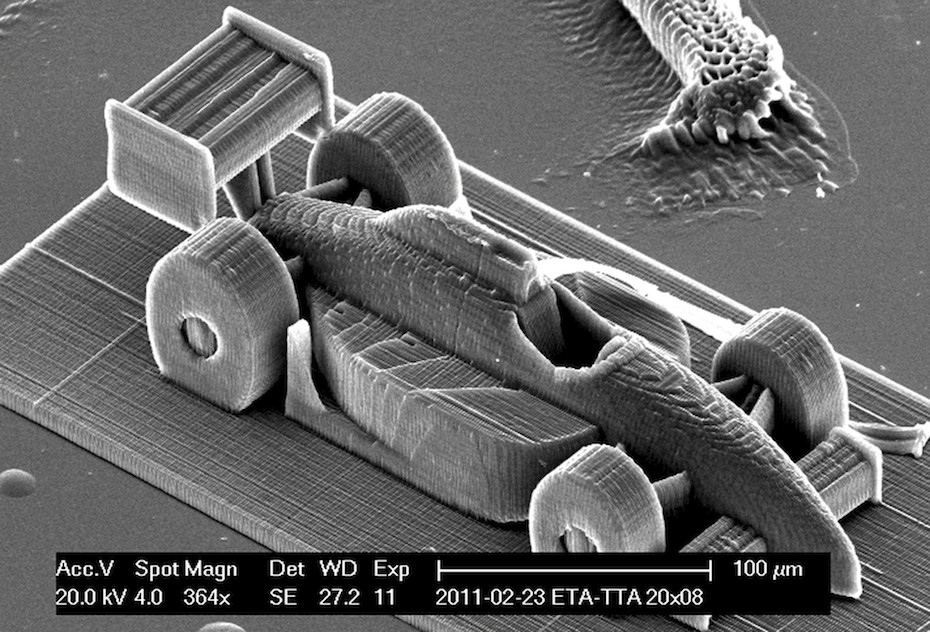 This electron microscope photograph, published by the Vienna University of Technology, shows a nano-scale model of a Formula One racing car, created using a 3D printing technique being developed there. The BBC has
more on the new technique
.