Illustrators Adam Frost and Jim Kynvin prepared a series of charts examining the data in the Sherlock Holmes canon.

Read the rest
The origin of this "large face" on the side of a cliff remains unknown.

Read the rest
This American Life offshoot
Serial
, where Sarah Koenig is presently digging into the 1999 murder of 18 year-old Hae Min Lee, has become a sensation. Koenig's deep dive into the oddly-patchy evidence and her interviews with key people -- notably Hae's ex boyfriend Adnan Syed, who was convicted of the crime and is still incarcerated -- has turned a nation of listeners and Redditors into amateur sleuths and jurors.
There is something unsettling about The Guardian's recent series of photographs of the case's key locations: it's their bleakness, their small town-ness. Or maybe it's because they serve as a reminder that what's effectively become "reality radio" for listeners concerns a real-life place, a real victim and family.
The Guardian also interviewed Syed's family on what the apparently wholly-unexpected Serial sensation has meant for them. It's certainly interesting to listen to Koening's methodical study of the case, and my household's definitely hooked. Wouldn't it be amazing if her work leads to the truth about a situation where there arguably weren't enough answers?
Watching the murder become property of public opinion—especially with Syed's brother being told by a Reddit moderator that a key witness and former person of interest in the crime might be participating in the threads—leads to complex feelings.
What is this mysterious beast photographed by a tourist in the Huairou District valleys in northern Beiking, China?

Read the rest

Daniel from McSweeney's writes, "At stake in the latest McSweeney's is nothing less than a celestial duel between Alfred Hitchcock and Ray Bradbury. Culled from old anthologies edited by Hitchcock and Bradbury, McSweeney's 45 includes stories by Franz Kafka, Roald Dahl, Josephine W. Johnson, and John Steinbeck, among others. Paired alongside these stories is new work from Brian Evenson, China Mieville, Benjamin Percy, and E. Lily Yu. Also featured is a letter from Boing Boing's own, Cory Doctorow. The result is an unmissable anthology filled with strange, propulsive, and often darkly funny work. "
MCSWEENEY'S ISSUE 45 (Thanks, Daniel!)
Remember the deep-sea "bloop" noise that some people thought might be coming from a giant squid? Turns out it's an icequake. (Here's a WAV of it)
The broad spectrum sounds recorded in the summer of 1997 are consistent with icequakes generated by large icebergs as they crack and fracture. NOAA hydrophones deployed in the Scotia Sea detected numerous icequakes with spectrograms very similar to "Bloop". The icequakes were used to acoustically track iceberg A53a as it disintegrated near South Georgia Island in early 2008. Icequakes are of sufficient amplitude to be detected on multiple sensors at a range of over 5000 km. Based on the arrival azimuth, the iceberg(s) generating "Bloop" most likely were between Bransfield Straits and the Ross Sea, or possibly at Cape Adare, a well know source of cryogenic signals.
Icequakes (Bloop) [NOAA] (via Hacker News)
About a month ago, Mike Martin published a profile in Psychology Today, all about Margie Profet, a controversial evolutionary biologist and McArthur fellow who had been missing since 2004. (I posted a link to his story here.)
Now Martin says that Margie Profet has turned up—alive, if not totally physically well. His story led her to realize people were looking for her and to get back in touch with her family.
At the time we lost track of her, Margie was in severe physical pain. Not wanting to trouble anyone else, she did not disclose the fact to us or to her friends, but moved to a new location in which she thought the pain would soon diminish. Instead, it persisted for many years. Unable to work because of it and subsequent injuries, she had long lived in poverty, sustained largely by the religion she had come to early in the decade.

Margie is finally home now, recovering from her long ordeal and hoping to find work in the near future. She is very happy to be reunited with her family, and we are overjoyed to have her back.
Read the rest of the letter from Margie Profet's mother at Mike Martin's website
"My Favorite Museum Exhibit" is a series of posts aimed at giving BoingBoing readers a chance to show off their favorite exhibits and specimens, preferably from museums that might go overlooked in the tourism pantheon. I'll be featuring posts in this series all week. Want to see them all? Check out the archive post. I'll update the full list there every morning.
This car sits in the lobby of the Royal BC Museum in Victoria, British Columbia. It once belonged to John Lennon, hence the paint job. But that's not the only customization. Inside, apparently, there is a fold-out bed, a portable refrigerator, and a record player. There also used to be a TV. Bear in mind, all these changes were made in the mid-to-late 1960s, when the whole refrigerator-and-TV-in-a-car thing were much more impressive feats of technology.
Sean Rodman works at the Royal BC Museum and sent in this photo, along with a request for assistance. On the roof of the car is a symbol that is, ostensibly, the sign for Libra. Except that it doesn't really resemble the sign for Libra. The Royal BC Museum is confused. Maybe you guys know what this is:
There's no evidence of foul play in the death today of Mexico's Interior Minister José Francisco Blake, but amid the country's raging drug war, there's plenty of suspicion. The helicopter carrying the country's top domestic security official and seven others crashed in the southern part of Mexico City en route to a meeting of prosecutors in nearby Morelos state. The cause of the crash is unknown.
Blake's death is seen as a symbolic blow to the government's military-directed assault on organized crime. 40,000 Mexicans have died in the drug war over the last five years.
The accident occurred almost exactly three years to the day after Mexico's previous interior minister Juan Camilo Mouriño was killed in the crash of a small plane, also near Mexico City.
Another mysterious detail: Blake's last tweet before the crash was a nod to the anniversary of his predecessor's death.
Sources: Christian Science Monitor, Guardian, NYT, WaPo, CNN, AP Video, Global Voices.
Reports circulated early today that Mexican president Felipe Calderon had been scheduled to travel in the very same helicopter that crashed, but the administration later issued a statement denying. (via Andrés Monroy H.)
Related reading: the Wikileaks-leaked State Department cable on Mouriño's death, from November 5, 2008. (via Shannon Young)
Rose Garrett over at The Bold Italic did some crackerjack investigative work on a little lounge nestled between the bars in the Lower Haight of San Francisco. The Peacock Lounge is almost always closed, only very rarely opened for private events. Rose's attempts to reach someone, anyone, associated with the venue go unanswered until its doors serendipitously open again to host a neighborhood meeting:
Nate also shared with me a detail that went a long way toward explaining why Peacock Lounge was such an enigma. He said the space was not, and was never meant to be, a bar or nightlife venue. It was owned and operated by Unity Masonic Hall, located upstairs, and its main use was as a private social hall for the Black Masons.
A The Bold Italic Mystery - Entering the Nest - Thanks, John!
Twenty years ago, the United States sent almost 700,000 soldiers to Kuwait and Iraq as part of Operation Desert Shield and Operation Desert Storm.
Read the rest
Max Allan Collins wrote the award winning graphic novel
Road to Perdition
. His new Hard Case Crime novel,
The Consummata
is out today! Here's an essay Collins wrote for Boing Boing, titled, "Who Do You Read?"
WHO DO YOU READ?

By Max Allan Collins

As a published writer, the question I get even more often that the venerable (and stultifying) "Where do you get your ideas?" is the one posed above.

Readers always want to know who you read, for reasons I've never quite figured out. Of course they mean currently publishing writers, and I suspect there's a kind of wish that their personal list will match mine, and everybody will be able to bask in a glow of vindication for sharing such great taste in literature.

But I read almost nobody who's current. I have a few friends whose work I keep up with, and thank God they are very good - among these are Ed Gorman, John Lutz, and Bob Randisi (there are others) - but mostly I avoid everybody else. Occasionally I serve on a committee for the Mystery Writers of America or the Private Eye Writers of America, and plow through a current stack of novels. Now and then some author gets so popular I have to break down and read a book or two to see what the fuss is about. But that's marketing, not entertainment.

There's a basic "busman's holiday" reasoning behind this. If I'm working on a suspense novel all day, why should I relax by reading...a suspense novel? A guy who works at the ice cream shop doesn't go home and say to his significant other, "Let's go out for hot fudge sundaes!" Actually, that's a bad example, because I would probably do exactly that, and plenty of drunks have sought (though rarely kept) jobs as bartenders.

Let's start over. Here's the real reason: all other writers fall into the following categories: worse than me, so why should I put myself through it; as good as me, so why should I bother; and better than me, and, well, screw those guys.

Read the rest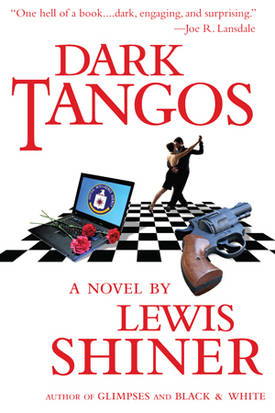 Lewis Shiner (one of my favorite writers!) sez, "My latest suspense novel,
DARK TANGOS
, is now available as a free PDF download from my
Fiction Liberation Front website
. The starred review from BOOKLIST said, 'Delivers its grim story line with artistic mastery....Short and precise, the novel uses the elegance of tango to radiate sensuality throughout. This is an absorbing and surprisingly action-packed tale based in the ugly truths of Argentina's history.'"