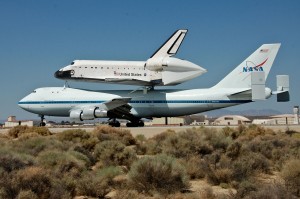 Photo: Shuttle Endeavour's final landing at Edwards AFB. September 20, 2012. By Todd Lappin
If you're in California today, Friday, Sept. 21, you may have a chance to see space shuttle Endeavour's historic flyover of the state as it heads for the California Science Center in Los Angeles for retirement. Here are more details from NASA Dryden on the exact route and planned times.
The orbiter, atop its 747 Shuttle Carrier Aircraft (SCA), is scheduled to fly over northern California and a large area of the Los Angeles basin beginning at about 8:15 a.m. PDT. NASA originally planned the transit for an earlier hour, but rescheduled to increase the odds of good visibility for Bay Area residents—fog is a factor there in the early morning.
"During the four-and-a-half hour flight, social media users are encouraged to share their Endeavour sightings using the hashtags #spottheshuttle and #OV105, Endeavour's vehicle designation," according to NASA, and there's a Flickr group for space fans. The official account for NASA is here. At 11 a.m. EDT (8 a.m. PDT), NASA TV will air Endeavour's departure for the flyover.
NASA Ames' Twitter account is a good one to follow today, as is Boing Boing pal Todd Lappin, who shot the gorgeous photos in this post. SpaceFlightNow is liveblogging, and they're also great to follow on Twitter today.
Snip from the NASA press release:

Read the rest