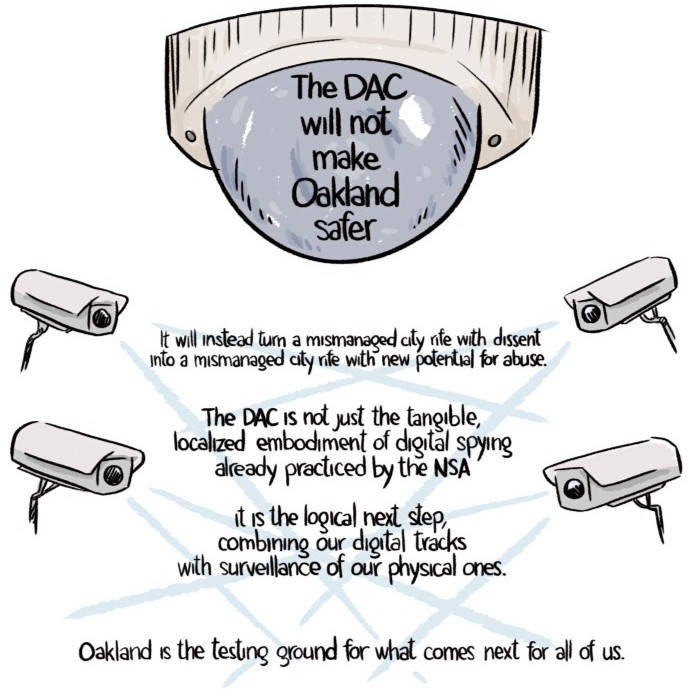 Hugh sez, "What's wrong with Oakland's proposed Domain Awareness Center? This new comic by Susie Cagle lays out the issues."
The Testing Ground for the New Surveillance (Thanks, Hugh!)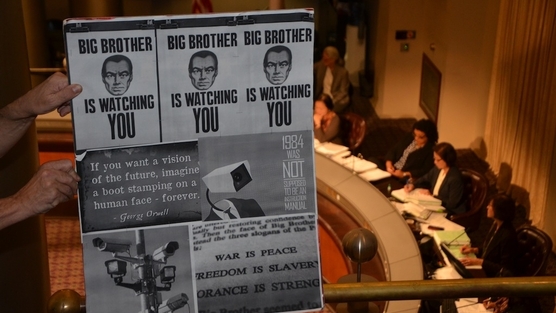 Eddan sez, "The Oakland City Council is in the final stretch of approving the funding of the Domain Awareness Center to be built in Oakland. Though there has been a great deal of public outcry at the City Council itself, it just keeps going forward especially because they're now trying to pitch this as a crime-fighting law enforcement tool. Which is especially important to be on the right side of in Oakland during a City Council/Mayor election year. The Public Safety Committee to meet Jan. 28 is made up of most of the City Council members that are most skeptical and least supportive of the way this Department of Homeland Security new gadget funding is dangled before a resource-poor and embattled police department."

Read the rest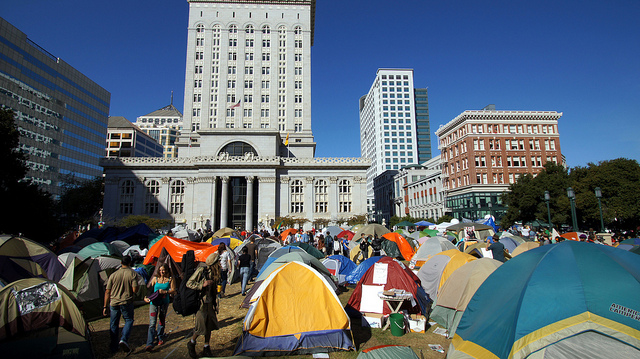 An excellent investigative piece in the East Bay Express reviews internal communications and other public records from city staffers and Oakland PD bureaucrats discussing the Domain Awareness Center, a citywide surveillance hub that's currently under construction. Oakland is a city with a decades-long problem with gang violence and street violence, and the DAC -- which will consolidate video feeds blanketing the city and use software to ascribe the probability of guilt to people in the feeds -- is being sold as a solution to this serious problem.
But the internal documents tell another story. Though the City of Oakland's public-facing DAC message is all about crimefighting and anti-terror surveillance, the internal message is very different. City bureaucrats and law enforcement are excited about DAC because it will help them fight protests.
Analysis of the internal documents found almost no mentions of "crime," "rape," "killings" -- but city officials frequently and at length discussed the way the DAC could be used to thwart street protests, future Occupy movements, and trade union activity including strikes.

Read the rest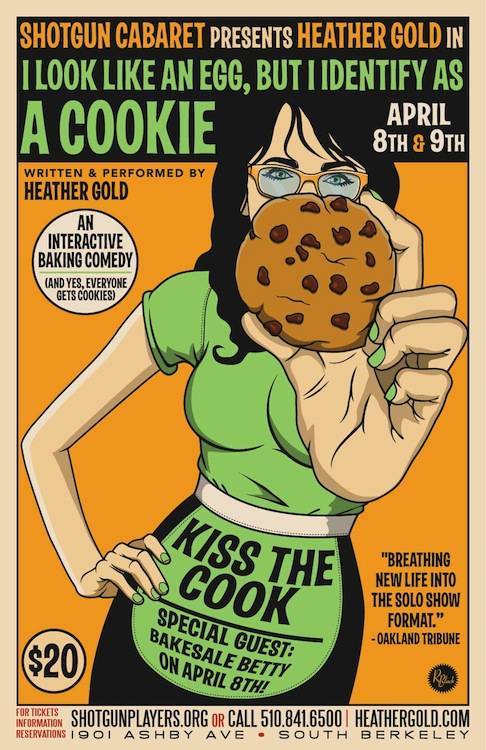 Years and years ago, I saw Heather Gold's innovative, interactive baking comedy "I Look like An Egg, but I Identify As A Cookie" in San Francisco. It was fabulous. Now it's about to have its debut in the East Bay:

While baking chocolate chip cookies with the audience and special guests (Bakesale Betty), Gold combines heterosexuality (DRY), lesbianism (WET), and the Left (MIX). "Cookie" is a story of first kisses, rugby drama, Mrs C's secret honeycake recipe and slow dancing to Air Supply. Gold transforms the coming out story, making mincemeat of the identities that keep us from our whole selves and each other. "Cookie" is a show of sweet and simple truths.
Heather's making two pairs of tickets available, all you need to do is tweet you favorite secret ingredient with #eggcookie and she'll get in touch. Oh, and here's a great post Heather made explaining why she uses CC licenses in her performances.

Oakland police chief told a court that he never saw emails from city officials and a federal court monitor who emailed him about police brutality and other illegal actions by his force in its response to Occupy Oakland. That's because, he says, he used a spam-filter to automatically spam-filter all messages containing phrases like "occupy," "police brutality," "press pass," and "excessive force." More from SFGate's Matthai Kuruvila.
The city investigation found that Jordan had city staff put in the filters on Oct. 27, 2011 - two days after a violent clash between police and protesters that made international news. He had been inundated with anonymous messages, he said in a declaration to the court.

But he forgot the e-mail filter was still in effect.

At least until Henderson gave his order and the city investigated. All messages to Jordan with the once-banned phrases now go to his inbox, as of Oct. 19. In addition, Jordan now has a special folder for messages from the court monitor, Warshaw.

"It was never my intention to ignore the monitor," Jordan said in his declaration.
Oakland chief filtered out Occupy e-mail (via JWZ)
(Image: Occupy Oakland October 11, a Creative Commons Attribution (2.0) image from quinn's photostream)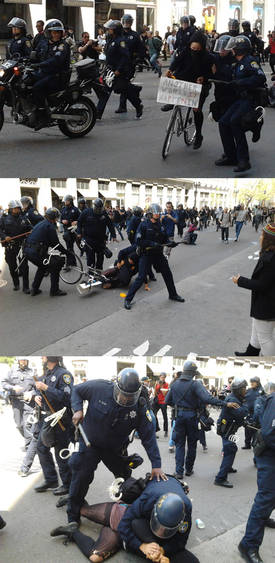 Mike from Mother Jones sends us a link to the magazine's coverage of yesterday's May Day protests: "Mother Jones reporter was close at hand, and got disturbing photos and video of Oakland Police officers tackling a girl on a bike who didn't seem to be doing anything provocative. He then got a nice taste of OPD attitude: 'Fuck, I just got teargassed,' he tweeted. The video clips are about halfway down, but lots of good photos and bicoastal coverage, too."
"#$#! I Just Got Tear Gassed!" and Other MoJo Tales From Occupy May Day
Remember this video, in which protesters ask an Oakland PD officer why he illegally covered his name-badge, then, when he won't answer, ask a supervisor why this was so? Well, both the cop and his supervisor have been disciplined for their roles in the incident (the cop for covering his badge, the supervisor for failing to report the illegal conduct). The supervisor, formerly a lieutenant, has been busted down to sergeant, and the officer has been suspended for a month (no word on whether he will be paid during the suspension, which he is appealing).
After an internal investigation, Hargraves was ordered suspended for 30 days, and Wong was demoted to sergeant for failing to report the incident to internal affairs, said the sources, speaking on condition of anonymity because the department considers the case a confidential personnel matter...

"[An video the officer had seen on the net involving another officer] called for violence against the officer, including burning down his home," Hargraves wrote. "This caused me great concern for the safety of my family."

But civil rights attorney Jim Chanin said Wednesday, "That's like saying that you can steal from a store because you're poor. If you take that to its logical conclusion, every police officer every day faces possible exposure and danger because their names are on their badges."

Chanin added, "Officer Hargraves could have asked to get an undercover assignment. He could have asked to be taken off duty that day. Instead, he decided to go and get his pay and violate the law. There's no excuse for that."
Oakland cops disciplined for name-covering episode (via JWZ)
Kayvan Sabeghi, a veteran of the US Army Rangers, is in the ICU at Oakland's Highland General Hospital after a clash with Oakland PD during the Occupy Oakland protests. Sabeghi claims he was "jumped" by OPD officers who severely beat him and subsequently denied him medical treatment.
The group Iraq Veterans Against the War said Sabeghi was detained during disturbances that erupted late on Wednesday in downtown Oakland and was charged with resisting arrest and remaining present at the place of a riot...

"He told me he was in the hospital with a lacerated spleen and that the cops had jumped him," Kelly said. "They put him in jail, and he told them he was injured, and they denied him medical treatment for about 18 hours..."

The veterans group said in a statement that police struck Sabeghi with nightsticks on his hands, shoulders, ribs and back, and that in addition to a lacerated spleen he suffered from internal bleeding.
Army veteran injured in Oakland clashes with police (via Reddit)
The Oakland PD union is
confused
by Mayor Jean Quan's approach to the protests -- they say that after they were ordered to clear the Occupy camp (a mission that led to bloody conflict in the streets), the mayor allowed the protest camp to be re-established in a larger, better organized form. Meanwhile city employees have been given permission to participate in today's Oakland General Strike -- but not the Oakland PD. "There is no clear mission here. The mayor is painting this picture that we're the bad guy. We're just doing our jobs, carrying out her orders, and we need some big leadership now." (
Thanks, Al!
)

The Occupy Oakland folks have been publishing designs for today's general strike, including this jaunty little number from R Black. Lots more to choose from, too, including the venerable IWW black cat, back from retirement and looking as spry as a kitten.
The Oakland PD's use of projectile weapons such as flashbang grenades
used in the
assault (
possibly by non-OPD officers
) on the Occupy Oakland camp seems to
violate the 2004 court settlement it agreed to
in a class-action settlement with Iraq war demonstrators who were assaulted by police: "You would think that after signing an agreement and paying out taxpayer money to 'compensate' for abusive police practices, the Oakland Police Department would learn how to behave in a civilized fashion when dealing with people exercising their First Amendment rights." (
Thanks, Cowicide!
)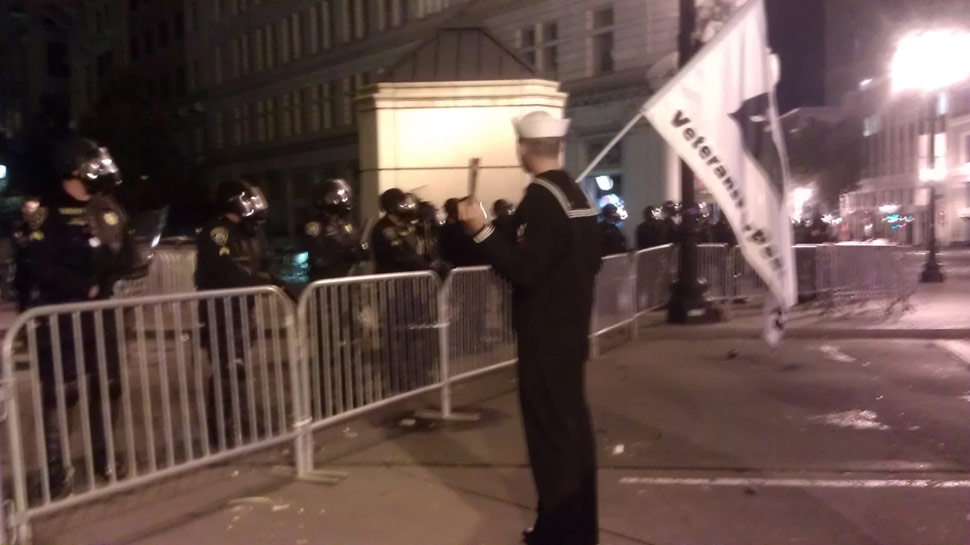 Photo: Oakland North. Navy veteran Joshua Sheperd holding Veterans for Peace flag, Occupy Oakland, Tue. night.
Last night, hundreds of police in riot gear from divisions throughout Northern California descended on the Occupy Oakland encampment, armed with tear gas, an LRAD sonic weapon (the "sound cannon"), and various projectiles -- by some sources, rubber bullets and bean bags.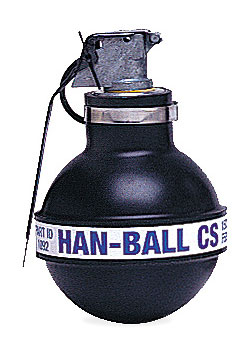 According to various reports, more than a hundred arrests were made. Two police officers were injured, and an untold number of protesters.
My post from last night is here, with links to video.
And as I noted last night, President Obama's recent remarks on a series of demonstrations elsewhere may prove instructive.
Oakland North was one of a number of small, independent publications on the scene last night live-tweeting photos and a blow-by-blow of the crackdown. One of their photos is above.
One YouTube video is here, capturing the moment when the police launched the first round of multiple rounds of tear-gas "bombs." From photos tweeted last night, and this Reuters photo from last night (by photographer Stephen Lam), this appears to be one of the brands of CS gas used on the protesters.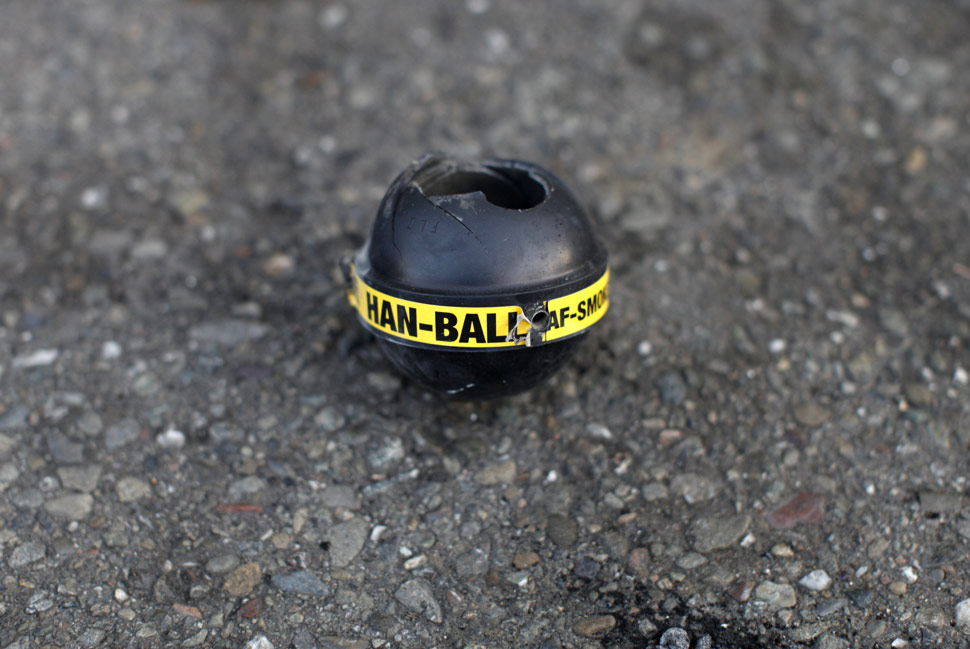 Photo: Reuters.
Our own Dean Putney took the train over from San Francisco a little later on in the wee hours. He has posted photos here, mostly after things had quieted down somewhat. One of those is below.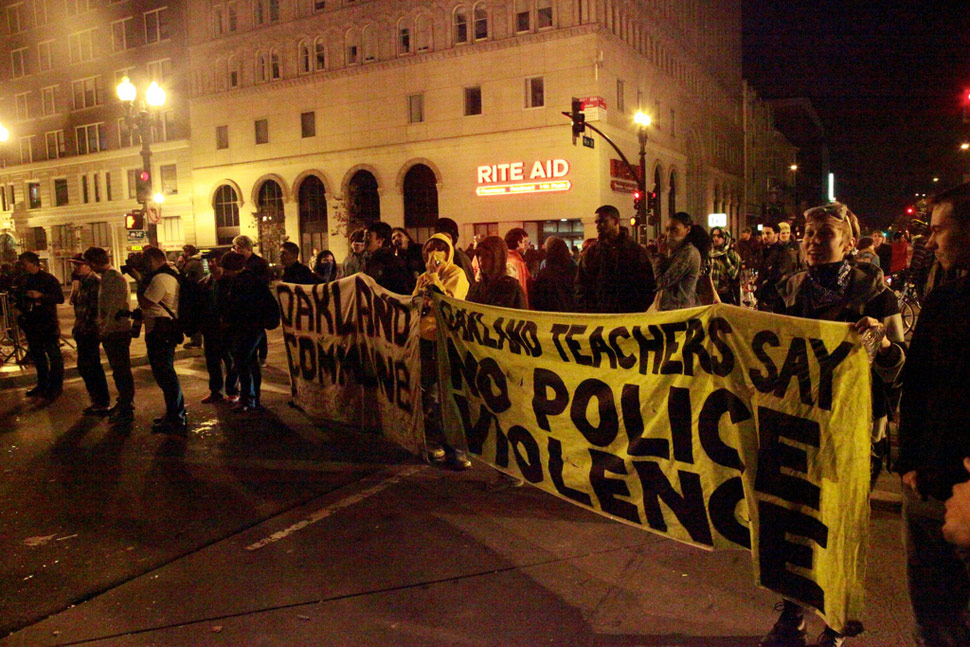 Photo: Dean Putney.
This video shows "Veterans for Peace member Scott Olsen wounded by a less-lethal round fired by either San Francisco Sheriffs deputies or Palo Alto Police on October 25, 2011 at 14th Street and Broadway in Downtown Oakland." He appears to have been shot in the face.