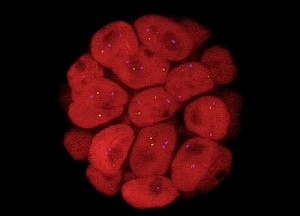 In an unanimous decision, the United States Supreme Court ruled today that companies can't patent genes, or parts of genes — at least, so long as that genetic material is identical to what occurs in nature. The lawsuit dealt specifically with Myriad Genetics, the company that isolated and has claimed a patent on BRCA 1 and BRCA 2 — genes associated with an increased risk of breast and ovarian cancers. From a practical perspective, Myriad's hold on the genes has meant that tests for genetic cancer risk are strikingly expensive — Xeni paid more than $3000 for hers. It's also meant that, if you get a positive result, there's been nowhere you could go for a second opinion.
That's a big deal. Mutations in the BRCA 1 and 2 genes mean an increased risk of cancer, but there's more than one kind of mutation that can happen. In fact, BRCA 1, alone, has hundreds of known mutations. Some increase your risk of cancer. But, even if you narrow it down to just those, they don't all increase the risk by the same amount. The health choices you make could be very different depending on whether you have an 80% risk of developing breast cancer by age 90 (the worst-case scenario for BRCA 1 mutations), or something much lower. That's the kind of situation where you might really like to have more than one lab run more than one kind of test.
This ruling opens the door for that, and the competition should (theoretically) also lower the cost.
Read the rest