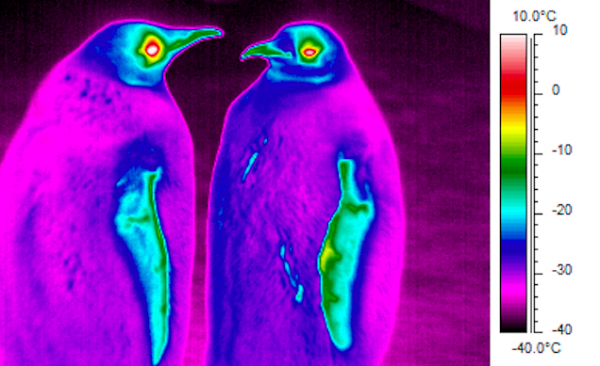 There's a whole gallery of these eerie, psychedelic penguins at Wired, part of Nadia Drake's article about new research based on infrared thermal imaging. Strangely, researchers found that the exterior surface of the penguins was actually colder than the surrounding air. This, despite the fact that penguins maintain a fairly stable interior body temperature that's far warmer.
The researchers involved in the study think that discrepancy might be caused by an extreme form of radiative cooling. Basically, everything emits heat in the form of radiation. You, me, the Earth, penguins — we're all constantly losing heat as it radiates away from our surfaces. During the day, we get heat back from the Sun. At night, while there is some heat coming to us from space, it's much less. And on clear, windless nights — when there isn't a cloud clover to bounce our own heat back at us — we get even colder. As Drake points out, this theory doesn't totally work for the penguins. They were photographed on a pretty windy night. But it certainly produced some great images. Here's a link to the original paper, which you can read for free.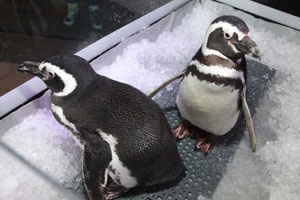 [Video Link.] Yahoo's "Sideshow" blog has the story behind this video, and an accompanying photo gallery slideshow. On a recent Delta Flight, there were 300 or so human passengers and two foot-and-a-half tall penguins, Pete and Penny, who are 6 and 12 years old respectively. They were on their way to the New York premiere of "Frozen Planet," a new Discovery Channel documentary series narrated by Alec Baldwin. Like the narrator, the penguins fly first class. I hope they behaved better on the plane than he has been known to.
[photo: SeaWorld penguins Pete and Penny on display at the "Frozen Planet" premiere at Alice Tully Hall, Lincoln Center on March 8, 2012 in New York City. Astrid Stawiarz/Getty Images]