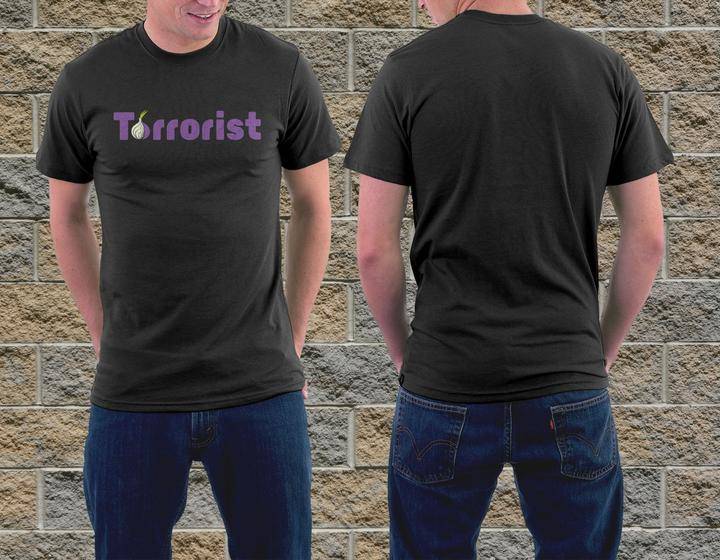 Celebrate yesterday's news that the NSA classes all Tor users as "extremists" and targets them for indefinite, deep surveillance...with fashion!

Read the rest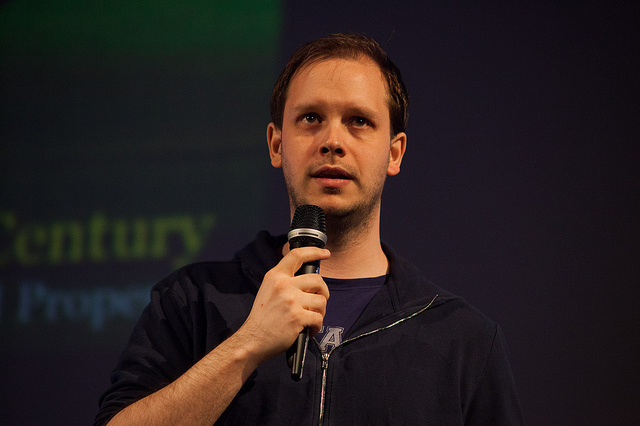 Peter "brokep" Sunde -- who co-founded The Pirate Bay and founded Flattr, a system for allowing fans to directly pay the artists they love -- is standing for the European Parliament in Finland on behalf of the Finnish Pirate Party. Sunde was raised in Sweden, but has Finnish roots, and is able to run there. His platform sounds like an admirable and sensible one, and my personal experience of him is that he's a good, thoughtful and honorable person. If I were in Finland, he'd have my vote:
"Non-commercial file sharing should of course become legal and protected, and must re-think copyright all together. Copyright is not the thing that makes ARTISTS money, it's only for their brokers and distributors," Sunde says.

"I'd rather see us sponsor culture by pushing more money to music education, and facilities for your people to create music. It would be much more sane for cultural advancement then extending copyrights."

If elected Sunde hopes to be aggressive rather than defensive. This means not just responding to treats to Internet freedom, such as ACTA, but ensuring that this type of legislation doesn't even make it onto the political agenda in the first place.

"I think there's a huge possibility for us to impact the EU and I would like to be part of it," Sunde says.

The Pirates are delighted to have the Pirate Bay founder on board. Harri Kivistö, chairman of the the Finnish Pirate Party, says that Sunde's candidacy will raise the visibility of the party during the upcoming election. Perhaps more importantly, his values fit well within the Pirate Party movement.
Pirate Bay Co-Founder to Run For European Parliament [Ernesto/TorrentFreak]
(Image: Peter Sunde, Amphiteater, a Creative Commons Attribution Share-Alike (2.0) image from shareconference's photostream)
The Icelandic Pirate Party has won three seats in its national Parliament in the Pirates' best-ever showing on the world stage. They form a small part of the opposition to the "center-right" Independence Party (Americans, please note that the Independence Party would be considered socialists by present US mainstream political standards). One of the new Pirate parliamentarians is Birgitta Jónsdóttir, the Icelandic MP who volunteered for, and campaigned for Wikileaks. The Icelandic Pirate Party is only five nine months old!
The three new Icelandic lawmakers include Jón Þór Ólafsson, a business administration student at the University of Iceland; Helgi Hrafn Gunnarsson, a computer programmer; and Birgitta Jónsdóttir, a well-known WikiLeaks volunteer and former member of parliament from 2009 to 2013.

Birgitta is also one of three activists involved in a WikiLeaks investigation currently underway in the United States. In November 2011, a district court judge found that prosecutors could compel Twitter to give up specific information on the three accounts, including IP addresses, direct messages, and other data. In January 2013, a federal appeals court in Virginia ruled (PDF) that Birgitta and the two others have no right to find out which other companies the government sought information from besides Twitter.

The trio, along with other members of Iceland's digerati (including Smári McCarthy, who also is one of the organizers of the International Modern Media Initiative), founded the party just five months ago.
Pirate Party wins 3 seats in Icelandic parliament for its best result worldwide [Cyrus Farivar/Ars Technica]
The UK Pirate Party abandoned its fight against the BPI -- Britain's answer to the RIAA -- over its proxy for reaching The Pirate Bay, which is blocked by court order in the UK. The Party's executive had been personally threatened with legal action by the BPI and couldn't afford to risk home and family fighting this fight. But other Pirate Parties took up the slack: new, unblocked Pirate Bay proxies have been established by Pirate Party Luxembourg and Pirate Party Argentina:
"Due to pressure from lobbyists, politicians all over Europe are incited to expand the censorship infrastructure to prevent freedom of expression, the right to information and the free exchange of culture. With our proxy, we help to circumvent the Internet censorship of European countries," Luxembourg Pirate Party President Sven Clement says.

The Argentinian Pirate Party is sending a similar message, and invites those who can't access The Pirate Bay due to blockades to use their proxy.

"We wish the UK Pirate Party best of luck in their continued fight for free access to culture and knowledge. We have put up our own Pirate Bay proxy which is accessible from anywhere in the world, including the UK and other places where it has been censored."
Pirate Bay Censorship Backfires as New Proxies Bloom [TorrentFreak]
See also: UK record industry spokesman wants you to know why his employers are going after Pirate Party execs personally
Ever since the UK record labels got a court to order our national ISPs to censor The Pirate Bay, the UK Pirate Party has been offering a proxy that allows Britons to connect to the site and all the material it offers, both infringing and non-infringing.
The record industry has finally struck back. Rather than seeking an injunction against the proxy, or suing the party, it has individually sued the party's executives, seeking to personally bankrupt them and their families. It's an underhanded, unethical, and unprecedented threat to democracy -- essentially a bid to use their financial and legal might to destroy a political party itself.
There's a fundraiser, and I've given more than I can afford to it -- £500 -- because this is plain, old fashioned, corporate bullying. I don't always agree with everything the Pirate Parties do, and I'm not a member of the UKPP, but I'm glad the Pirate Party exists, and I believe that hosting a proxy to the Pirate Bay was a political act, and that the record industry has gone after the personal lives of the executive in order to terrorise people who organise against them. They mustn't be allowed to do this.
Instead of targeting just the Pirate Party, the BPI's solicitors are now threatening legal action against six individual members. Aside from its leader Loz Kaye, the BPI also sent threats to four other members of the National Executive and the party's head of IT.

"We had been anticipating legal action ever since I received an email from Geoff Taylor of the BPI. What has taken me aback is that this threat is personally directed. I simply can not see what the music industry think can be positively gained by threatening to bankrupt me and other party officers," Kaye says.

Making the site's members personally liable is the ultimate pressure, as they then have all their personal belongings – including their family homes – on the line. Kaye is disappointed with the BPI's move, not least because the music industry group refused to negotiate the issue.

"Throughout, the party and I have been open to dialogue. Contrary to reports I offered to meet Geoff Taylor for discussion, but this has been rebuffed, at this point we are talking with our legal advisers and will respond to the solicitors in due course. The Pirate Party's political position remains this – site blocking is disproportionate and ineffective."
Music Industry Threatens to Bankrupt Pirate Party Members [TorrentFreak]
International non-governmental organizations with an interest in copyright and related issues have always been admitted to the United Nations's World Intellectual Property Organization (WIPO) as observers (I was once such an accredited observer, working on behalf of the Electronic Frontier Foundation). Historically, the NGO "observers" at WIPO were industry groups, such as the motion picture lobbyists from the MPA, the record industry lobbyists from IFPI, and so on. But starting in the middle of the last decade, public interest groups like Creative Commons and EFF started to attend these meetings, adding balance and an emphasis on human rights to the treaty-making debates.
Pirate Party International satisfies every one of the criteria used to evaluate NGOs for WIPO observer status. Nevertheless, WIPO's general assembly has postponed approval of PPI's application for status. According to a report by Knowledge Ecology International founder James Love, the assembly rejected the Pirates after pressure from Switzerland, the USA, France and other EU nations:
US, Switzerland [and] France raised objections in the informal consultations, and [...] some other European countries wanted to raise objections, but found it awkward given the recent success of domestic Pirate Parties in national elections. The USA said it asked for a hold on the decision until WIPO could decide if it wanted to accept political parties as WIPO observers. One delegate said European countries were concerned that the Pirate Parties would take "political action" back home when they disagreed with positions taken by the official delegates at the WIPO meetings"
The German Pirate Party has won seats in a third federal district, taking 8.2% of the vote in Schleswig-Holstein; they're on track to win seats in a fourth state next week in Northrhine-Westphalia. TechDirt's Mike Masnick writes:
It seems clear that The Pirate Party is certainly surpassing the German Green Party as the preeminent 3rd party -- and it seems to be having an impact. As we noted, the Greens have tried to co-opt much of the Pirate Party's agenda as their own, and Germany's major political parties have started to show a much more reasoned approach to copyright as well...

Of course, it's worth noting a point that's been left out in many of the discussions about the success of the German Pirate Party: Germany has some of the worst copyright laws around, especially on issues like secondary liability. Perhaps those two things are linked... and perhaps those who keep pushing for more draconian enforcement of copyrights might want to take that into account. There's little to no evidence that such laws do anything to slow down infringement, but it sure seems to make people respect copyright law even less.

The German Pirate Party has won four seats in Saarland, one of the smallest regions in Germany, described as a "conservative area." The PP campaigned on greater transparency in government. I'm speaking at the Pirate Party Congress in Prague on April 14, and I've been giving a lot of thought to the relevance of the party and the movement it represents. This is the second state-level German election that gave seats to the Pirates, and there are two Pirate MEPs in the European Parliament. Clearly, there's something bubbling in party politics and information politics.
Strong showing for the Pirate Party in German elections (via /.)
(Image: Piratenpartei Saarland Wahlprogramm)
Amelia_G sez, "The German Pirate Party is
working out its platform online, transparently
. One key concept is 'das Liquid Democracy,' intended to be a flowing interface between direct and indirect democracy. You can delegate your vote to someone who will represent you, but you can withdraw your vote from that person at any time without waiting for new elections."
— Cory
The IP addresses assigned to the Canadian Parliament have been implicated in several copyright-violating BitTorrent downloads. The 192.197.82.0 – 192.197.82.255 IP block was seen to be in BitTorrent swarms for movies, Windows cracks, Adobe Premiere, ripped CDs, and many other files. The IP records were retrieved from YouHaveDownloaded, a Russian database of IP addresses seen in copyright-infringing swarm. Other YouHaveDownloaded queries have yielded evidence of illegal downloading at the RIAA, the official residence of Nicholas Sarkozy, the Department of Homeland Security, and several MPAA member companies.
"It's pretty funny, given that this very same group of people is working on harsher copyright law with Bill C-11, " says former Pirate Party Candidate for Vancouver Centre Travis McCrea, "It just highlights how absurd and unenforceable this copyright monopoly is. Just as in the Hurt Locker lawsuit, we can tell where the files were downloaded but it is impossible to tell which individual is responsible."
PRESS RELEASE: Copyright Infringement in Canadian Parliament
Amelia Andersdotter is the Swedish Pirate Party MEP who won her seat more than two years ago, but is only heading to the European Parliament now, due to eurocratic delays. TorrentFreak catches up with the 24-year-old, who will be the youngest MEP in the room when she finally takes her seat.
"European approaches to competition law need to be changed, at least a bit. Better sector adaptation, for instance. The lack of real control over vertical integration creates the situation where telcos (or media enterprises) own everything from the backbone cables to the music streaming service – that's not good. One would at least expect some obligation to keep the different tiers apart," Andersdotter says.

"Currently this type of bundling is, more worryingly, encouraged rather than regulated and it creates a very unfair balance between the infrastructure owners (in this case) and users. Competition law just now deals mostly with horizontal integration, which would be say, if one company owns all of the cable in northern Belgium (Telenet)."

Andersdotter points out that the telecommunications sector has some good sector specific laws already, the net neutrality law in the Netherlands being a prime example. The problem is, however, to get all member states to adopt these regulations.
Pirate To Join European Parliament As Youngest Member
(Image: Demonstration mot IPRED, a Creative Commons Attribution (2.0) image from cybriks's photostream)
Sweden's Pirate Party says it was avidly courted by the sales staff for Gamex, the largest games conference in the country. The party bought a booth and went to some expense arranging to have it decorated and staffed. At the last minute,
Gamex mysteriously banned the Pirate Party from exhibiting at the show
, saying the conference was "a venue for political conflict and the party's presence could cause problems" (despite the fact that other political organizations are exhibiting there).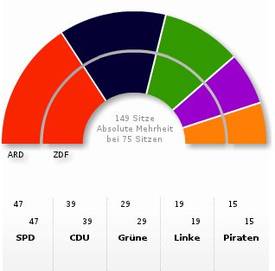 LaHaine sez, "According to the first prognosis, the German Pirate Party has entered the state parliament of the city-state of Berlin with 8,5% of the votes, counting for 14 of a total of 149 seats."
Wahl-Spezial: Alles zur Abgeordnetenhauswahl in Berlin - SPIEGEL ONLINE - Nachrichten - Politik
The Czech Pirate Party is incensed that a Czech high school student has been sued for €5M for running a website with links to allegedly infringing downloads. The Party has expressed its outrage by launching
Tipnafilm.cz
, a site full of movie download links whose motto is "linking is not a crime."
"By bullying young people, the Czech Anti-Piracy Union, with the help of the state, is attempting in vain to salvage the old business model which has ceased to function in the age of the Internet," say the Czech Pirate Party...

"Yes, we unequivocally declare open war on the Anti-Piracy Union. Bullying ordinary people from their side must stop. The Czech Anti-Piracy Union claimed a huge success when it caught the 'greatest pirate in the country'. But that is absurd, in fact he was just a small fish. For this student we have built and launched a similar site. The difference is that there are ten times more links on our site," Ferjencik told TorrentFreak this morning. We denounce that the police should be run by the propaganda of the Anti-Piracy Union and that it should harass anybody who puts a video on his/her web page or Facebook page," said chairman of the Czech Pirates Ivan Bartoš.

"We challenge the Anti-Piracy Union to stop bullying the under-aged and to aim its preposterous claims at the Pirate Party."
Pirate Party Launches Movie Download Sites As "Declaration of War"