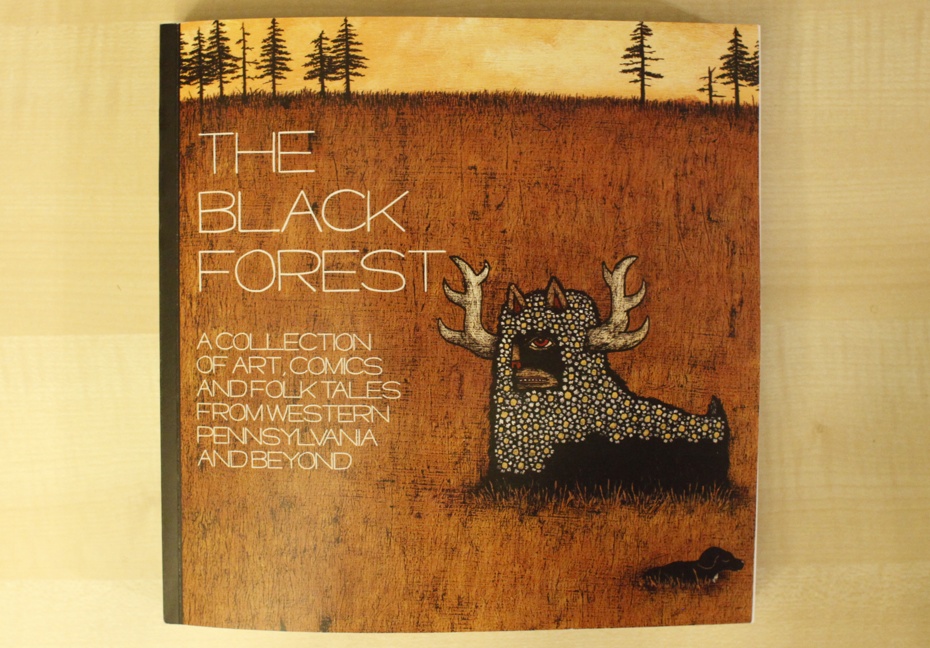 Unicorn Mountain is a collective of Pittsburgh artists that publishes anthologies of local art, comics, music and literature. Their third anthology, The Black Forest, takes a different tack from their previous collections by exploring much darker, stranger themes. My friend Tara Helfer did the layout and supplementary illustrations for The Black Forest and sent me a copy to check out.
The collection covers a broad range of styles, and is packed with more than twenty different artists' work. Some parts are creepy and scribbly. Others are intricate and mysterious. I've picked some samples of a few of my favorites here.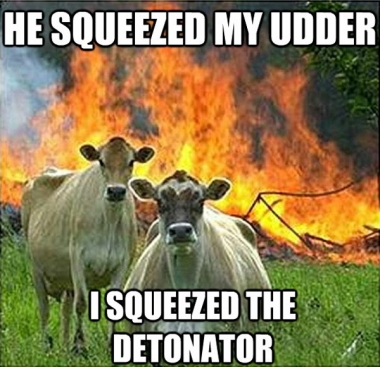 This weekend, state police in Pennsylvania State Police reported that cows "having relations in the road" brought traffic to a standstill near Kittanning, PA. "
The bull rebuffed any notion of interruptus and police had to summon Pennsylvania Farm Bureau personnel
," writes Jon Schmitz of the Pittsburgh Post-Gazette. (Photo
via Sean Bonner
)
A joint Disney Research and CMU team have produced a demo showing gesture controls on a variety of everyday, non-computer objects. The system, called Touché, uses capacitive coupling to infer things about what your hands are doing. It can determine which utensil you're eating your food with, or how you're grasping a doorknob, or even whether you're touching one finger to another or clasping your hands together. It's a pretty exciting demo, and the user interface possibilities are certainly provocative. Here's some commentary from Wired UK's Mark Brown:
Some of the proof-of-concept applications in the lab include a smart doorknob that knows whether it has been grasped, touched, or pinched; a chair that dims the lights when you recline into it; a table that knows if you're resting one hand, two hands, or your elbows on it; and a tablet that can be pinched from back to front to open an on-screen menu.

The technology can also be shoved in wristbands, so you can make sign-language-style gestures to control the phone in your pocket—two fingers on your palm to change a song, say, or a clap to stop the music. It can also go in liquids, to detect when fingers and hands are submerged in water.

"In our laboratory experiments, Touché demonstrated recognition rates approaching 100 percent," claims Ivan Poupyrev, senior research scientist at Disney Research in Pittsburgh. "That suggests it could immediately be used to create new and exciting ways for people to interact with objects and the world at large."
Disney researchers put gesture recognition in door knobs, chairs, fish tanks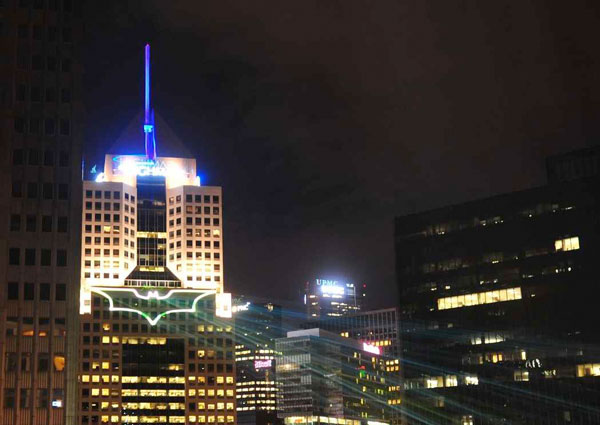 When a Pittsburgh man tried to carjack a plain-clothed police officer's car and got immediately collared,
he claimed to be shooting a scene from The Dark Knight Rises
, currently shooting in the city. From MSNBC:
[Detective] DiGiacomo said he was able to pull out his gun and arrest Micah Calamosca, 21, of Shadyside, after Calamosca tried to order him out of his vehicle on Ivy Street. Calamosca "said he was just filming the movie 'Batman,' and that him taking my vehicle was part of the script," according to the criminal complaint filed by DiGiacomo.
For reference, Ivy Street is like four miles out of downtown (embatsignalled above) and about as Gotham as a Jane Austen novel. However, the idea of Batman recklessly pursuing Bane through a synagogue brunch or independent arts festival is quite exciting.
Photo: Lightwave International.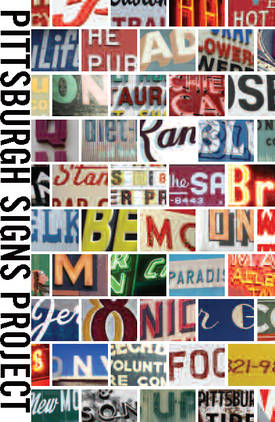 Earlier this summer, a nice group of people approached me at my signing at the CMU bookstore in Pittsburgh, PA and handed me a copy of Pittsburgh Signs Project, a photography book that features glorious photos of Pittsburgh's beautiful vintage signs. It turns out that two of the people giving me the book were among its editors, and they'd come by especially because I'd played an unwitting role in the project's genesis. Back in 2003, I blogged a set of photos of I'd snapped of Denver's signs (I'd been there for a conference and after a couple days I was so overwhelmed by the signs I kept seeing in passing that I jumped in my rental car and spent the afternoon shooting), and this, in turn, had inspired the founding of the Pittsburgh Signs Project, which invited the pittsburghese to send in their favorite images. Before long, they had a book's worth of astounding signs from many eras and of many genres, from every county in the area.
The editors -- Jennifer Baron, Greg Langel, Elizabeth Perry and Mark Stroup -- then gathered up their favorites and arranged them thematically, with brief essays and short snips of text from the photographers. But the words aren't the important bit, the photos are, and they're really something. The layout of the book hints at the lineage of the signs; of rival liquor store owners who duelled with typography; of peeling hand-painted ancestors from the dawn of commercial advertising; of careful, handmade steel typography over a metal-shop's awning. Put together, they make a sort of poetry.
I've always said that the way to make something beautiful is to make a million near-identical versions of it, let the ravages of time remove nearly all those versions, and put the remainder under glass (this is why we love Craftsman houses, Victorian row houses, old comic books, etc). Here's a great example of the phenomena: merely by withstanding time these totally quotidian objects have become evocative relics.
Pittsburgh Signs Project: 250 Signs of Western Pennsylvania (order book)