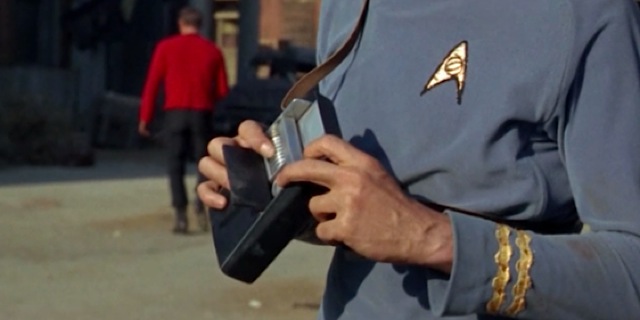 This is the third story in a multi-part series on taxonomy and speciation. It's meant to help you as you participate in Armchair Taxonomist — a challenge from the Encyclopedia of Life to bring scientific descriptions of animals, plants, and other living things out from behind paywalls and onto the Internet. Participants can earn cool prizes, so be sure to check it out! The deadline is May 20th
As depicted on Star Trek: The Original Series, the tricorder is a device that looks like the bastard love child of a Polaroid camera and a 1970s-era portable cassette deck. It was worn around the neck on a strap. It was black and clunky and definitely not what we would, today, call a sexy piece of electronics.
What made the tricorder a great piece of fictional technology wasn't its looks, but what it did. "Mr. Spock could use it to identify any organism, plant or animal, anywhere in the galaxy," said Carlos Garcia-Robledo, postdoctoral fellow in the department of botany at the Smithsonian's National Museum of Natural History. A portable tool that could quickly identify any species anywhere would be a game changer for science. Eventually, according to Garcia-Robledo and others, we'll have just that — put a piece of leaf or fur or insect leg into a machine and out pops its taxonomic information.
But what makes this really awesome is that — aside from the portable part — this is something we can actually do already. Garcia-Robledo does it regularly in his lab. The real-world tricorder isn't just something that's going to transform science someday. It's already doing that, right now.
Read the rest