Normally technology migrates from prisons to schools to airports -- think CCTVs and Pre-Check -- but for the late and unlamented radioactive pornoscanners that the TSA had to give up on, the
technology path went the other way
-- if you're lucky enough to be incarcerated in the USA (which incarcerates more people than any other nation on Earth), you may be treated to one or more TSA-surplus pornoscans.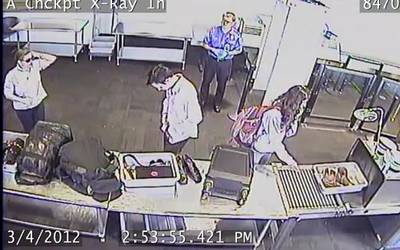 The TSA is allowed to lie in its responses to Freedom of Information Requests. Its court-granted ability to lie to the public it nominally serves isn't limited to sensitive issues, either: they're allowed to pretend that they don't have CCTV footage of their own officers violating their own policies, even when they do.

Read the rest
Two and a half years
after
the TSA rolled out the nation's pornoscanners, they
finally got around
to fulfilling their legal obligation to ask Americans how they felt about them.
97% don't want them
. Perhaps that's why they didn't want to ask. There were 4,321 responses.
— Cory
Jonathan Mann sez, "I saw Cory's post about the TSA accepting comments on the full body scanners and decided I'd give them a piece of my mind - in song."
My Comment To The TSA (Song A Day #1573) (Thanks, Jonathan!)
The TSA has given the boot to Rapiscan, maker of about half of the pornoscanners in use in America's airports:
TSA gave Rapiscan until June 2013 to come up with a software upgrade to prevent the scanner from projecting the naked image. TSA officials said Rapiscan won't be able to meet that deadline.

"TSA has strict requirements that all vendors must meet for security effectiveness and efficiency since the use of this technology is critical to TSA's efforts to keep the traveling public safe," the TSA said in a statement.
Yes, they seriously named their pornoscanner company "Rapiscan." Seriously.
TSA ends contract with Rapiscan, maker of full-body scanner [Hugo Martin/LA Times] (via /.)
Marilyn sez, "Chris Elliott gives 5 good reasons to participate in the Opt Out protest against the TSA's full-body scanners over this Thanksgiving weekend and so far, 65 percent of the people reading his column on Huffington Post say they will take part (including me)."
1. They're not adequately tested and could be dangerous. Unfortunately, the scanners you'll be asked to walk through haven't been properly tested. The latest independent evaluations are actually based on data provided by the TSA. The government wants us to trust it, but it won't give us a reason. That's unacceptable.

2. They're easily foiled. It's not difficult to sneak a weapon through a full-body scanner, according to several reports. The career criminals who might want to do us harm have figured out how to get around the scanners already.

3. They're too expensive. At a quarter of a million bucks a pop, the scanners are a huge waste of taxpayer money. To use one, or to allow one to be used on you, is is an endorsement of an iffy technology. It also lines the pockets of undeserving security contractors, say critics...
5 Reasons I'm Opting Out Of The TSA's Scanners (And You Should Too) (Thanks, Marilyn!)
Rapiscan, makers of the naked-scanner technology used in many US airports, are in a lot of trouble. The TSA has accused them of falsifying their tests results on the software that supposedly protects flier privacy by rendering them as cartoon characters with suspicious blobs wherever the scanner's image-processor thinks they belong. If convicted, the execs at Rapiscan could go to jail, and the company would be assessed for stiff fines and be barred from any future government contracting. Here's more from Wired's Kim Zetter:
DHS has spent about $90 million replacing traditional magnetometers with the controversial body-scanning machines.

Rapiscan has a contract to produce 500 machines for the TSA at a cost of about $180,000 each. The company could be fined and barred from participating in government contracts, or employees could face prison terms if it is found to have defrauded the government.

It's not the first time Rapiscan has been at the center of testing problems with the machines. The company previously had problems with a "calculation error" in safety tests that showed the machines were emitting radiation levels that were 10 times higher than expected.

It turned out the company's technicians weren't following protocol in conducting the tests. They were supposed to test radiation levels of machines in the field 10 times in a row, and then divide the results by 10 to produce an average radiation measurement. But the testers failed to divide the results by 10, producing false numbers.
Maker of Airport Body Scanners Suspected of Falsifying Software Tests
Dave sez, "The National Opt Out and Film Week, a new campaign designed to expose the abusive policies of the TSA, is set to launch during Thanksgiving, one of the busiest travel times of the year -- and the TSA might not be able to stop it."
Supporters of Opt Out and Film Week are encouraged to film TSA activities at their local airport -- even if they are not flying -- and upload the videos to Youtube and other sites. According to the TSA website, filming TSA agents and security checkpoints is not illegal, as long as it does not interfere with security procedures....

... "The reasoning behind a National Opt-Out Week is this: If the TSA decides to shut down its scanners in response to the protest, as it allegedly did in 2010, activists would have ample opportunity to document the action over a period of a week," Elliott wrote in an article for the Huffington Post. "TSA critics would then have more than enough evidence to prove that these scans and pat-downs are a false choice and do practically nothing to improve our safety."
Showdown with TSA set for 'Opt Out and Film Week' November 19-26 Special
Bruce Schneier writes,
Year ago, EPIC [the Electronic Privacy Information Center] sued the TSA over full body scanners (I was one of the plantiffs), demanding that they follow their own rules and ask for public comment. The court agreed, and ordered the TSA to do that. In response, the TSA has done nothing. Now, a year later, the court has again ordered the TSA to answer EPIC's position.

This is an excellent time to add your name to the petition the TSA to do what they're supposed to do, and what the court ordered them to do: take public comments on full body scanners. The petition has almost 17,000 signatures. If we get 25,000 by August 9th, the government will respond. I doubt they'll capitulate, but it will be a press event that will put even more pressure on the TSA. So please sign the petition. (Here is my first post about it.)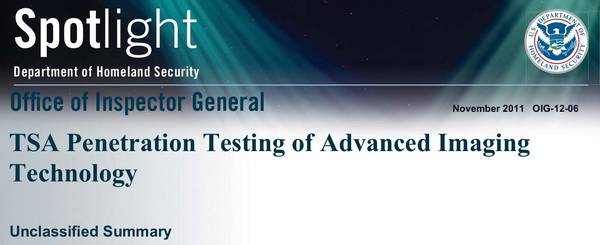 $90 million later, after a series of humiliating demonstrations, and critical analysis, an unclassified memo shows that the DHS suspects what everyone else knows: pornoscanners don't work. Here's David Kravets in Threat Level:
Meanwhile, an unclassified version of the Inspector General report, unearthed Friday by the Electronic Information Privacy Center, may give credence to a recent YouTube video allegedly showing a 27-year-old Florida man sneaking a metallic object through two different Transportation Security Administration body scanners at American airports.

The TSA agreed with all of the Inspector General's recommendations. The Inspector General did not immediately respond to a request for comment.

In March, meanwhile, a TSA spokeswoman said "These machines are safe" when asked to address a video by Jonathan Corbett, of Miami Beach, who allegedly had discovered a method tobeat the body scanners, which number 600 and are in about 140 U.S. airports. A brief YouTube video allegedly shows Corbett, who had sewn a pocket to the side of his shirt, getting past two body scanners with a metallic object in that pocket.
Homeland Security Concedes Airport Body Scanner 'Vulnerabilities'