In 1964, Margaret Howe Lovatt, working with psychedelic dolphin researcher John Lilly, began to live with one of the animals full-time as part of a NASA-funded study about interspecies communication; a new documentary about Lovatt, titled "The Girl Who Talked to Dolphins," airs on BBC4 later this month. Above, a clip of Lovatt talking about how she developed a deep intimate relationship with Peter the dolphin that veered into the sexual. At the time, a sexploitative article in Hustler, the high weirdness of the experiments itself that included giving LSD to dolphins, and myriad other unpleasant issues, brought the project to a very sad end.
"The dolphin who loved me: the Nasa-funded project that went wrong" (The Observer)
Alexander "Sasha" Shulgin, maverick chemist, psychedelic pioneer, and inspiring human being, died yesterday at 88 years old. Sasha is best known for popularizing MDMA (Ecstasy) and introducing it to the psychological community, and synthesizing hundreds of new psychoactive chemicals that he first tested on himself. His scientific research is detailed in a huge output of papers and books including the seminal tomes TIHKAL and PIHKAL, co-authored with his wife and research partner Ann Shulgin.
As Sasha once said, everyone deserves "the license to explore the nature of his own soul."
Sasha, you will be missed, and rest-assured the research will continue.
Our best wishes and deep respect to psychedelic pioneer and maverick chemist Alexander "Sasha" Shulgin who is preparing for his final trip on Earth; he is "surrounded by love and a lot of laughter," his wife and research partner Ann Shulgin posted on Facebook:

Read the rest
Over at Dangerous Minds, Richard points us to this fantastic 1967 short documentary "It's So Far Out It's Straight Down" from Granada Television. Allen Ginsberg, Pink Floyd, the staff of the International Times underground paper, and Paul McCartney all make the scene.
"The straights should welcome the underground because it stands for freedom," Sir Paul says. "It's not strange it's just new, it's not weird, it's just what's going on around."
Above, video evidence of my short presentation "Just Say Know: A Cyberdelic History of the Future" at the recent Lift Conference 2014 in Geneva, Switzerland. Albert Hoffman first synthesized LSD in 1938 in Switzerland so this felt like the right set and setting to share stories about the intersection of psychedelic culture and computer technology from the 1960s to the present and beyond!

Lisa Rein sez "A first-ever Persian translation of any of Timothy Leary's writings is now available. The text, a 'Declaration of Evolution,' is a manifesto Leary wrote for the psychedelic generation, modeled on the 1776 American 'Declaration of Independence." It is presented in a bilingual (Persian and English) format.
"It was first published in Leary's The Politics of Ecstasy and reprinted in the underground press, before being published separately in 1970 as a pamphlet by the Brotherhood of Eternal Love, who later the same year engineered Leary's prison escape by the Weather Underground. It has been out-of-print since then."

Read the rest
Erik Davis says: I recently published my first column for Aeon Magazine's online site, a "post-secular" take on the current wave of psychedelic research. Without plunging into woo, the article attempts to chart the liminal zones that lie beyond brain-based reductionism. It seemed a good piece for Aeon, a new British outfit that is charting a very interesting zone between science, religion, culture, and good writing.
Studies recently carried out at Yale, and published last month in the journal Science, have confirmed earlier reports that ketamine offers remarkable, nearly instantaneous relief for people who suffer from forms of major depression impervious to other treatment methods. Interpreting depression as a hardware problem largely caused by the loss of synaptic connections, the researchers argue that ketamine works by encouraging sprightly neural growth in brain regions correlated with memory and mood. Journalistic reports also linked this research with the development of a new vein of antidepressants, including Naurex's GLYX-13, that have the neurone-fertilising power of ketamine without, as one report describes them, the 'schizophrenia-like effects'.

Rarely has the new neuro-reductionism been so naked in its repackaging of human experience. Nowhere in the research or the journalism does anyone suggest that heavily depressed people feel better because ketamine sends them on a first-person voyage through profound, sometimes ecstatic, and certainly mind-bending modes of transpersonal consciousness whose subjective power might itself boot the mind out of its most mirthless ruts.
Return trip: A new generation of researchers is heading into the weird world of psychedelic drugs. It could change their minds
Oliver Sacks was a 30-year-old neurology resident when he had his first psychedelic experiences. During the 1960s, Sacks explored LSD, pot, opium, morning-glory seeds, and the downer chloral hydrate. Recently, the New Yorker published a fascinating article by Sacks about his early experiences with drugs and how they informed his life and work. Unfortunately, the article is behind a paywall, but it was actually an excerpt from his forthcoming book Hallucinations. Below you can listen to Sacks share trip reports. (Thanks, Bob Pescovitz!)

Daniel Kottke lives and works in Palo Alto, Ca. Here, he talks about the genesis of his 1974 trip to India with Steve Jobs.
Daniel Kottke was one of Apple's first employees, assembling the company's earliest kit computers with Steve Wozniak and Steve Jobs in a California kitchen. In 1974, Jobs and Kottke backpacked across India in search of themselves; now, they are industry legends. Along the way, he debugged circuit boards, helped design the Apple III and the Mac, and became host of Palo Alto cable TV show The Next Step.

Read the rest
Image Link. Boing Boing reader MewDeep, who has an awesome Flickr stream of '60s-'70s ad scans, points to this YouTube clip of a notable television commercial from 1968: it's a promo for the Peace Corps, set to "Age of Aquarius." As MewDeep excerpts here, the ad is mentioned in The Conquest of Cool: Business Culture, Counterculture, and the Rise of Hip Consumerism, by Thomas Frank.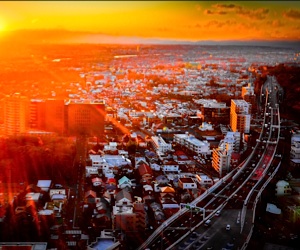 It's August of 2011, do you know when your Apocalypse is?
There are 1000s of people who think that something important—if not the end or the world, then something—will happen on December 21, 2012.
Read the rest