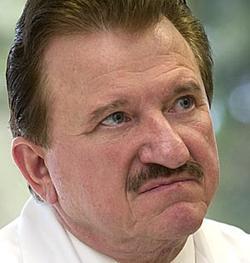 Oncologist and cancer-woo-debunker Orac has more on the legal details that allow this man to keep practicing medicine in Texas: "the dubious doctor known as Stanislaw Burzynski, who charges desperate patients with advanced (and usually incurable) cancer tens and even hundreds of thousands of dollars to participate in his 'clinical trials' of antineoplastons, compounds that he claims to have isolated from urine and that he now represents as a promising new treatment that can do much better than existing therapies with much less toxicity, even though there's no evidence that it can."
The Texas Medical Board has abandoned its prosecution of Burzynski, as noted in a previous Boing Boing post here with guest commentary by fellow anti-cancer-woo writer Robert Blaskiewicz.
The legal underpinnings of the case will be interesting to some, and too tedious for others, but here's the tl;dr from Orac's post: the outcome does not make the case that Burzynski's "science" is valid. The board simply found that, "as a matter of law, the TMB couldn't bring action against Burzynski on the basis of actions performed by doctors under his supervision."