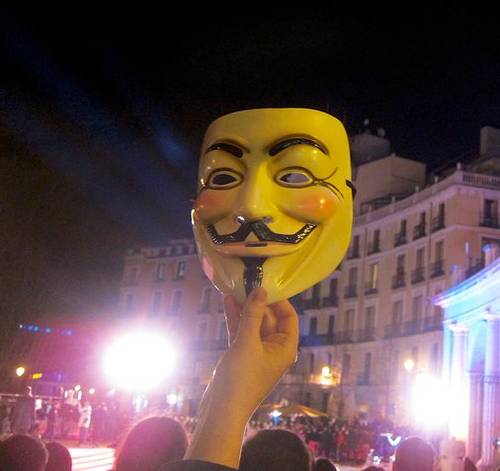 After years of criticism, Google Plus has finally dropped its controversial, Facebook-alike "Real Names" policy.

Read the rest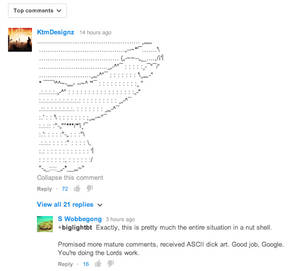 Earlier this month, mathematics vlogger Vi Hart posted a ringing denunciation of the new integration of Youtube comments with Google Plus, arguing that the ham-fisted change had brought Youtube comments to an even lower low. Hart said that the new system gave precedence to people who were able to provoke lots of replies with trollish and insulting behavior, crowding out good commenters.
Now, Youtube has officially recognized that the new system has led to an increase in spam, flaming, and the posting of ASCII art pornography.
It's part of a wider program through which Google is attempting to drive all its users into Google Plus (largely because advertisers are willing to pay higher rates for "social" ads, this being the latest industry mania). Googlers' annual bonuses are being paid out based on Google Plus's success, meaning that across the business, Google Plus is being crammed into every possible corner . The latest Android system, KitKat, tries to force users into Google Plus accounts for sending and receiving SMSes, and makes you opt out of Google Plus about six times during setup.
When Google Plus came in, its company proponents insisted that forcing people to use their real names would improve civility. As is often the case when doctrine fails to line up with reality, they have now doubled down on their folly. If Google Plus hasn't made the Internet "civil," the problem can't be that Real Names don't work -- the problem must be that Google Plus hasn't been wedged into enough corners of the Internet.
It's hard to believe that Google managed to make Youtube comments worse, but there you have it. It turns out that if you provide Google engineers and product designers with sufficient motivation, there's no limit to how bad things can get.
---
Update
: Thanks to David Otaguro for clarifying that the Google bonuses for Google Plus success was a one-year only affair to coincide with the service's launch, and that the bonus was only partially based on Google Plus's success.
---
Read the rest
Google has changed the commenting system on YouTube so that you need to be a Google Plus user to post; the new system uses algorithms to promote some comments above others, and has the perverse effect of making trolls more visible. Vi Hart, the incomparable math-vlogger (and a regular favorite around here) describes how Google's decision to double down on its flagging Facebook-alike G+ service by ramming YouTube users into it has made her lose faith in the service: now her regular, good commenters comments hover at the bottom of the pile, while hateful trolls whose messages generate a lot of replies are judged "good" by G+ and promoted to the top.
The promise of G+ in the beginning was that making people use their real names would incentivize them to behave themselves. It's abundantly clear now that there are more than enough people who are willing to be jerks under their real names. In the meantime, people who have good reason not to post under their own names -- vulnerable people, whistleblowers, others -- are now fully on display to those sociopaths who are only too happy to press the attack with or without anonymity.

Read the rest
My latest Locus column is Teaching Computers Shows Us How Little We Understand About Ourselves, an essay about how ideas we think of as simple and well-understood -- names, families, fairness in games -- turn out to be transcendentally complicated when we try to define them in rule-based terms for computers. I'm especially happy with how this came out.
Systems like Netflix and Amazon Kindle try to encode formal definitions of "family" based on assumptions about where you live -- someone is in your immediate family if you share a roof -- how you're genetically related -- someone is immediate family if you have a close blood-tie -- how you're legally related -- someone is in your family if the government recognizes your relationship -- or how many of you there are -- families have no more than X people in them. All of these limitations are materially incorrect in innumerable situations.

What's worse, by encoding errors about the true shape of family in software, companies and their programmers often further victimize the already-victimized -- for example, by not recognizing the familial relationship between people who have been separated by war, or people whose marriage is discriminated against by the state on the basis of religion or sexual orientation, or people whose families have been torn apart by violence.

The ambiguity that is inherent in our human lives continues to rub up against our computerized need for rigid categories in ways small and large. Facebook wants to collapse our relationships between one another according to categories that conform more closely to its corporate strategy than reality -- there's no way to define your relationship with your boss as "Not a friend, but I have to pretend he is."
Teaching Computers Shows Us How Little We Understand About Ourselves