Economist Alan Blinder famously
quipped
, "You can't hammer a nail over the internet." YouTuber
TheGoodRobot
created this tongue-in-cheek
attempt to prove Blinder right
.
Read the rest
Harvard University released video of this unnerving soft robot that can move untethered through punishing conditions, including snow and fire, yet will remain resilient. It looks a bit like reanimated sliced SPAM in the time-lapse crawling footage, and like SPAM, it retains its shape even when its appendages are run over by a car.

Read the rest
Researchers at Greece's Institute of Computer Science have demonstrated the Octobot, a shoebox-sized swimming robot propelled by eight webbed arms. Video below.
Read the rest
Matt Denton of Hampshire, UK, built a huge hexapod walking machine that he operates by joysticks inside the cockpit. It took him four years and cost "hundreds of thousands of pounds" to make. Its top speed is one mph and, as you might expect, isn't particularly efficient. "It's not about miles to the gallon, it's about gallons to the mile," Denton told the BBC News.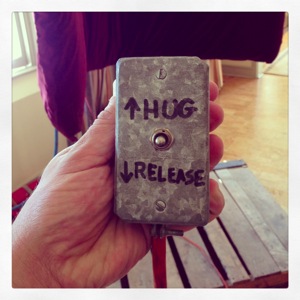 Today at Institute for the Future's Ten Year Forecast conference, my friend Kal Spelletich's "Huggerer" pneumatic robot is delivering free hugs. Here is a video of Kal demonstrating the machine. It's very satisfying.

University of Florida grad student Andrew Gray built the Bird Buggy for his parrot to drive around the house. "When it's time to put the bird away, Bird Buggy is able to dock itself to a base station utilizing a web camera," Gray says. (Thanks, Sean Ness!)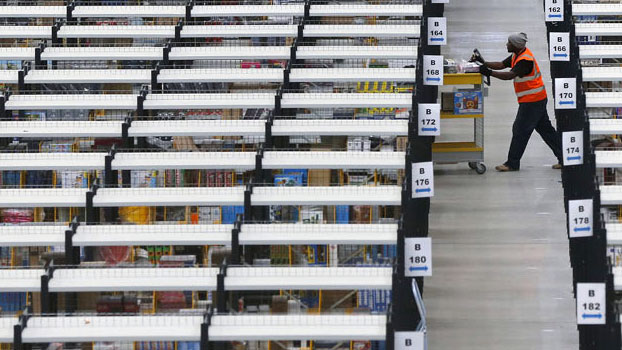 Boston coder Darius Kazemi's interest in chance led him to create a bot that buys stuff on Amazon: a human decision made ineluctably alien by the randomness of a computer's whim.
Read the rest
Waseda University's Kabe Lab exhibited Jukusui-kun, a robotic bear, at the International Robot Exhibition in Tokyo earlier this month. Jukusui-kun is a medical appliance intended for people who have sleep apnea, a sleep disorder typified by loud snoring, which can have grave health effects on its sufferers. Jukusui-kun is a plush bear that you use as a pillow, which receives blood-oxygen readings from a monitor on the sleeper's hand. When oxygen levels drop (people with apnea stop breathing for long periods -- the snore is a kind of gasp for air), the bear's robot arm reaches around and tickles its user's face, so that the user rolls onto his side, where breathing is less labored.
Dr Kabe's Jukusuri-Kun works through the person asleep wearing a similarly cute pulse-oxygen meter attached to the hand which sends readings of the amount of oxygen in the blood to a terminal running a program with the persons vital statistics pre-programmed in. To eliminate the intrusion of wires preventing a good sleep the team also developed a cordless technology which uses the human bodies natural conductive properties to communicate with a conductive sheet that lies under the bed sheet. The pillow itself also houses a microphone which analyses the decibel level of the snorer. When the oxygen level decreases in the patient resulting in the snore level increasing it triggers the bear-pillow's hand to move towards the sleepers face. Gently brushing the face causes the person to then turn from lying on their back to moving onto their side, a more conducive postion for a sound, snoreless nights sleep.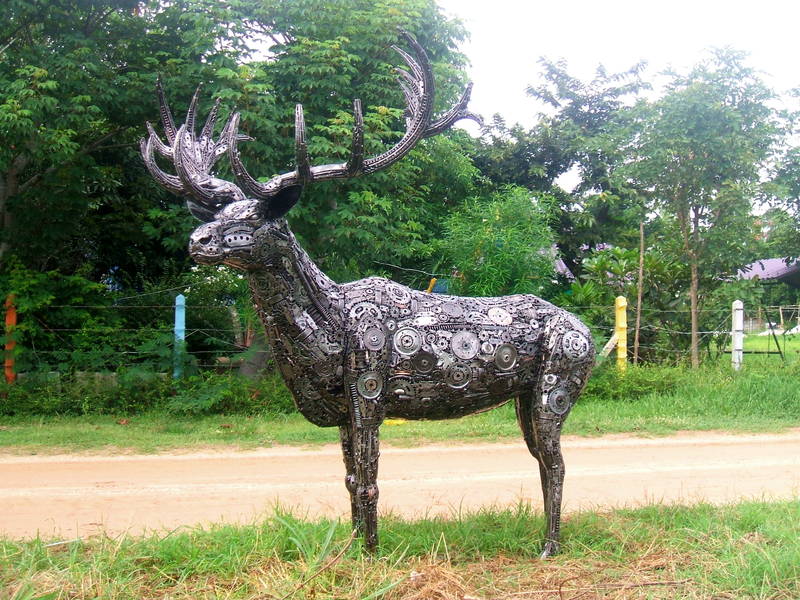 Marco sez, "My elementary and middle school friend Tom Samui from Switzerland makes these custom sculptures out of recycled car and motorcycle parts."
He and his team have been perfecting these sculptures over the last ten years. Once a month they go to a junk yard and cart away a truckload of old car and motorcycle parts. The pieces are cleaned and sorted by type; nothing is thrown away. All pieces are welded together, polished and varnished with special anti-rust lacquer. It takes about 400 hours of work to complete a large sculpture. The details and the quality of the work can be seen especially on the deer and the American Indian on the horse by clicking on the images (below).

Whether you have a drawing, a photo, a model, an idea; he can make almost any object in any size between 3 feet (1 meter) and 26 feet (8 meters). If the sculpture is smaller than 3 feet (1 meter) the minimum order is 20 pieces. The larger pieces can be taken apart into up to 10 pieces and can be transported to almost anywhere in the world. Production time for custom pieces is two to three months.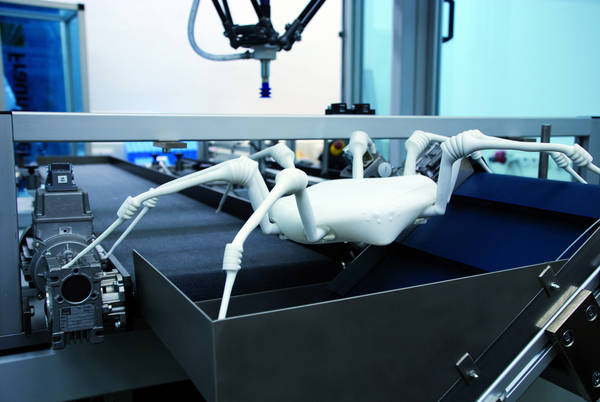 Fraunhofer's 3D printed exploration spiders are intended for use "as an exploratory tool in environments that are too hazardous for humans, or too difficult to get to." They use hydraulic bellows to execute advanced maneuvers, including jumping:
With its long extremities, the spider has a range of ways to get around. Some models can even jump. This is possible using hydraulically operated bellows drives that serve as joints and keep limbs mobile. With no muscles to stretch their legs, these creatures build up high levels of body pressure that they then use to pump fluid into their limbs. Shooting fluid into the legs extends them. "We took this mobility principle and applied it to our bionic, computer-controlled lightweight robot. Its eight legs and body are also fitted with elastic drive bellows that operate pneumatically to bend and extend its artificial limbs," explains Dipl.-Ing. Ralf Becker, a scientist at IPA. The components required for locomotion, such as the control unit, valves and compressor pump, are located in the robot's body; the body can also carry various measuring devices and sensors, depending on the application at hand. Hinges interoperate with the bellows drives so that the legs can move forward and turn as needed. Diagonally opposed members move simultaneously, too. Bending the front pairs of legs pulls the robotic spider's body along, while stretching the rear extremities pushes it.
High-tech spider for hazardous missions
(
via JWZ
)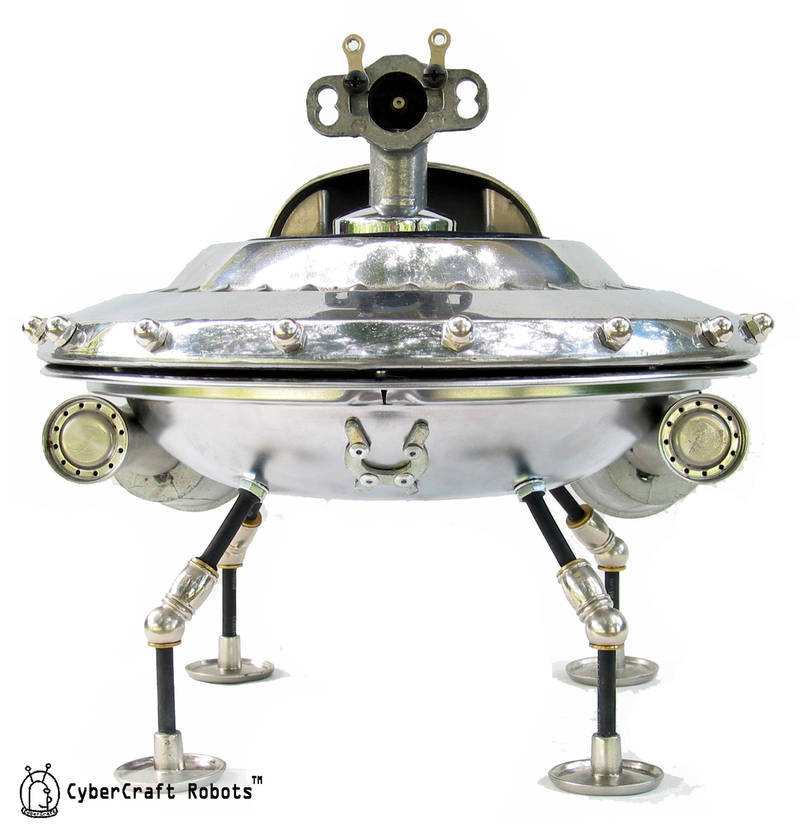 From the
Boing Boing Flickr Pool
: a glorious junkbot called the "Scout Ship for Landfill Art project" from
CyberCraft Robots
.
Scout Ship for Landfill Art project - Industrial and Found Object assemblage sculpture from CyberCraft Robots