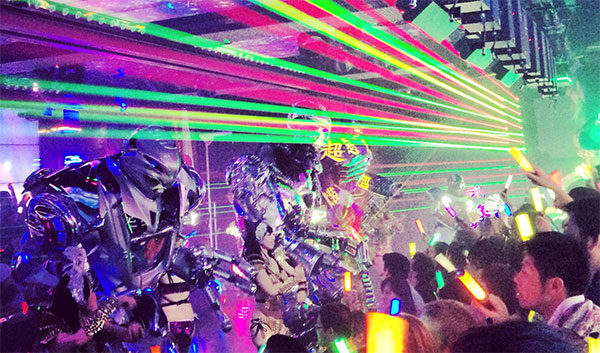 Chris Arkenberg visits an establishment where pop culture and history merge into a light show of singular magnificence.
Read the rest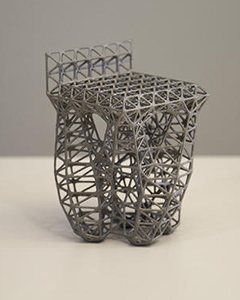 Here's something exciting: Autodesk's new computer-aided design software lets the designer specify the parameters of a solid (its volume, dimensions, physical strength, even the tools to be used in its manufacture and the amount of waste permissible in the process) and the software iterates through millions of potential designs that fit. The designer's job becomes tweaking the parameters and choosing from among the brute-forced problem-space of her object, rather than designing it from scratch.

Read the rest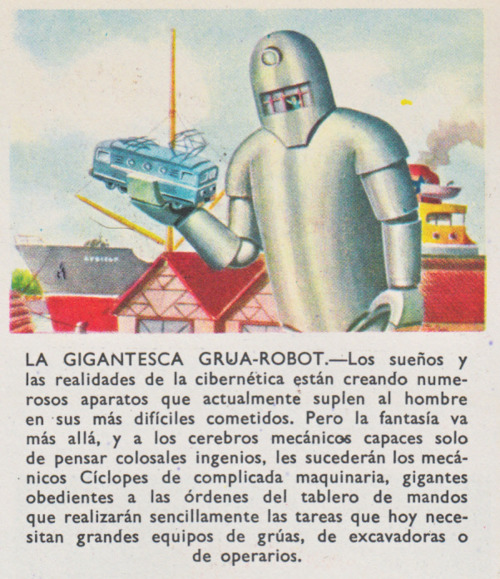 I like the person looking through the window in the robot's face. (Via Arcane Images)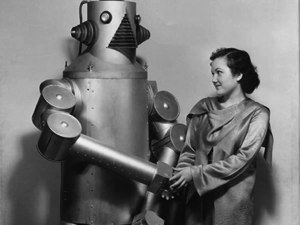 One in five people in the UK would be willing to screw a robot, according to a new survey cited in the Daily Beast. That's all? The question was part of a study, by Middlesex University (seriously), that asked 2,000+ people about their views on technology. Apparently, 46% of those polled said they'd either have sex with a robot or at least not judge others who do.
SRI International is creating coordinated systems of tiny ant-like robots that can build larger structures. The aim is a swarm of magnetically-controlled bugbots that could construct electronic devices, conduct chemistry for lab-on-a-chip applications, or do other micro scale manufacturing. It's part of the US Department of Defense's "Open Manufacturing" program. (via Re/code)

Samuel writes, "At Yuri's Night World Space Party in Los Angeles on April 11th 2014, my team and I will be announcing the Zero Gravity Cocktail Project. It's been nearly ten years in the making, and we still have a ways to go, but we have 3D printed glass designed to work in weightlessness. As part of the system we are also developing a 'drinkbot' which will mix and dispense a variety of drinks without the need for gravity."

Read the rest

Tomorrow, Friday (April 4), UC Berkeley is hosting a free symposium about "
Robots and New Media
." Organized by BB pal and Cal professor Eric Paulos, the lineup includes such robotics/design/media luminaries as Mark Pauline (Survival Research Labs), Hubert Dreyfus (UC Berkeley), Eric Stackpole (OpenROV), Ken Goldberg (UC Berkeley), and Carla Diana (U Penn.). This will be a mind-blower for sure. As JG Ballard said, robots are the "moral degradation of the machine."
Robots and New Media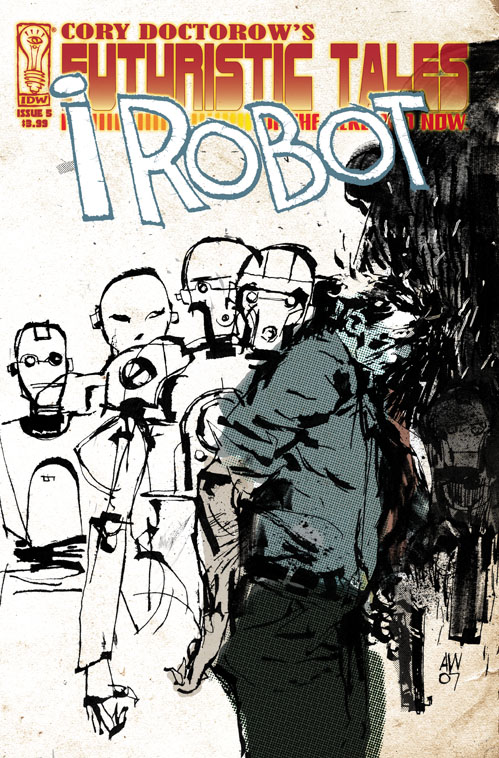 My new Guardian column is "Why it is not possible to regulate robots," which discusses where and how robots can be regulated, and whether there is any sensible ground for "robot law" as distinct from "computer law."

Read the rest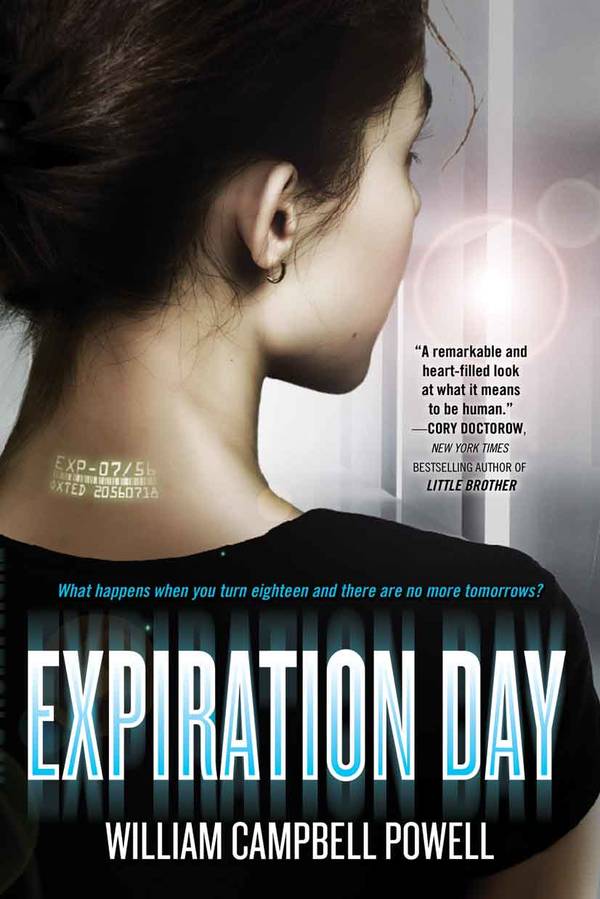 Expiration Day is William Campbell Powell's debut YA novel, and it's an exciting start. The novel is set in a world in which human fertility has collapsed, taking the birth-rate virtually to zero, sparking riots and even a limited nuclear war as the human race realizes that it may be in its last days. Order is restored, but at the price of basic civil liberties. There's a little bit of Orwell (a heavily surveilled and censored Internet); but mostly, it's all about the Huxley. The major locus of control is a line of robotic children -- all but indistinguishable from flesh-and-bloods, even to themselves -- who are sold to desperate couples as surrogates for the children they can't have, calming the existential panic and creating a surface veneer of normalcy.
Expiration Day takes the form of a private diary of Tania, an 11 year old vicar's daughter in a small village outside of London. Tania's father's parishioners have found religion, searching for meaning in their dying world. He is counsellor and father-figure to them, though the family is still relatively poor. Tania is a young girl growing up in the midst of a new, catastrophic normal, the only normal she's ever known, and she's happy enough in it. But them she discovers that she, too, is a robot, and has to come to grips with the fact that her "parents" have been lying to her all her life. What's more, the fact that she's a robot means that she won't live past 18: all robots are property of a private corporation, and are merely leased to their "parents," and are recalled around their 18th birthday, turned into scrap.
Pt and Limor write, "The Glaucus, named after the Blue Sea Slug (Glaucus Atlanticus), is an open source soft robotic quadruped from Super-Releaser. It is a proof of concept for a method developed at Super-Releaser that can reproduce nearly any geometry modeled on the computer as a seamless silicone skin. The company hopes to apply these same techniques to practical problems in medicine and engineering as the technology develops. The quadruped has hollow interior chambers that interdigitate with one another. When either of these chambers is pressurized it deforms and bends the structure of the robot. This bending produces the walking motion. It is similar to how a salamander walks, by balancing itself on one pair of legs diagonal from one another while moving the opposite pair forward."

Read the rest
Remember this incredible video above? In the new issue of BusinessWeek, I profile the brilliant minds behind it, creative robotics studio Bot & Dolly, whose astonishing technology was also instrumental in the special effects of Gravity:
Behind a small cafe in San Francisco's Potrero Hill neighborhood stands an unmarked warehouse where the future of human-machine interaction is taking shape. Inside this sprawling maze of soundstages, machine shops, and computer labs, artists collaborate with engineers, cinematographers brainstorm with coders, and everyone has a collegial relationship with the small army of industrial robots stationed here. This is Bot & Dolly, a boutique design studio that specializes in combining massive mechanical arms with custom software for movies, architecture, digital fabrication, and entertainment installations. "We're a culture of makers, of creators with open minds," says Tobias Kinnebrew, Bot & Dolly's director for product strategy. "We work on things that don't seem possible and try to make them possible."
"
Bot & Dolly and the Rise of Creative Robots
"
MIT engineers are developing "soft robots" with bodies made of silicone that is actuated by fluid flowing through veins in the material. They've just demonstrated a soft robotic fish.
"As robots penetrate the physical world and start interacting with people more and more, it's much easier to make robots safe if their bodies are so wonderfully soft that there's no danger if they whack you," says Daniela Rus, director of MIT's Computer Science and Artificial Intelligence Laboratory.
Update: switched out the cheesy and substantially faked tennis robot ad for an actual, honest-to god tennis robot that can actually play table tennis.
Enjoy this table tennis match fought out by German champion Timo Boll, a robot, and irremediable cinematic pretension. [Video Link] Previously.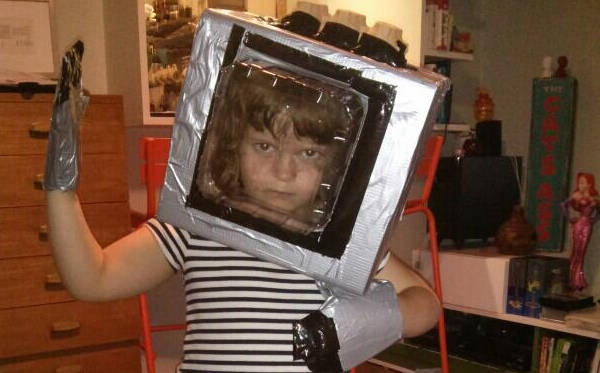 Ryan Calo, the organizer of the annual Stanford conference on Robots and the Law has written a new paper called Robotics and the New Cyberlaw , examining the new legal challenges posed by the presence of robots in our public spaces, homes and workplaces, as distinct from the legal challenges of computers and the Internet.
I'm not entirely convinced that I believe that there is such a thing as a robot, as distinct from "a computer in a special case" or "a specialized peripheral for a computer." At least inasmuch as mandating that a robot must (or must not) do certain things is a subset of the problem of mandating that computers must (or must not) run certain programs.
It seems to me that a lot of the areas where Calo identifies problems with "cyberlaw" as it applies to robots are actually just problems with cyberlaw, period. Cyberlaw isn't very good law, by and large, having been crafted by self-interested industry lobbyists and enacted on the basis of fearmongering and grandstanding, so it's not very surprising that it isn't very good at solving robot problems.
But the paper is a fascinating one, nevertheless.
---
Update: The organizer of Robots and the Law is Michael Froomkin; Ryan Calo is the person who sent it in to Boing Boing. The conference isn't held at Stanford every year; next year it will be in Miami. Sorry for the confusion!

Read the rest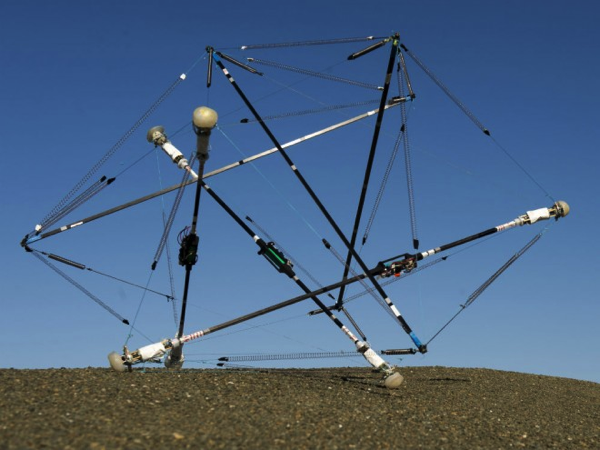 Buckminster Fuller would be proud of NASA's new experimental robot design. It's based on the structural principle that Fuller called tensegrity (tensional integrity) where the structure comes from compressed rods and flexible connections. NASA calls their prototype the Super Ball Bot for its ability to bounce on landing and shift its shape via multiple small motors to roll across a surface. IEEE Spectrum's video about the project is below. More information at NASA's page here and in this Wired Design article.
And just for kicks, here's a recent Buckminster Fuller tribute I wrote for LIFE.

Read the rest