Human beings reached a new space exploration milestone this week: landing the Rosetta mission's Philae probe on a comet some 316 million miles from Earth.

Read the rest
A team of researchers has been living in a simulated Mars habitat on a Hawaiian volcano for the past four months, practicing what it would be like to live on Mars. They're "returning to earth" today.

Read the rest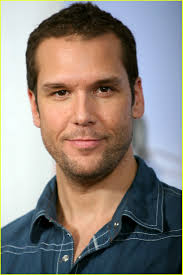 A real-life mock Mars mission created by NASA and the European Space Agency to test the psychological stresses of long-distance space travel has inspired an action movie starring comedian-turned-serious-guy Dane Cook.
From our archives, Miles O'Brien's report for PBS NewsHour on Mars500.
Welcome to the Mars500 isolation experiment, where they are simulating many of the psychological aspects of a real mission to the red planet five miles from Red Square. Three Russians, two Europeans and one Chinese, all volunteers, stepped into a windowless, hermetically sealed mock spacecraft at the Institute of Biomedical Problems on June 3 of 2010, hoping not to break the seal for 520 days. That matches the six-month flight to and from Mars, plus a month to explore the surface.
And today, on Deadline.com:
Production is just getting underway on 400 Days, a sci-fi thriller that stars Brandon Routh (Superman Returns), Arrow's Caity Lotz , Mad Men's Ben Feldman, Ed's Tom Cavanagh, Grant Bowler and Dane Cook. New Artists Alliance and XLrator Media are backing the film, which is written and directed by Ghost From The Machine's Matt Osterman. The psychological pic centers on four astronauts sent on a simulated mission to a distant planet to test the psychological effects of deep space travel. Locked away for 400 days, the crew's mental state begins to deteriorate when they lose all communication with the outside world. Forced to exit the ship, they discover that this mission may not have been a simulation after all.
[HT: Jeff Foust]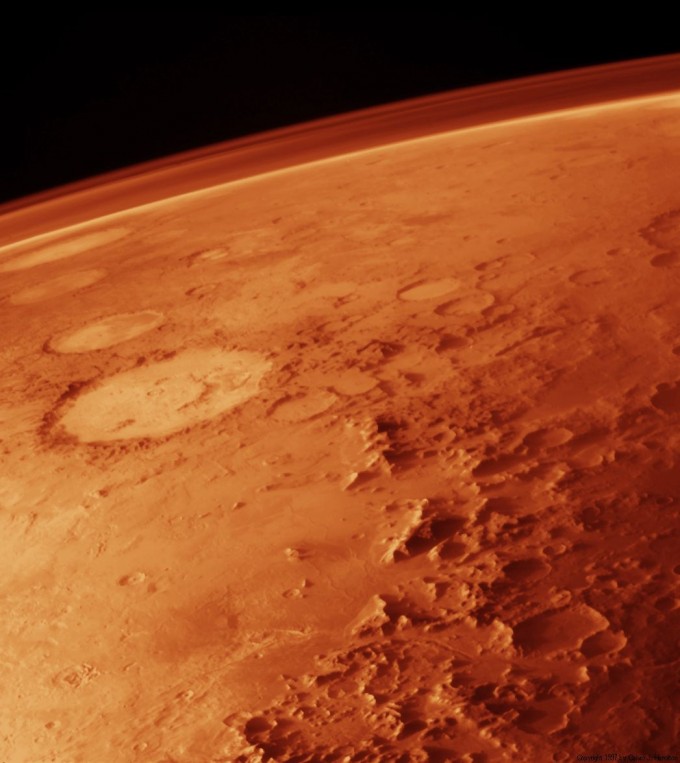 Washington Post: "A sweeping review of NASA's human spaceflight program has concluded that the agency has an unsustainable and unsafe strategy that will prevent the United States from achieving a human landing on Mars in the foreseeable future. The 286-page National Research Council report, the culmination of an 18-month, $3.2 million investigation mandated by Congress, says that to continue on the present course under budgets that don't keep pace with inflation 'is to invite failure, disillusionment, and the loss of the longstanding international perception that human spaceflight is something the United States does best.'"
The report bolsters the case for manned missions to the moon, which President Obama oppose. "I just have to say pretty bluntly here: We've been there before," the president said in a space policy speech in 2010.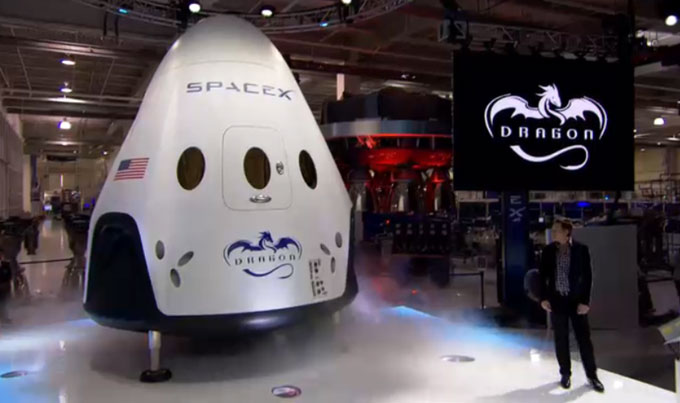 In a carefully choreographed event that felt more like an pop music awards show or an Apple product launch than anything we're used to with space flight, SpaceX CEO Elon Musk tonight unveiled the newest edition of the SpaceX Dragon spacecraft.
A Russian spacecraft carrying three people docked successfully at the International Space Station today after a flawless launch from the Baikonur cosmodrome in Kazakhstan. Our guy in space, NASA's Reid Wiseman, got right to work tweeting totally awesome photographs that masterfully convey the wonder and beauty of being, holy crap, an astronaut in space.

Read the rest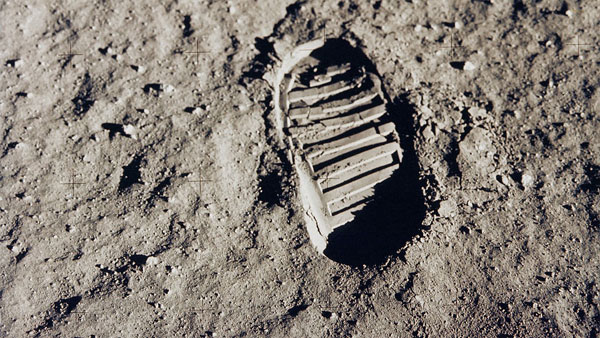 Former NASA developer Katy Levinson explains why we should care about the Moon as much as Mars–even if its dust is a killer problem.
Read the rest
An announcement from SpaceX today:
"Space Exploration Technologies successfully completed its first geostationary transfer mission, delivering the SES-8 satellite to its targeted 295 x 80,000 km orbit. Falcon 9 executed a picture-perfect flight, meeting 100% of mission objectives.

Read the rest
[Video Link] A beautiful video from NASA JPL honoring Ray Bradbury, who died Tuesday, June 5 2012 at 91.
Through the years, Ray Bradbury attended several major space mission events at JPL/Caltech. On Nov. 12, 1971, on the eve of Mariner 9 going into orbit at Mars, Bradbury took part in a symposium at Caltech with Arthur C. Clarke, journalist Walter Sullivan, and scientists Carl Sagan and Bruce Murray. In this excerpt, Bradbury reads his poem, "If Only We Had Taller Been."
(Thanks, Stephanie L. Smith)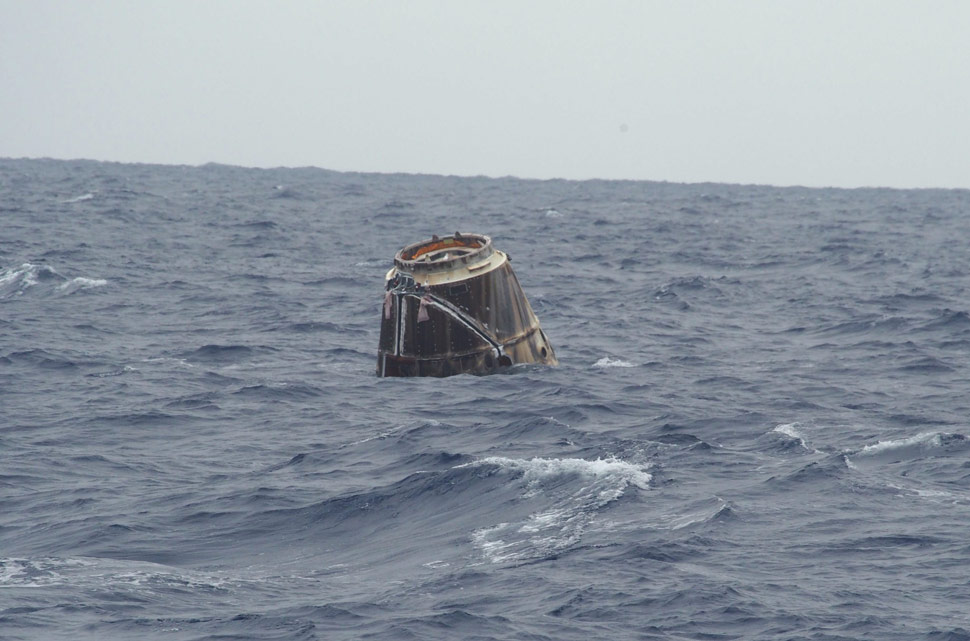 At 8:42AM Pacific/11:42 AM Eastern this morning, SpaceX completed an historic mission as the business end of the Dragon capsule splashed down safely in the Pacific ocean, to be recovered by boats and head for land. From the SpaceX announcement:
Last week, SpaceX made history when its Dragon spacecraft became the first commercial vehicle in history to successfully attach to the International Space Station. Previously only four governments – the United States, Russia, Japan and the European Space Agency – had achieved this challenging technical feat. Dragon departed the space station this morning. This is SpaceX's second demonstration flight under a 2006 Commercial Orbital Transportation Services (COTS) agreement with NASA to develop the capability to carry cargo to and from the International Space Station.
More analysis in this previous BB post from this morning's event.
UPDATE: The SpaceX Dragon successfully splashed down in the Pacific Ocean at 1042AM ET. History made, with the first commercially-built and operated space flight to the International Space Station now successfully completed.
---
Six days after it berthed with the International Space Station on an historic mission to prove that it could, the SpaceX Dragon vehicle left the ISS today and is now headed back toward our planet. SpaceFlightNow has live streaming video coverage:
The resupply craft was released from the robotic arm at 5:49 a.m. EDT (0949 GMT) and splashdown in the Pacific Ocean is scheduled for 11:44 a.m. EDT (1544 GMT).
NASA has a HD video feed here, if you prefer.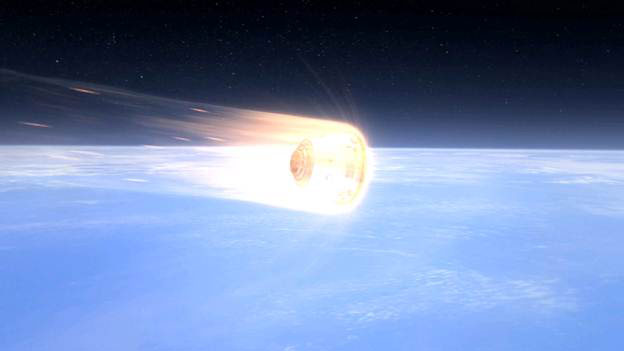 Space journalist Miles O'Brien spoke with CNN earlier this morning about the day's significance. On his blog, Miles writes:
With the shuttle fleet pickled, chocked and either in – or on their way to museums, Dragon is the only vehicle designed to haul cargo back to Earth in tact. Freighters from Russian, Europe and Japan are more like trash incinerators – as they do not have heat shields and parachutes designed to insure a safe landing.

Dragon is carrying just shy of 1400 pounds of cargo. More than it hauled up.

On board, about 300 pounds of crew preference items (lots of mementoes for friends and family), 200 pounds worth of scientific experiments, and nearly 800 pounds of station gear including a pump for the station urine recycling system (yes, they drink their own pee up there…).

Dragon will re-enter the atmosphere like a streaking meteor – as its ablative heat shield burns away - protecting the spacecraft from the searing heat.