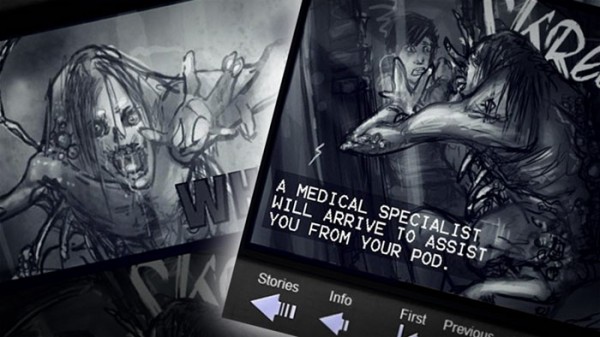 James Renner on the modern answer to classic Choose Your Own Adventure gamebooks
Read the rest
"
The Festival of Bad Ad Hoc Hypotheses
(BAH!) is a celebration of well-argued and thoroughly researched but completely incorrect evolutionary theory" — in other words, it's a festival dedicated to the ability to bullshit in a plausibly scientific way. And it sounds fantastic. If you're in Boston October 6th, you should totally go. But you'll need a ticket. They're $5 for MIT students, $10 for non-students.
John Walker argues, irrefutably, that
games are a great place to tell stories
: "There are some who have argued that games just aren't the right medium for telling stories. ... But this argument is entirely flawed, failing to understand that gaming is home to a completely new form of storytelling, and one that is perhaps more potent and powerful than any other." [Rock Paper Shotgun]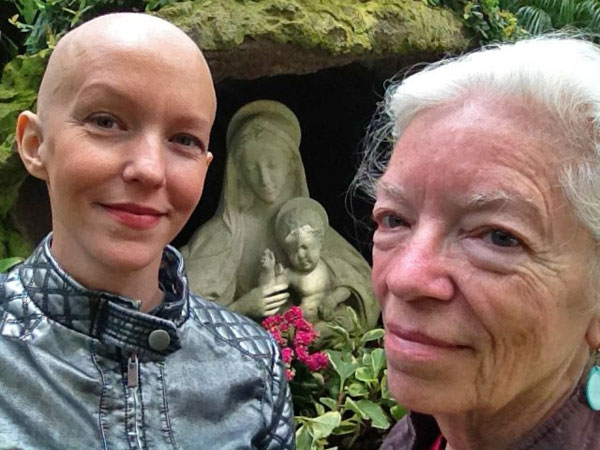 Yesterday was Mother's Day in the US. I spent the day at home in Los Angeles, still recuperating from chemo, gearing up for the next phase of my cancer treatment. After I called my mom on the East Coast to wish her a happy Mother's Day and thank her for all she has done, I shared a few thoughts on Twitter about moms and cancer. I invited my followers to do the same.
One by one, 140-character-length tributes came in about moms who survived cancer, moms who helped their kids through cancer, and kids who lost their moms to cancer. I retweeted a few, then a few more, but—they did not stop. A flood of personal testimonies to the power of motherhood in relation to cancer followed. I read every single one, and tried to share every single one with my followers.
Josh Stearns kindly collected many of them into a Storify: Mother's Day Memories of Love, Loss and Living With Cancer. It's embedded below.
Above, a photograph of me and my mom, the day before one of my chemo infusions. I draw a lot of strength from my mom. And you need all the strength you can get to get through this thing.
She adds a tribute of her own today:
My Mom died of melanoma (skin cancer) at 54. Her doctor never knew it was cancer until the autopsy. All of us (3 girls, 3 boys) still carry her spirit in our hearts.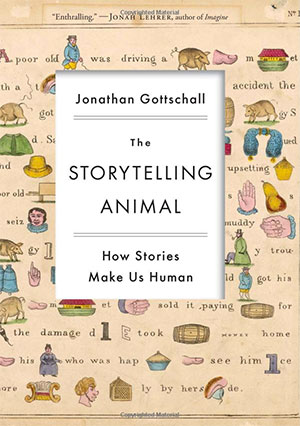 In the wake of Mike Daisey's exposure as a fabulist, The Storytelling Animal: How Stories Make Us Human
arrives at the perfect moment. The Atlantic's Maura Kelly examines Jonathan Gottschall's argument that storytelling's deceptions emerge from deeply human needs:
When we tell stories about ourselves, they also serve another important (arguably higher) function: They help us to believe our lives are meaningful. "The storytelling mind"—the human mind, in other words—"is allergic to uncertainty, randomness, and coincidence," Gottschall writes. It doesn't like to believe life is accidental; it wants to believe everything happens for a reason. Stories allow us to impose order on the chaos.

And we all concoct stories, Gotschall notes—even those of us who have never commanded the attention of a room full of people while telling a wild tale. "[S]ocial psychologists point out that when we meet a friend, our conversation mostly consists of an exchange of gossipy stories," he writes. "And every night, we reconvene with our loved ones ... to share the small comedies and tragedies of our day."
Regarding Daisey, what I found most upsetting were not the lies about his visit to China, but those about storytelling itself: he lied about the nature of the lies we love. He expected others to accept his claims as journalism, and when exposed, excused this by appealing to dramatic license, to our acknowledgement that stories' truths may be complex and counterfactual.
This wasn't an attempt at rebuilding confidence in the underlying truth of his narrative. In his contempt for storytelling's subtle consensual boundaries, Daisey's only real demand was that all stories be seen as no more truthful than his.


Matt sez,
PepysRd.com is an innovative online story based on Capital by John Lanchester, the first big London post-crash novel. Capital interweaves the lives and stories of the residents of Pepys Road, looking at the recent financial crash and its effect on our everyday lives. To support the book, Storythings have been commissioned by Faber and Faber to produce PepysRd.com – a unique interactive story based on Capital that asks you to think about how your own life will be affected by events of the coming ʻlost decade'. How will the financial crisis affect the way we live? Our health? Where we go on holidays? Or our education?

Author John Lanchester has written ten original mini-stories which explore each of the next ten years. Over ten days Pepysrd.com will ask you to think about your future, and how the decisions you make every day affect the world and the people around you. As you progress through the ten installments you make a series of choices that shape the course of your story, and determine where on Pepys Road you might end up living. Each day you discover how your answers compare with those of other users following the story: did you vote with the crowd, or against? Drawing on the themes of the novel and using this individual data PepysRd.com will offer a captivating projection of your life in 2021.

Alongside John Lanchester's stories of the future, artist James Bridle has created four interactive data illustrations which tell stories about our past, present and future using the data trails we create online and in the real world.
This data visualization of the Apollo 11 moon mission gathers social and technical data from the 1969 lunar landing in video form. The horizontal axis is an interactive timeline.

The horizontal axis is an interactive timeline. The vertical axis is divided into several sections, each corresponding to a data source. At the top, commentators are present in narratives from Digital Apollo and NASA technical debriefings. Just below are the members of ground control. The middle section is a log-scale graph stretching from Earth (~10E9 ft. away) to the Moon. Utterances from the landing CAPCOM, Duke, the command module pilot, Collins, the mission commander, Armstrong, and the lunar module pilot, Aldrin, are plotted on this graph. The graph is partially overlaid on a composite image of the lunar surface.
More about the data presented, and the story told, at the project's Vimeo page. The project comes from the MIT Laboratory for Automation, Robotics, and Society, and was directed by David Mindell. Via Maria Popova. As noted on Flowing Data, my only disappointment is that they didn't get to the "One small step for [a] man" part!
Additional credits: Visualization Design by Yanni Loukissas, and Francisco Alonso served as Research Assistant.