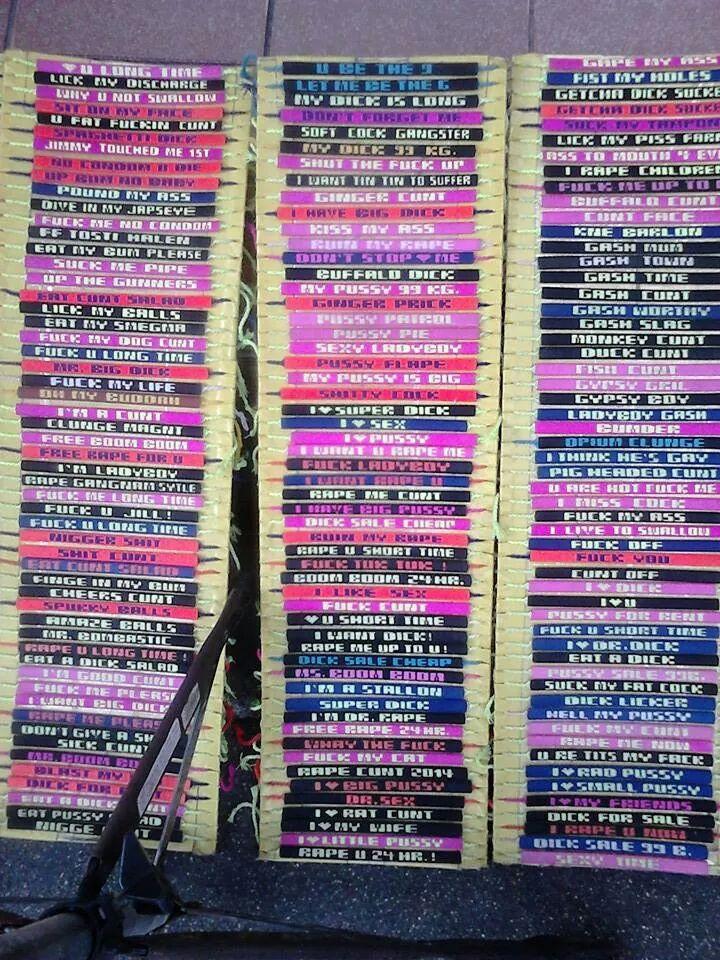 "Cheeky, sexy, English-language phrases sought for friendship bracelets at Thai market. Inevitable horror ensues," writes
@sliderulesyou
.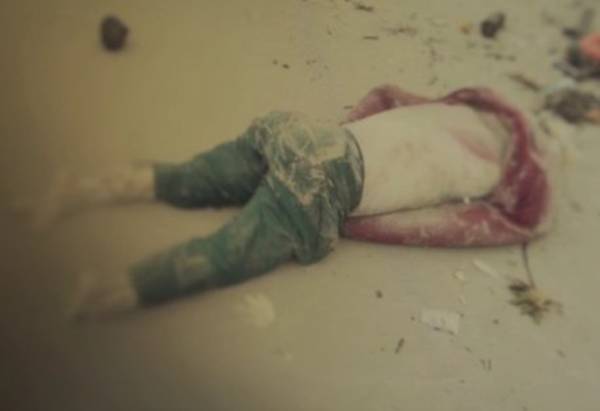 A blockbuster investigative report in The Guardian reveals that the Thai shrimp/prawn fishing industry is powered by a brutal system of slavery through which trafficked workers are bought and sold by captains who starve, beat and murder them in sadistic displays intended to inspire fear in the remaining workforce. The major companies who import Thai prawns, like CP Foods, and their customers, which includes most major grocery stores, admit that there is a problem, but they do not conduct audits that go "all the way to the end of the supply chain." An anonymous Thai government spokesman claims that the problem could be easily dealt with, but there is no political will to do so.

Read the rest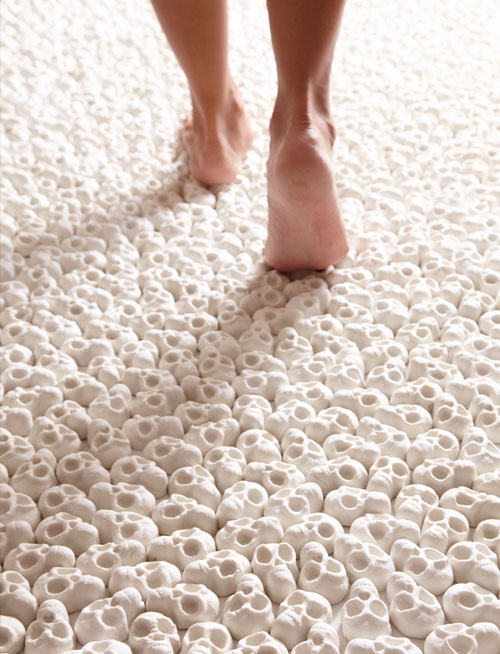 "What Will You Leave Behind?", Nino Sarabutra's installation at the Ardel Gallery in Bangkok, includes 100,000 tiny porcelain skulls that line the floor. You walk on them with your bare or stockinged feet as you traverse the gallery, looking at the rest of the show.
In this clip from the Music for Elephants series, Peter the elephant joins in on a rollicking 12-bar blues performed on a outdoor piano in Thailand. Peter apparently rather enjoys this, and has to be reminded by his mahout to take it easy on the keys (he's smashed pianos before in his exuberance). The whole thing is pretty festive, but there's no denying that Peter just isn't very good at playing piano.
Not that I'm any better.

Read the rest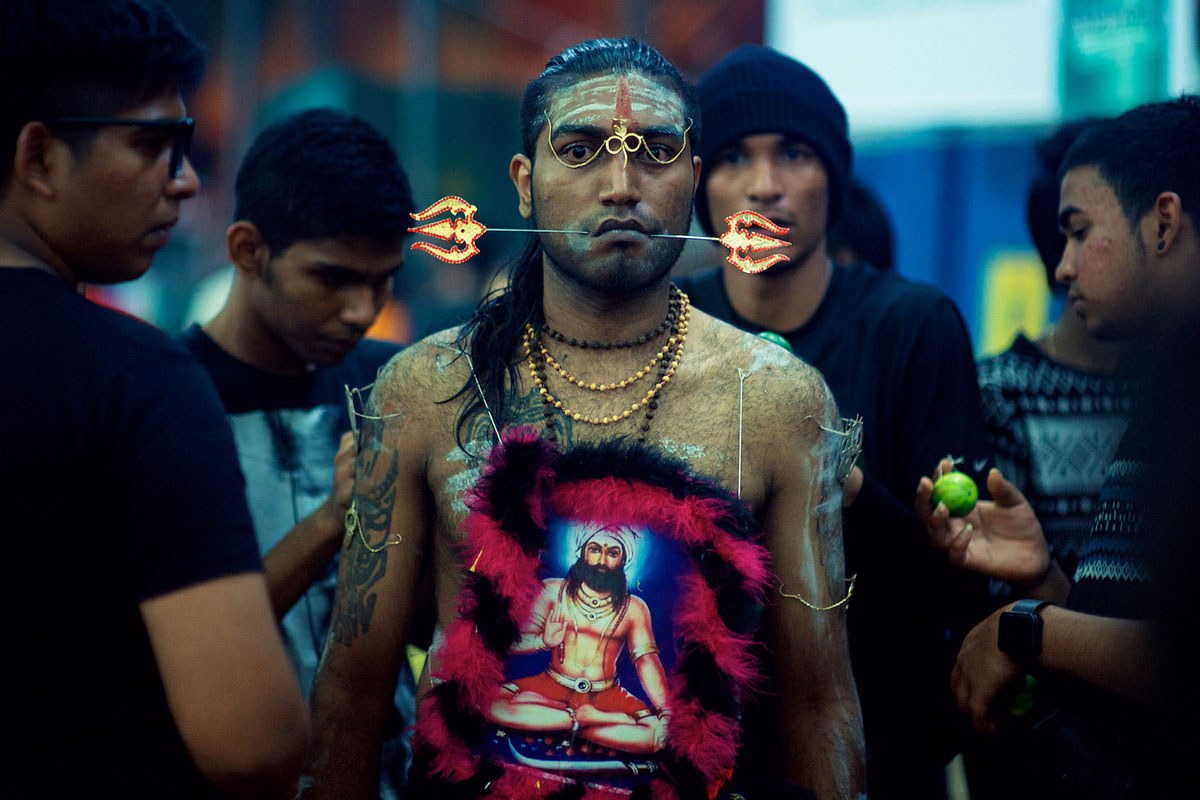 Photographer Jon Siegel, who lives in Japan and works throughout Asia, shares these portraits in the Boing Boing Flickr Pool, and explains:
It was a pleasure and an absolute honor to be allowed to watch and follow the Thaipusam festival here in Singapore. Everyone was polite, kind and welcoming to me as I attempted to document the experience with my camera, I am very grateful. Needless to say, I did my best to keep out of the way and to lend a helping hand when needed. This definitely ranks as one of the greatest experiences I have had so far in Singapore, if not in all my travels. A deeply spiritual experience affecting all senses, from the beautiful chanting and music, to the smell of the burning incense and ash, every aspect powerful and poetic.
Over the past few years, multiple people have died in Thailand from what appears to be exposure to some kind of poison. Most of these people have been tourists. And most of them have been young women. The deaths have happened in clusters. Five or so on the island vacation hotspot of Kho Phi Phi. Another group of six at Chiang Mai's Downtown Inn.
Lots of possible explanations have been suggested — ranging from serial killers, to hallucinogenic beach drinks, to overuse of banned insecticides in hotel rooms. But, so far, none of the specific poisons proposed as the culprit totally makes sense in relation to the deaths. And, to make things worse, it seems like Thai authorities are doing their best to make it difficult to actually investigate what has happened in individual cases, and figure out whether the cases are linked or not. At this point, it's hard to even know whether all the people who have died exhibited the same symptoms.
Deborah Blum, a Pulitzer-winning journalist who has done a lot of reporting on poisons and true crime has been following this story and just published another piece on the still-unfolding mess.
Your daughter died.

Your daughter died thousands of miles from home. In a hotel where no one came to help. In a hospital where she struggled to keep breathing and just couldn't. In a room where her heart – and somehow you still don't really believe this – just stuttered to a stop. In a country, where authorities have failed for months, years even, to tell you how or why your daughter died.

Your daughter, you've come to realize, died in a pattern that links too many other young women, a chain of suspected poisonings over the last few years. Jill St. Onge, 27, of Seattle, Washington, and Julie Bergheim, 22, of Drammen, Norway, who both died in May 2009 on the southern island of Koh Phi Phi. Sherifa Khalid, 24, of Kuwait, who died 12 hours she spent a day on the same island in July of the same year.
Read the rest of the story at Deborah Blum's blog, Elemental
Check out two previous stories that she's written on the same subject.
Thailand's skin-lightening craze (which includes products with such active ingredients as mercury) has reached new heights, with a widely advertised vulva*-bleaching product called Lactacyd White Intimate, made by the French company Sanofi Aventis, with an 80MM baht (approx USD2.6MM) advertising budget. The Guardian's Kate Hodal has more:
"Products [have] evolved from face-whitening to body and deodorant solutions to even out dark areas in the armpits," said Louis-Sebastien Ohl of Publicis Thailand, which created the adverts. "Now an intimate toiletry also offers a whitening benefit, because research evidenced that … women [we]re keen to have such a product."

In many countries across south-east Asia, fairer skin has long been equated with higher class as it suggests a life not spent toiling in rice paddies under the sun. The Thai language is peppered with cultural expressions that denigrate dark skin, such as the insult dam mhuen e-ga – "black like a crow". These days, rice farmers wear long sleeves, trousers, wide-brimmed hats and gloves. According to DRAFTFCB, the agency behind many of Nivea's skin-lightening ads in Thailand, such labourers provide the bulk of the Thai market for Nivea's face and body-lightening products.
Thailand's skin-whitening craze reaches woman's intimate areas
* The Guardian describes it as a "vaginal lightening" product, but I assume they mean "vulva"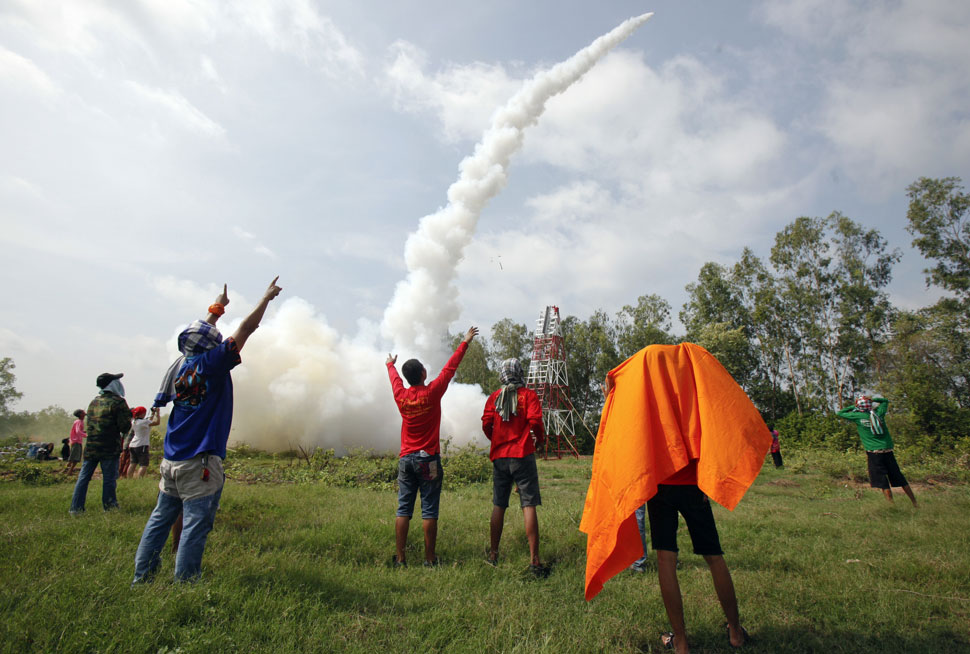 Participants in a rocket competition cheer after their rocket was successfully launched during the rocket festival known as "Bun Bangfai" in Yasothon, northeast of Bangkok, May 13, 2012. The festival marks the start of the rainy season when farmers are about to plant rice.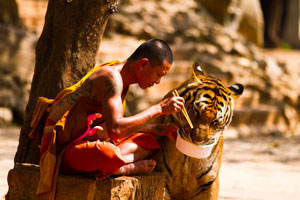 Here is the most wonderful photograph you'll ever see of a Buddhist monk sharing food with a tiger. Shot by photographer Wojtek Kalka at the Tiger Temple in Kanchanaburi, Thailand.
Worth noting: animal rights advocates do not think the temple itself is wonderful, as the afore-linked Wikipedia entry explains, because the big cats there are kept in abusive conditions. (via Bill Gross)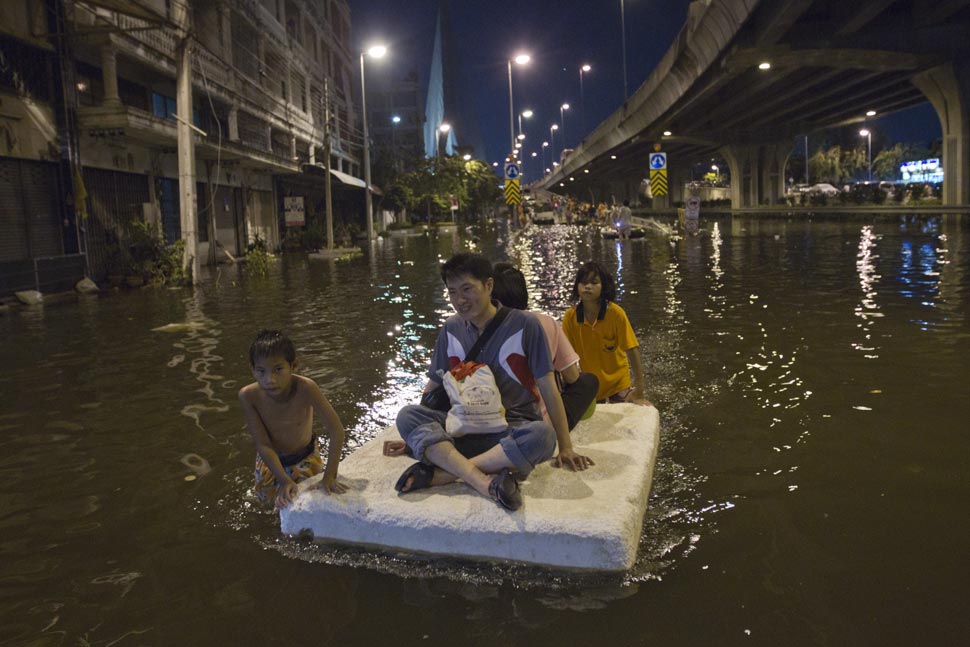 A boy and girl give rides for a fee to flooded residents in Bangkok November 2, 2011. The floods began in July and have devastated large parts of the central Chao Phraya river basin, killed nearly 400 people and disrupted the lives of more than two million. REUTERS/Adrees Latif
There may be a shortage of hard drives for the big Christmas retail season because of the catastrophic floods in Thailand. By some estimates the total global output of magnetic hard drives could fall as much as 30% in the final three months of 2011.
Production of laptops and other devices that use these drives may be impacted through early 2012. Second only to China, Thailand is one of the world's top hard drive producing countries. Western Digital and Seagate now produce about 90% of hard drives, and both have affected plants in Thailand. Western Digital's factory is literally underwater.
What stock remains will grow more expensive, with price increases of 20-40%, as demand outstrips supply.
Car production is affected too, as many auto makers use electronic parts made in Thailand. Toyota will slow production of cars in the US because of a shortage of Thai-made parts. Shipments of cameras will be impacted, too—and likely, their price.
(notes and links from Ned Sublette)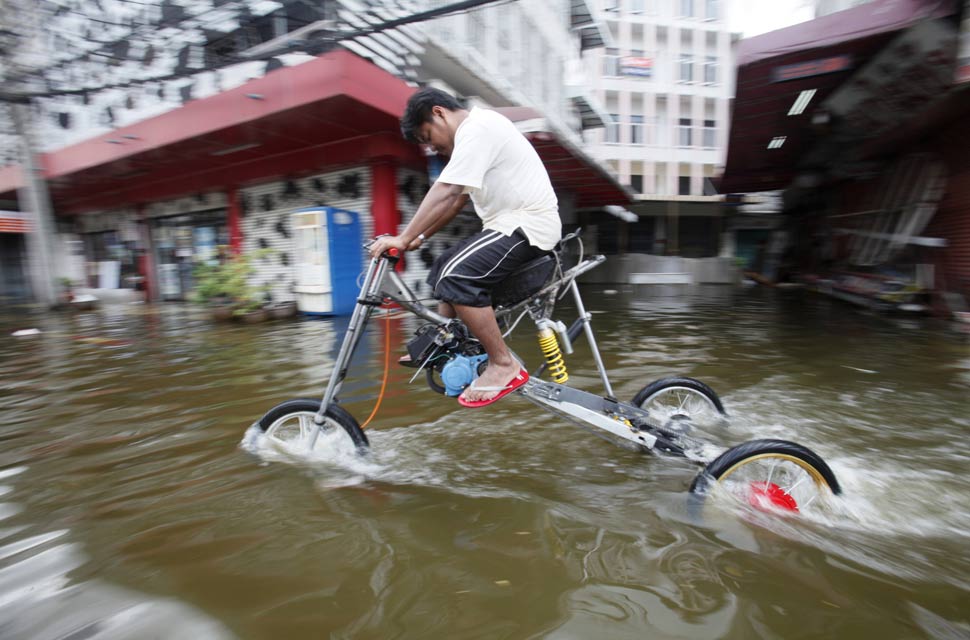 A flood victim cycles through the water using a homemade tall three-wheeler in Bang Phlad district, Bangkok October 30, 2011. Thailand's worst floods in half a century have killed 381 people since July, wiped out a quarter of the main rice crop in the world's biggest rice exporter, forced up global prices of computer hard drives and caused delays in global auto production after destroying industrial estates. (REUTERS/Bazuki Muhammad)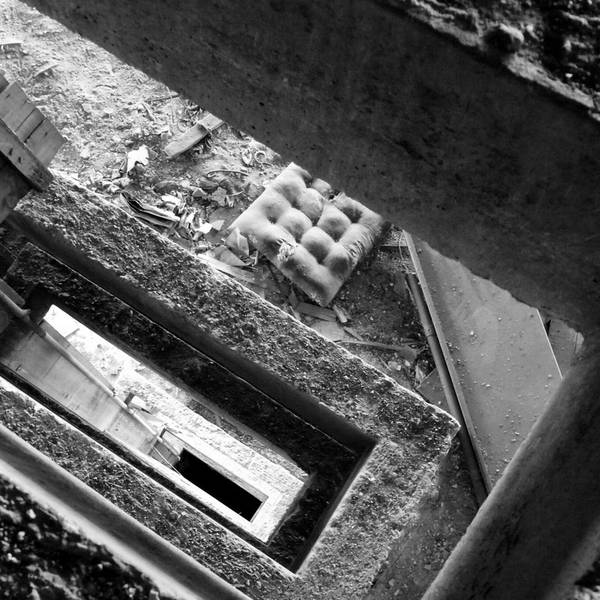 Urban spelunkers visited Sathorn Unique, a half-built, 50-story skyscraper in the middle of Bangkok, and snapped some dramatic black-and-white photos of the waste and ruin within.
Bangkok, Thailand. Just fourteen years ago, the Sathorn Unique skyscraper was being built, destined to become one of the city's fanciest residential addresses. Now, it is an abandoned building. Never completed, it remains as yet another "ghost tower" of Bangkok. A tangle of trees and vines are beginning to take over the lighter parts of this monolith, such as the four story archways and romanesque feature columns. Amazingly, this building is located in the central area of one of the worlds largest cities. These towers were built during the mid nineties, when the Thai economy was booming. In 1997, the Asian Financial Crisis changed all that. Developers stricken with debt were unable to finish many projects. In the case of Sathorn Unique, the main concrete structure made it all the way to the top. The apartment fit-outs had begun in earnest, with wooden floor boards installed and polished. Connected bathtubs, wardrobes, and electrics show just how close this one was to completion. At ground floor, two escalators have been installed, climbing to nowhere in particular, the remnants of protective plastic still clinging onto their stainless steel sides. With an amazing location close to the Chao Praya river that snakes its way through the center of Bangkok, it's easy to see how this abandoned building would have been luxury living at it's finest.
Abandoned Skyscraper - Fifty Level Abandoned Building
(
Thanks, Dr Hank Snaffler!
)
Jacques sez, "Here's something I saw in Bangkok last week that wasn't engulfed in flames. Some Thai Mister Donut restaurants are selling nigiri-shaped donuts. They call it 'sushido.' Each donut nigiri piece sells for 10 baht, which is 32 cents or so."
Sushido (Thanks, Jacques!)