Here's a clip from a forthcoming episode of The Simpsons, "What To Expect When Bart's Expecting." The couch gag is directed by Michal Socha, and is inspired by "Chick," a short film by Socha which you can view here (or below), and purchase on DVD here. Did you know The Simpsons is the longest-running scripted show in television history? Yep.

Read the rest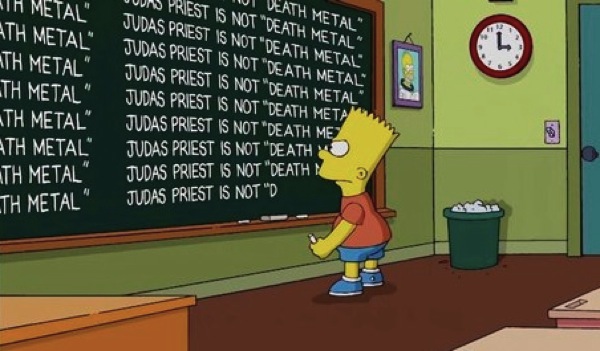 Above, Bart's "apology" on behalf of The Simpsons writers for referring to Judas Priest as "death metal" in a previous episode which infuriated the group's very vocal fans. From The Guardian:
The original slur came in a storyline where Homer starts illegally downloading music, leading to an anti-piracy investigation from the FBI and an escape to immunity in a Swedish consulate. The FBI counter by hiring the "death metal" Judas Priest to blast a piracy-themed rework of their track Breaking the Law, with the words changed to "Respecting the law: copyright law!"
"The Simpsons apologise to Judas Priest for calling them 'death metal'
"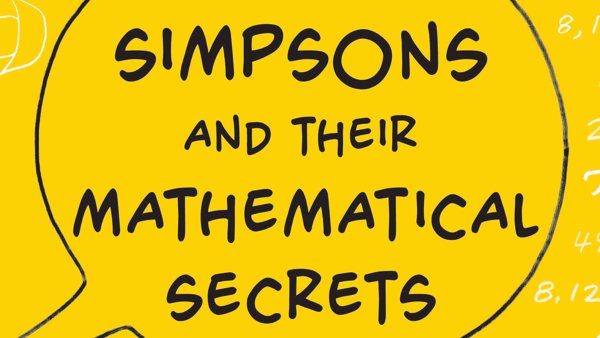 The Simpsons is arguably the most successful television show in history. Inevitably, its global appeal and enduring popularity have prompted academics (who tend to overanalyze everything) to identify the subtext of the series and to ask some profound questions.
Read the rest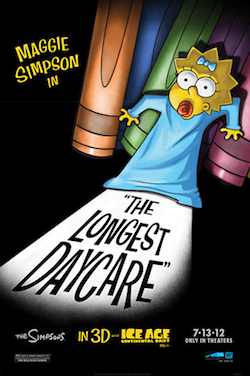 While it's probably a long shot, a four-minute Simpsons short is currently included on the list of ten (narrowed down from 56) animated shorts that are eligible for an Oscar this year. Maggie Simpson in "The Longest Daycare" was shown (in 3D) before Ice Age: Continental Drift this past summer and featured a fierce battle between the youngest Simpson and Baby Gerald. Written by James L. Brooks and Matt Groening, The Longest Daycare's possible nod could be sweet, sweet payback for The Simpsons Movie being shut out for Best Animated Feature back in 2008. But, as I said, it might be a long-shot; other nominees include Disney's Paperman (currently being shown before Wreck-It-Ralph), Minkyu Lee's Adam and Dog, PES' Fresh Guacamole, and Raul Garcia's The Fall of the House of Usher, which is narrated by Sir Christopher Lee. The Wrap has the complete list of the ten final contenders, and the nominees will be announced January 10. (via Splitsider)