Some cities are just high-resolution in ways that defy rational description: possessed of a level of detail and complexity that defines them as that city and that city only, not one of those unroofed shopping-mall no-places that seem to be a metastasized airport terminal.

Read the rest
Kevin Kelly
searches for maximum vibrancy in Tokyo
Read the rest

Liquor Off is a Tokyo store that buys and sells used booze.

Read the rest

Tokyoflash's Kisai Night Vision Wood LED Watch builds on their earlier work with beautiful, carved-wood bracelets, adding a wooden face backed with powerful LEDs whose glow can be seen through the smooth vegetable matter. It's a very futuristic look indeed. The watch charges with USB, and comes in sandal or maple, and it has a preprogrammed LED dance it does twice a day as a little show-offy gesture. They're $150 each.
[soundcloud url="https://api.soundcloud.com/tracks/139569456" params="color=ff5500&auto_play=false&hide_related=false&show_artwork=true" width="100%" height="166" iframe="true" /] Ten years ago, photographer Thomas C. Card read a newspaper article about the extreme makeup and outfits being worn by Japanese club kids. He never forgot about it and in 2012 he returned to Tokyo to photograph people from various fashion subgenres. He published the photos in a very large and beautiful book called Tokyo Adorned, which came out this week. Here's my interview with Thomas.
See more photos from Tokyo Adorned, at Wink, a new website about remarkable books that belong on paper (My wife Carla is the editor and Kevin Kelly and I are contributors)
Here's time-lapse footage from the front of a Tokyo Yurikamome automated train, shot and post-processed by DarwinFish105. It's a properly Gibsonian bit of video:
Darwinfish105's video is shot from the front of the train, and is a time-lapse taken from a moving viewpoint - hence the term "hyperlapse". He's modified the footage somewhat, mirroring the video horizontally to give a surreal, kaleidoscopic effect.>
Hyperlapse video shows off Tokyo's Turikamome railway (Thanks, Rob!)
Culture Japan Network TV shows us the underground bicycle-parking robots of Shinagawa, Tokyo. These machines ingest RFID-tagged bicycles and whisk them into their bowels and set them lovingly into huge subterranean crypts, from which they are robotically disinterred when their owners are ready to ride. Each machine holds 200 bikes. The manufacturer's representative explains that storing bikes underground protects them from "pranks" and frees up surface area for better applications, but inexplicably the area around the robo-ingesters is a blank field of paving bricks of approximately the same area that the bikes would occupy on the surface.

Just look at it.
Shibuya Banana Vending Machine (Thanks, Brent!)
Veteran radio journalist and master storyteller Alex Chadwick (who's also a personal friend—he's taught me so much about journalism over the years) hosts a must-listen radio documentary premiering this weekend on public radio stations throughout the US.
BURN: An Energy Journal is a four-hour, four-part broadcast and digital documentary series exploring "the most pressing energy issues of our times."
Part One of the series, titled "Particles: Nuclear Power After Fukushima," coincides with March 11, the first anniversary of the Fukushima nuclear disaster in Japan. I've listened in entirety, and followed along as the BURN team researched and produced over the past few months, and I can tell you this is truly powerful work. The show also includes PBS Newshour reporter Miles O'Brien, reporting from inside the Fukushima exclusion zone on his recent trip there.
Carve out some time and listen to it on-air, or listen online at this link.
Snip from description:
Included in the riveting premiere episode is an exclusive, first-time-ever interview with an American who was on-site at the Daiichi nuclear plant when the earthquake and tsunami struck. Carl Pillitteri, a maintenance supervisor and one of 40 Americans in Fukushima on that fateful day, describes his terrifying ordeal as he desperately attempted to lead his men to safety through the enormous, shuddering turbine buildings in total darkness.
Below, a
video excerpt from Alex's interview with Pillitteri
.
More about the radio series follows.

Christopher Johnson, a Canadian journalist residing (until recently) in Japan published a ghastly account of his return to Tokyo after a short pre-Christmas trip. He was flagged at the border (he implies that this is related to his coverage of Fukushima), held, threatened, and shaken down for bribes before being detained without counsel or a phone call. He says he was eventually deported, though not before being ordered to sign a falsified confession and being threatened by an official at gunpoint, who demanded that he purchase a hyper-inflated plane ticket, which, Johnson believes, included a kickback for the official.
This time, he came back with a young, stocky guy. He was wearing a blue uniform. "Do you see this gun?" he said in Japanese, turning around to show me a weapon in its holster. "I have the legal authority to use this if you refuse to get on that flight. Now are you going to buy that ticket?"

I was angry now. They are forcing me at gunpoint to buy an overpriced ticket.

The [guards] ushered me out of the room and through the airport. They still had my bag, my passport, my wallet, credit cards, everything. I had no choice. They whisked me through the airport like a criminal. I didn't have to line-up for x-ray machines or immigration. [They] pushed me through VIP lines, ahead of pilots and flight attendants.
Japan's outsourced airport detentions operation is the subject of its own Amnesty International report.
Gulag for gaijin (Thanks, arbitraryaardvark!)
(Image: Immigration, a Creative Commons Attribution Share-Alike (2.0) image from bryansblog's photostream)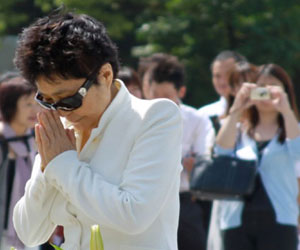 Artist and peace activist Yoko Ono (78), wife of the late John Lennon, was recently honored with the 8th Hiroshima Art Prize, an award for artists whose work has contributed to peace. To commemorate the award, The Hiroshima Museum of Contemporary Art is hosting "The Road of Hope: Yoko Ono 2011," an exhibit honoring the "spirit of Hiroshima that yearns for permanent world peace and prosperity for all humanity." The show is on display through October 16, 2011, and features new works by Yoko Ono inspired by the survival of Hiroshima and Nagasaki, and by the disasters that struck Japan in March, 2011, "with hope for the future."
I spoke to Yoko Ono in Japan a few days after she received the Hiroshima prize. She was in Tokyo to speak about "The Road of Hope" at the MORI art museum. Read the rest