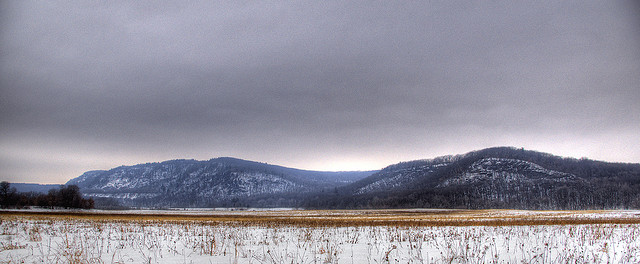 Image: The Baraboo Range, a Creative Commons Attribution Share-Alike (2.0) image from crisp_air's photostream
On Wednesday, I traveled to Madison, Wisconsin, to give a talk based on my book, Before the Lights Go Out. I took the train to get there, traveling south from Minneapolis along the Mississippi River before jumping the border into Wisconsin at the town of La Crosse.
This isn't a region I've spent much time in before, and I was struck by the landscape, which felt exotic and foreign—adjectives that are seldom applied to southeastern Minnesota and southwest Wisconsin. The Mississippi here looks less like a river and more like a series of interconnected lakes dotted with sandbars, narrow peninsulas, and forested islands. Looking across the water, into Wisconsin, a line of strangely shaped tall hills (or maybe small mountains) run along the shore—all severe, sharp angles covered in a fuzzy looking blanket of trees. It almost looks like somebody cut a patch out of Appalachia and dropped it into the middle of the prairie.
This is the Driftless Area, a part of the upper Midwest that combines some wonderfully weird geology with a truly kick-ass name. I did a little research on the region during the rest of my trip and I wanted to share a couple of the cool things that I learned.
First, about that name ...
Read the rest