Gibby Haynes came on Daily Show tonight w/ GWAR on his arm for Dave Brockie. Great segment about 80s punk & NJ. @xeni pic.twitter.com/6e9gfn5Dtf

— tim shey (@moth) March 26, 2014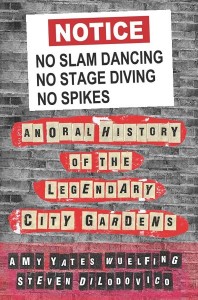 Gibby Haynes, best known as the frontman for the great Texas experimental psychedelic-hardcore band The Butthole Surfers, appeared on The Daily Show With John Stewart last night. Author Yates Wuelfing was on to promote her new book, "No Slam Dancing, No Stage Diving, No Spikes: An Oral History of the Legendary City Gardens." Stewart revealed that he once bartended at the famed NJ punk club. It was "a place you could play between New York and Philadelphia," said Gibby, who wore the word GWAR on his forearm as an homage to the late Dave Brockie.