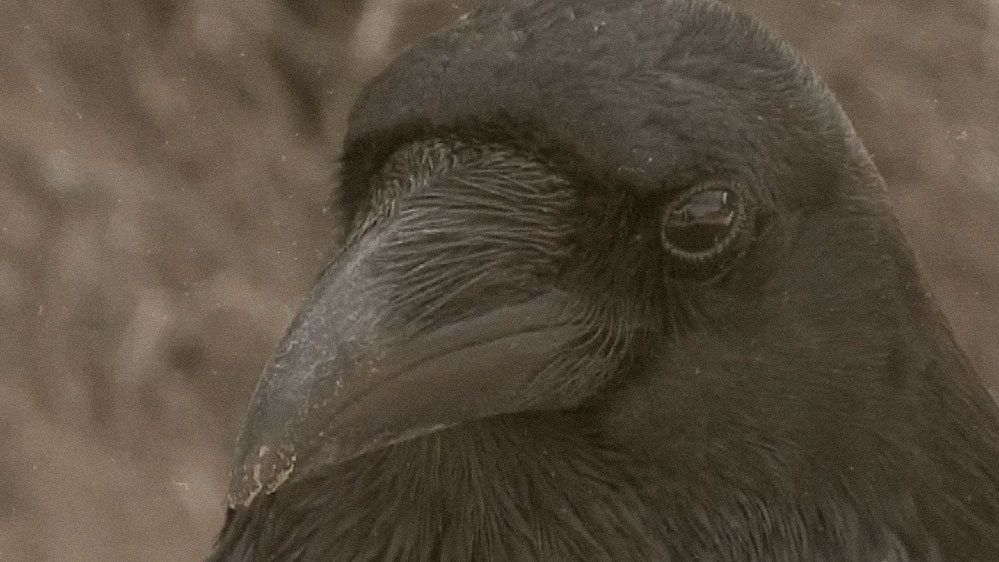 A parody to remind us who'll have our backs during tomorrow's zombie holocaust–if we have theirs today.
Read the rest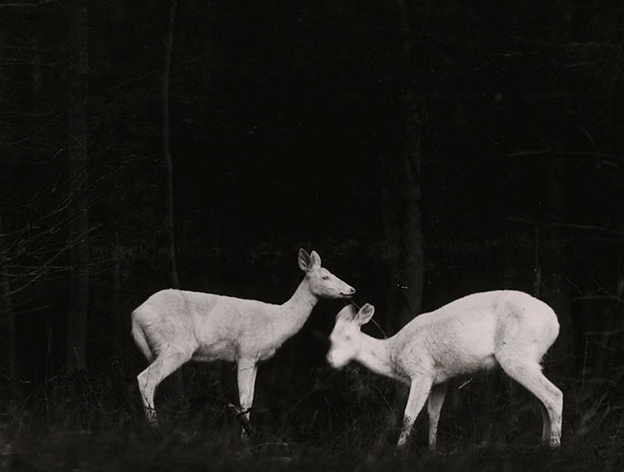 The July 1906 issue of National Geographic featured the magazine's first wildlife photos, night shots by George Shiras III. Two of the National Geographic Society board members were infuriated, arguing that the magazine was becoming a "picture book."

Read the rest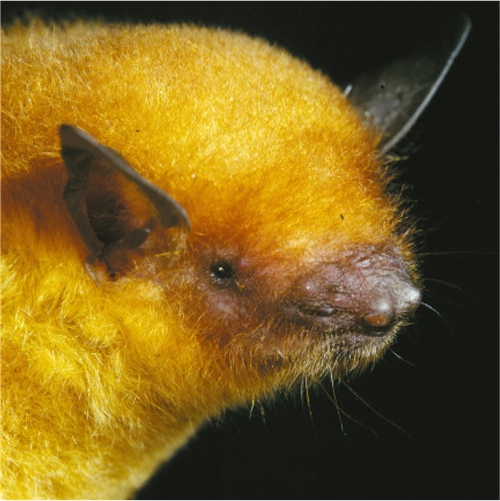 Named after King Midas, the Myotis midastactus golden bat that calls Bolivia's tropical savanna home was recently determined to be its own unusual species.
"Apparently it isn't related to camouflage, because two other species of Myotis that occur in the same area are consistently darker and use similar [daytime] roosts," Oswaldo Crus Foundation wildlife biologist Ricardo Moratelli told National Geographic.
The bat's curious coloring may be a result of its particular insect diet.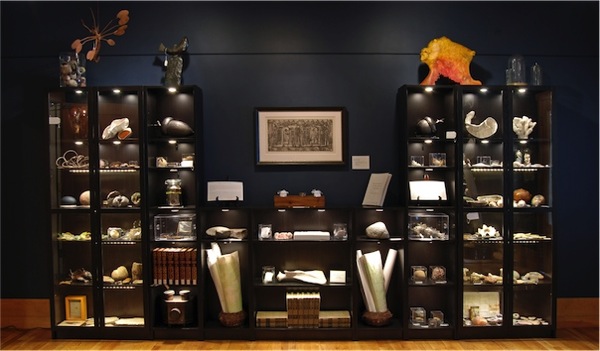 This stunning cabinet of curiosities is on display at the National Museum of Wildlife Art in Jackson Hole, Wyoming. Curated by Bronwyn Minton, the exhibition, titled "Wonder Cabinet: A Collection of Curiosities," consists of more than 300 objects from the museum's permanent collection, borrowed from other wunderkammern, and new work created by artists Minton invited to participate. In true cabinet of curiosities form, real specimens and artifacts from natural history are mixed with gaffes, oddities, and mysteries. The show runs until August 31, 2014. Below is another view of the gallery and a detail photo of BB pal Isabel Rucker's contribution, "Aven-Mus Dentatis."

Read the rest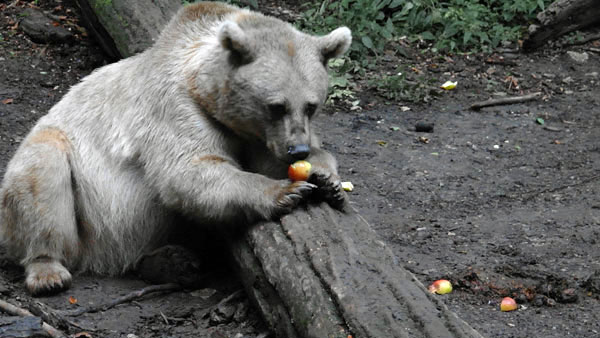 We accidentally train wild bears to snatch our pic-i-nic baskets, and then try to use the same tactics to turn them back toward lives of bark and berries. Recent encounters with humans, writes Maggie Koerth-Baker, show that the forces of psychology are working against us.
Read the rest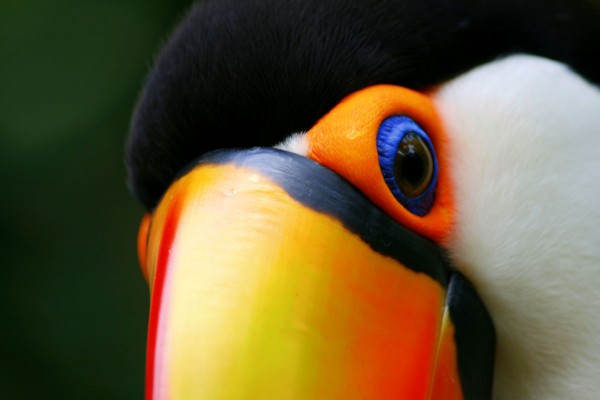 My new ambient-sound-while-working internet radio jam: Brazilian Birds.
(Photo: Toucan eye, a Creative Commons image from doug88888's photostream)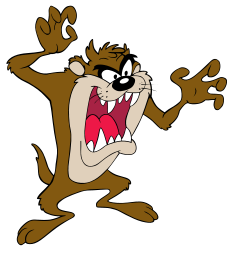 In the last 2 decades, some 85% of wild Tasmanian Devils have been wiped out. The primary cause isn't poachers or habitat destruction, but a bizarre kind of *contagious* cancer. "A recent epidemic disease, known as devil facial tumour disease, has brought an extremely rare, but equally devastating, set of circumstances together to threaten the devil population. Facial tumour disease, unlike every form of cancer known to affect humans, is transferred directly from devil to devil when they bite each other, which is 'something they do a lot during feeding or mating.'"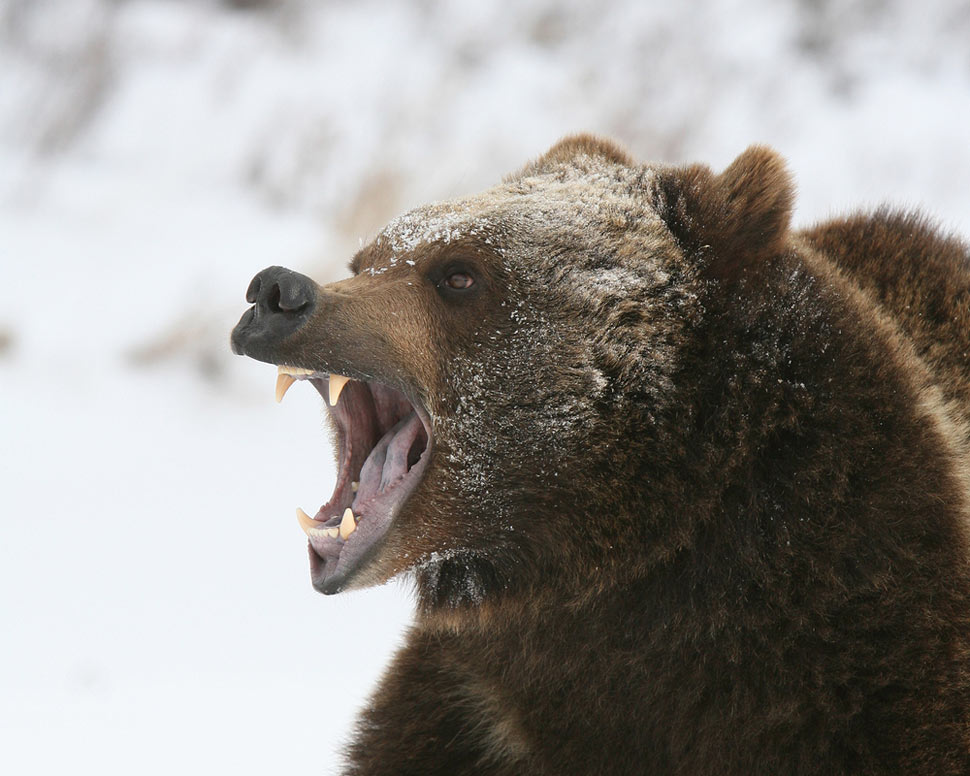 Freelance journalist Jessica Grose has a fascinating "long read" in Slate this week (and I'm not kidding about the long part, 8,000 words!) about Bear True Crimes: wild bears in and around Yellowstone National Park who, for one reason or another, attack humans.
Why does this happen? What's it like for the humans who survive? Who investigates the attacks, all CSI-style with DNA analysis and whatnot, and figures out what to do with the problem bears? Is it right to kill them?
Grose's report begins with the story of a mother bear who attacked campers in late 2011. Snip:
The euthanization of the bear known as "the Wapiti sow" was the culmination of a series of horrifying events that had gripped Yellowstone for months, and alarmed rangers, visitors, and the conservation biologists tasked with keeping grizzly bears safe. In separate incidents in July and August, grizzlies had killed hikers in Yellowstone, prompting a months-long investigation replete with crime scene reconstructions and DNA analysis, and a furious race to capture the prime suspect. The execution of the Wapiti sow opens a window on a special criminal justice system designed to protect endangered bears and the humans who share their land. It also demonstrates the difficulty of judging animals for crimes against us. The government bear biologists who enforce grizzly law and order grapple with the impossibility of the task every day. In the most painful cases, the people who protect these sublime, endangered animals must also put them to death.
Read Grose's "A Death in Yellowstone: On the trail of a killer grizzly bear," then read her interview with a woman who was attacked by a grizzly and lived to tell the tale. There's an interview with Grose about the reporting project at The Awl.
When I traveled to this area with Miles O'Brien for a PBS NewsHour piece about wolves last year (watch the video!), we visited the very room where some elements of the Wapiti Sow case would be managed just months later. It's the Office of Bear Management.
(Photo: "Growling Grizzly Bear with Snow," by Dennis Donohue, via Shutterstock)
Everything about this video news report by Eric Seals of the Detroit Free-Press is awesome.
Edna Geisler, 69, of Commerce Township has been stalked for two months by an aggressive male wild turkey (a "tom") who "lurks in her front yard, screeching at her constantly, even jumping out occasionally and attacking her when she dares wander outside alone."
His name: Godzilla.
"I'm afraid to go out of my house," said Geisler. "I have to go to the post office at 6 o'clock in the morning to avoid him."
[Video Link] National Geographic wildlife photographer Mattias Klum tells a funny story about the day a lioness got a little too close.
He was lying on the ground near her in an effort to get a good shot.
"I like the perspective, it's like, in her realm," Klum recalls, "I'm not in a platform, or in a jeep, I'm there with her. And it felt really good. Until she started walking towards me."
Filmed at a recent National Geographic event. You can buy Klum's photos here, and follow him on Twitter here.
(thanks, Marilyn Terrell)