Jonathan Zittrain writes, "Ad hoc mesh networking has been developed to enable free and censorship-resistant communications in places like Egypt and Syria. (The New America Foundation's Commotion project is an example of that kind of network.) Less explored has been this kind of networking for public safety purposes, such during attacks or natural disasters. In this article, former FCC Chairman Julius Genachowski and I explain why it'd be a good idea to develop these kinds of networks, and sketch out how they might work."
Former FCC Chairman: Let's Test an Emergency Ad Hoc Network in Boston
In the NYT
, a story about "endangered satellites" that orbit the earth and provide essential data for tracking storms like Hurricane Sandy. But because of "years of mismanagement, lack of financing and delays in launching replacements," they could begin falling apart—with no functional plan in sight to maintain those resources.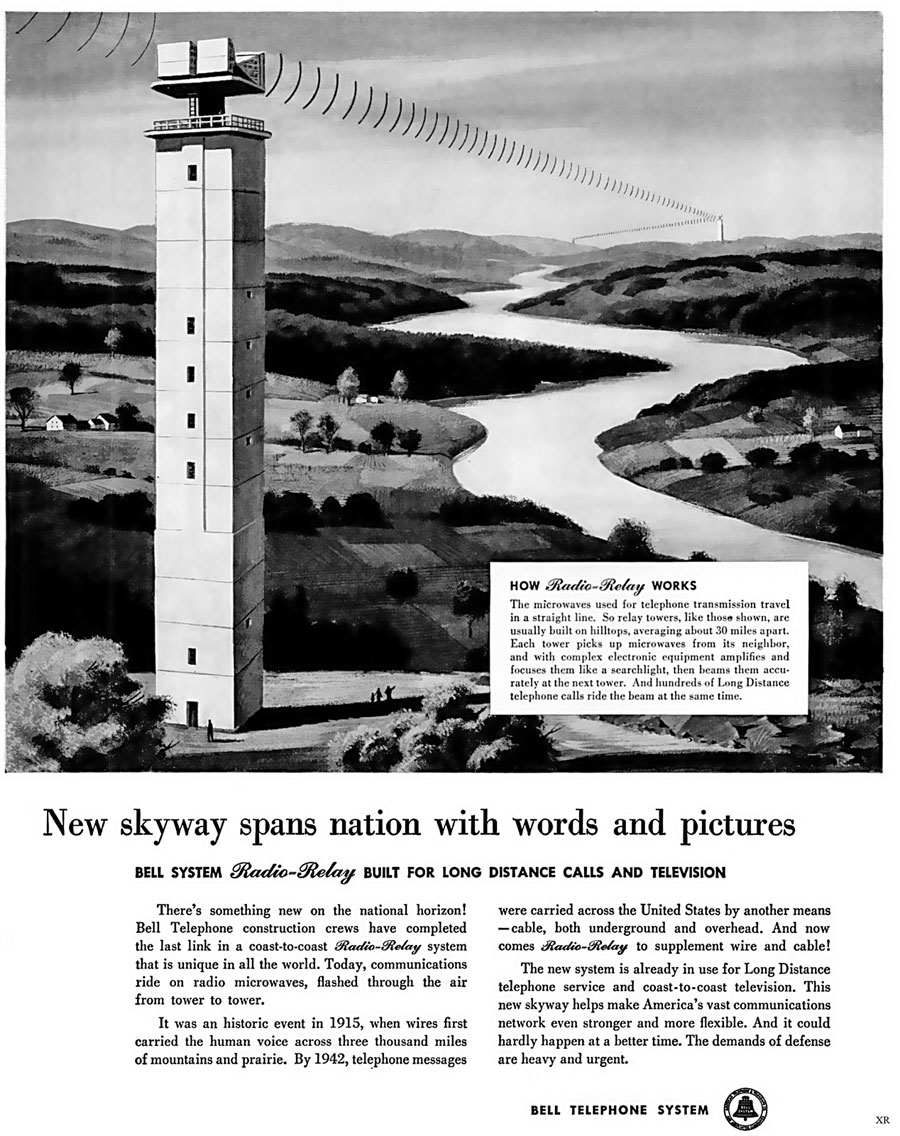 "The demands of defense are heavy and urgent." A Bell Telephone ad from 1951, lovingly scanned and posted to the Vintage Advertising Pool on Flickr by James Vaughan, whose collection of vintage ads is astonishingly awesome.
The Verge reports
that US-based airline JetBlue will "roll out high-speed wireless networking in the first quarter of 2013," and that the service will be free for passengers. Instead of
GoGo
, "which Jetblue derides as slow and unsatisfactory," the airline will use supplier
ViaSat
.
The Doctor [412/724/301/703] [ZS] sez, "Project Byzantium is a working group of the HacDC hackerspace, and is a live distribution of Linux for easily and rapidly deploying ad-hoc wireless mesh networks for the purpose of emergency communications. They presented last weekend in New York City at HOPE Number Nine and announced their second major release (v0.2a) on stage. They also gave away 500 copies on CD-ROM at the conference. They held workshops all weekend on how to use and test Byzantium Linux, and now they've released the .iso image of this release to the Internet. (Thanks, The Doctor [412/724/301/703]!)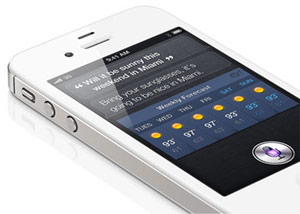 Virgin Mobile USA, which operates as a sort of sub-brand of Sprint in the United States, today announced plans to begin selling the iPhone on June 29 with pre-paid, no-contract voice and data service starting at $30 per month.
The no-strings-attached connectivity comes at a higher hardware price: iPhone 4S at 16GB is $649, and the iPhone 4 at 8GB is $549. Plans include "Unlimited" texting and data (well, unlimited up to 2.5GB).

[Video Link] The FreedomSleeve is an iPhone sleeve that connects a 3G iPhone to a "free" 4G network. It can be used as a wifi hotspot, and has a built-in battery to extend the iPhone's internal battery an additional 6 hours. It cost $99 and you get "up to 1GB of free data every month." According to GigaOM, each additional megabyte will cost a penny. Service is expected to start this summer. I hope the service is international. Freedom Pop iPhone Sleeve
Mathias Nitzsche had a nifty idea: using Wi-Fi network names to create a connection between the network's owner and those who spot it in their wireless networks list. His aptly named wifis.org site lets you pick a handle and advertise it through your network name, as in wifis.org/glennocschmidt. This creates an account for you on the site, and makes a Web form available at that address that sends email to your Google or Facebook email, whichever you used to create the registration. The visitor never sees your email address. (Nitzsche avoids having his own registration database, which removes some overhead and security risk associated with retaining passwords.)
I contacted Mathias to ask about privacy and security issues, as one might be concerned about email addresses being stored and the association of a Wi-Fi network name with such. He said (and his FAQ notes) that he doesn't reveal information to third parties. While he's based in Germany, his data and application is hosted in the Google App Engine in the United States.
I'd love to see a variant on this idea, in which an existing network name could be paired with a unique few letter long code that someone would then append to their network. Look up the code, and you'd get the same result. I admit Nitzsche's idea is neater, encoding the URL and the identifier all at once.
This is probably a good time to also mention WTFWiFi.com, the site that is to network names what Damn You, Auto Correct! is to rewritten text messages.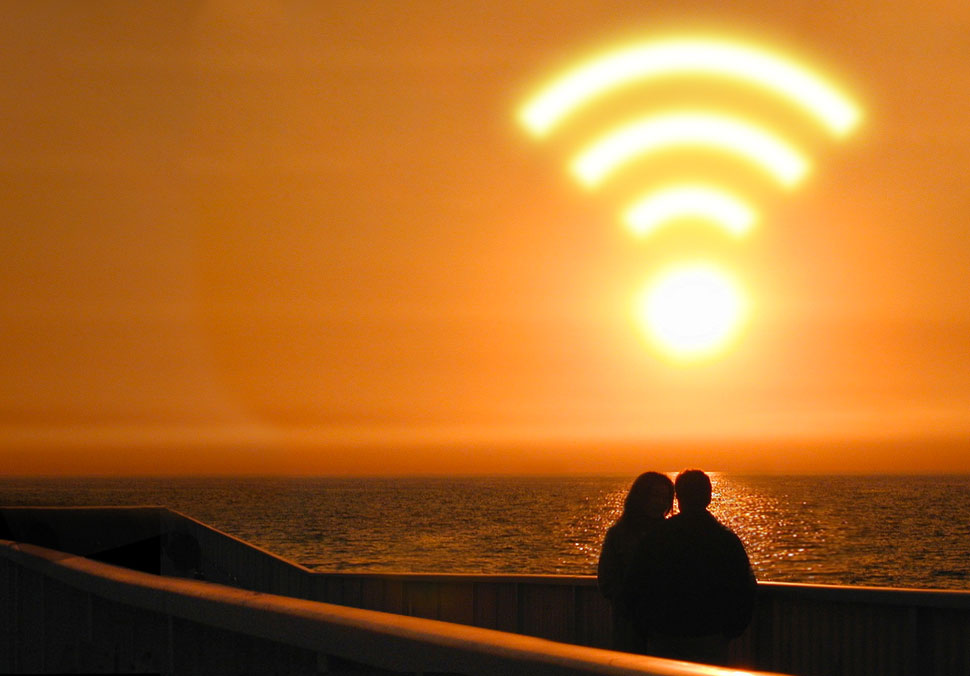 Photo: Rajeev Nair / Ill. Rob Beschizza.
Should we pity a once-popular blog when its time in the sun has come and gone? Not so much. I'm watching the sunset of a moderately high-traffic site I've run for a decade, and that seems the natural course of events. Like the hecatomb of evolution, many blogs rose and then were slaughtered in the crucible of viewer attention (and blogger interest). Those that survive are fitter—or at least live in areas with abundant page views.
A recent glance at my statistics put me in a funk, briefly, until I dashed through Kübler-Ross's five stages of grief, adapted for the fast-paced online age. Denial: The stats must be broken! Anger: This is an awesome site; everyone must be blind! Bargaining: Maybe if I do a redesign? Depression: All that effort, for naught. Acceptance: Hey, what's going on at Reddit?