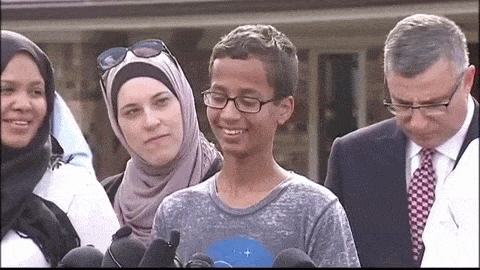 Ahmed Mohamed was repeatedly denied access to counsel and to his parents, a direct and glaring violation of Texas Family Code section 52.025, which states "A child may not be left unattended in a juvenile processing office and is entitled to be accompanied by the child's parent, guardian, or other custodian or by the child's attorney."
Also: every cop show in the history of America has made it clear to even the thickest planks that you get to have a lawyer present during questioning. This apparently escaped the notice of Irving's finest, though.
The Texas ACLU is all over this, and points out that MacArthur High principal Daniel Cummings's attempt to get Mohamed to sign a confession could have given the police the tools to arrest him on terrorism charges and secure a conviction.
Irving Police Chief Larry Boyd said he did "not have answers to [that] specific question" when reporters asked him Wednesday why Mohamed was not allowed to speak to his parents.

The executive director of the Texas chapter of the American Civil Liberties Union said that answer is not good enough.

"Once they're being questioned, they have a right to refuse answering," Terri Burke told The Daily Beast. "And, unless it's something like a traffic violation, [police] immediately need to release the child to their parents."

At the very least, Mohamed should have been able to speak with his parents.

"If a child seeks to have a short conference with his parents, [the police] cannot deny them that. He has a right to talk to them. Kids don't lose their rights because they're kids or because they live in Texas."

Police Violated Ahmed Mohamed's Civil Rights by Keeping Away His Parents [Ben Collins]
(via Reddit)