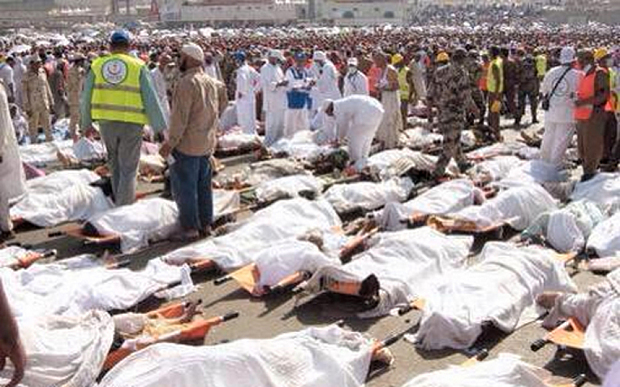 Photo: Reuters
Hundreds of people taking part in the pilgrimage to Mecca are dead after a stampede in nearby Mina, according to reports from Saudi Arabia.
The death toll stands at 717, with 863 more injured, say the BBC and Al Jazeera. A BBC editor at the scene, Bashir Sa'ad Abdullahi, said that "dead bodies stretch as far as my eyes can see."
The Saudi civil defence directorate said the stampede occurred at around 09:00 local time (06:00 GMT) as pilgrims were walking towards the five-storey structure which surrounds the pillars, known as the Jamarat Bridge. Maj Gen Mansour al-Turki, a spokesman for the Saudi interior ministry, said the crush occurred when two large groups of pilgrims converged from different directions on to one street.
The disaster is the worst since 1990s, when 1,426 were killed in a similar event in a tunnel linking Mecca and Mina. It comes only two weeks after a crane collapsed into Mecca's Grand Mosque during a storm, killing 111 pilgrims and injuring hundreds more.
Many disturbing videos from the scene of the stampede are being posted online, such as this one, depicting countless bodies left in the streets.
The New York Times reports that the Saudi government's recurring failure to protect pilgrims is becoming embarrassing and costly.
But the high death toll is likely to embarrass the Saudi government, which considers itself the leader of the Muslim world and takes great pride in hosting the millions of pilgrims who visit the holy cities of Mecca and Medina each year. One of the titles of the Saudi monarch is "custodian of the two holy mosques," referring to his personal duty to protect the sites and the pilgrims. … Even before Thursday's stampede, this year's pilgrimage season had been marred by mishaps. Last Thursday, about 1,000 pilgrims from Asia had to leave their hotel because of a fire, which injured two Indonesians. This week, about 1,500 pilgrims were evacuated from a 15-story hotel in Mecca when a fire broke out on the 11th floor. Four pilgrims from Yemen were hurt.