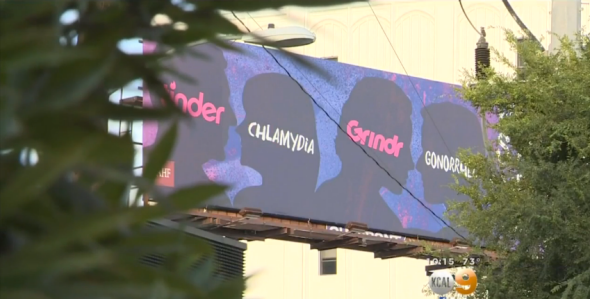 AIDS Healthcare Foundation billboard in West Hollywood
Tinder is not happy about an LA billboard campaign urging users of popular dating and hookup apps to get tested for sexually transmitted diseases, for free.
In a provocative LA area billboard campaign, The AIDS Healthcare Foundation takes aim at apps like Tinder and Grindr, and implies that people who use those services to connect with sexual partners are at a higher risk for diseases like chlamydia and gonorrhea.
A KCAL9 LA TV reporter reported that one of the billboards was put up just a few blocks from Tinder's Beverly Boulevard headquarters.
Tinder sent a cease and desist letter to the AHF, demanding the billboards be taken down and arguing that they "falsely" associate the app "with the contraction of venereal diseases."
In the lawyergram, Tinder attorney Jonathan D. Reichman says the AHF billboard's "accusations are made to irreparably harm Tinder's reputation in an attempt to encourage others to take an HIV test offered by your organization."
Reichman says the campaign's "statements" are not based in science, and would not hold up to "critical analysis."
Tinder "strongly supports such testing," he adds, accusing AHF of false advertising, disparagement, libel and interference with Tinder's business. And them's lawsuitin' words.
The AHF sent out a press release today that links to various studies and an article in Vanity Fair to bolster their dubious claim of "rising STD rates found among users of popular dating or "hookup" mobile phone apps."
In their announcement, the AHF also detailed the responses by Tinder and Grinder:
Within two hours of the billboard posting in Los Angeles (the only market where the boards are currently posted), Grindr, another of the apps highlighted in the campaign, cut off AHF's paid advertising for its free STD testing services on the site. Within 24 hours, Tinder issued its cease and desist letter, claiming AHF's public service ad, "…is responsible for…falsely associating Tinder with the contraction of venereal disease."