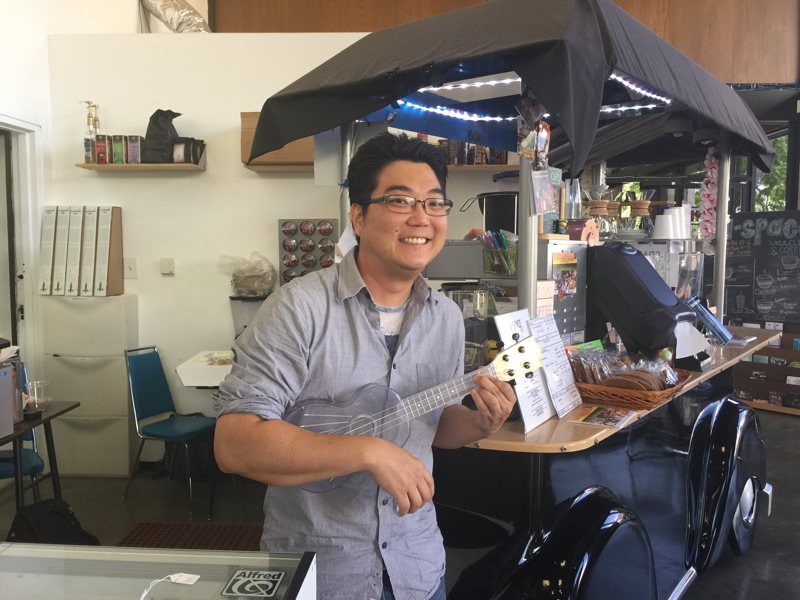 I'm not as much of an ukulele fanatic as I once was, but when my daughter and I were in Little Tokyo on Saturday and came across U-Space, a store that sells ukuleles and espresso, I had to check it out.
The store has a large wall of ukuleles in all the sizes, from the itty bitty sopranos all the way up to the baritones (which are typically tuned like the four high strings on a guitar). U-Space has tables and comfy couches for drinking coffee and listening to ukulele music. There's also a counter with a couple of inexpensive ukes and instructions with simple chords so that everyone who comes in can have fun playing.
The proprietor, Jason Arimoto, is a very friendly guy. We had a nice chat and I asked him if I could take his photo. He was happy to oblige. He was holding a newly-released clear plastic ukulele, which cost $50 and sounds great. The non-clear plastic ukes sell for $40. These plastic models would make excellent starter ukes. Jason said they are modeled after the plastic ukulele that Arthur Godfrey pitched on TV in the 1950s, selling millions and millions of them. I was very tempted to buy the clear one, but I have enough ukuleles at home that don't get played as it is. Instead, I ordered an espresso, and Jason pulled a perfect double shot for me.
Check out the U-Space website. Besides selling ukes and coffee, they also have performances and teach ukulele lessons there. The address is 244 South San Pedro Street, Los Angeles 90012. Phone: (323) 577-5567