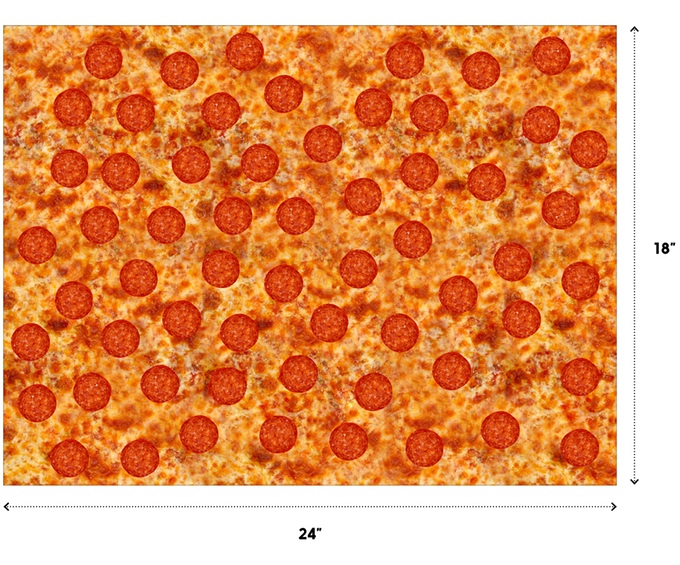 Two design students are hoping to raise $4900 to fund production on archival/acid-free/recycled post-consumer wrapping paper emblazoned with delicious pizza toppings. They bundle the paper with matching pizza boxes to hold your gifts.
$20 gets you two boxes, two sheets of paper and two gift labels. The project creators previously kickstarted hamburger and steak versions of the wrapping paper and delivered them, which bodes well for this one.
Hello! Sarah and Justin here, owners and operators of Gift Couture–a small start-up wrapping paper company based out of New York City. Since 2011, we've been creating unique, high-quality, coordinated wrapping paper sets that we design and print here in the USA. So far, with the help of our previous Kickstarter backers, we have be able to launch two sets of wrapping paper–the cheeseburger and steak sets. Now, in our third campaign, we're excited to launch our newest creation, right in time for the holidays–the pizza set!

Everyone knows the best pizza in the world is made in New York City, and ours is no exception. We have a local printer lined up, which will allow us to be hands-on in the printing process, throughout all phases of pre-production, proofing, production, and fulfillment. Not only will be we be able to ensure that this pizza paper is made to perfection, having a NYC based printer will allow us to cut down on transportation costs, and expedite the fulfillment process, making sure that all of our backers are able to wrap their gifts in pizza paper this holiday season!
Gift Couture Pizza Wrapping Paper
[Sarah Fay & Justin Colt/Kickstarter]