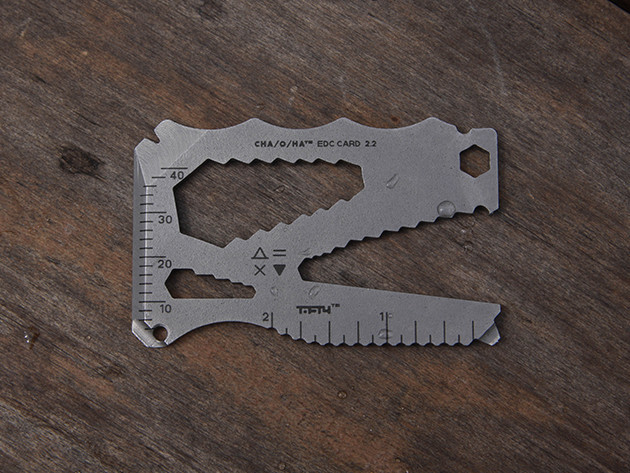 Carrying this EDC card is like slinging around a handheld toolbox wherever you go. Its minimal design is small enough to fit in your wallet's billfold, and it's TSA-compliant so you'll never leave it behind. It's got hex wrenches, metric and imperial rulers, flathead and Phillip's screwdrivers, and a bottle opener so that you're ready when your car blows a fuse, your bike can't seem to stay in gear, or you just need to pop a brew. In any case, you'll always be prepared. Boy Scout's honor.
30 tools, like closed & open hex drivers, screwdrivers, a bottle opener, a lanyard, a pry bar & rulers to help you out in a pinch
2.84mm thickness easily fits in nearly any wallet

TSA

-compliant design sends you smoothly through airport security
Military-grade S35VN stainless steel blade is corrosion-resistant & incredibly durable
Unique torque position gets into tough hex fixtures
Finger & thumb grips maximize ergonomics
O-ring system for unique tasks using hex bit shanks
Blade designed for edge retention
Get your very own Everyday Carry Card for 35% off in the Boing Boing Store.