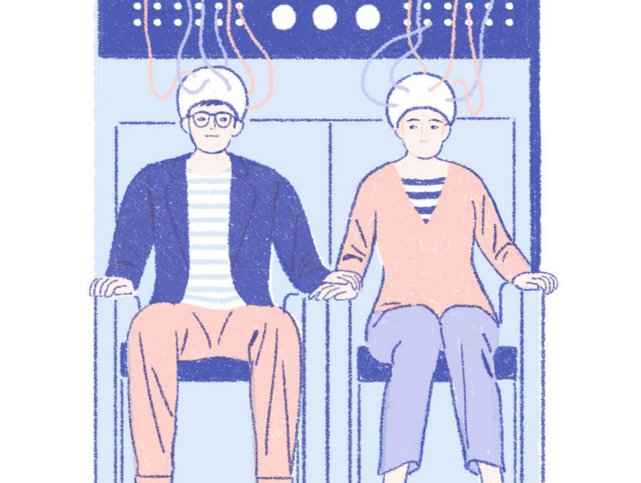 John and Julie Gottman are a husband and wife psychologist team who run a hugely successful couples therapy practice that encompasses books, seminars, research, and one-on-one sessions. In a massive, engaging essay, Eve Fairbanks describes how their love inspired their work, and what she learned when she followed their teaching.
John Fairbanks wrote the hugely successful 2000 book The Seven Principles for Making Marriage Work: A Practical Guide from the Country's Foremost Relationship Expert, and the pair have written a forthcoming guide for men who want to understand women, based on the research in their "love lab," that appears to be an opposite-world version of Pickup Artist lore.
The Fairbanks's work focuses on how to lay down the romantic, empathic scaffolding from which to hang successful resolutions to conflict -- focusing on the idea that love is easy when it works, but falls apart when it fails, unless you've done some of the hard work in advance. They advocate cultivating "habits of mind" that convey respect, attention and love, and to create a shared vocabulary for understanding when conflicts are spiraling out of control, letting both parties suspend hostilities rather than exacerbating them.
It's a really inspiring read, if short on specifics -- I imagine you have to read the books if you want to get enough detail to actually put it into practice.
In the beginning, John was hesitant to embrace some of the ideas about love that Julie had picked up from her decades of practice as a therapist. "I thought, if there wasn't solid evidence, we wouldn't put it into the theory," he recalled. Always formula-driven, he imagined the Gottman Method would comprise a rigid set of 14 well-structured sessions. Julie wanted a looser set of guidelines. "I was tearing my hair out because I had worked with people for 20, 25 years, and I knew that there's huge variation in how people react to therapy," she said. She threw John a teasing smile. "He had to learn how to respect my knowledge. Finally."

They imagined that a happy relationship was built consecutively in seven layers. The foundation was a strong friendship, based on John's laboratory findings that couples who spoke more fluidly and in more detail about each other and their pasts were more likely to stay together. Then came sharing admiration, "turning towards" each others' bids and developing positive feelings about the coupling. Once that had all clicked into place, a pair could proceed through learning to manage their fights with, among other techniques, a process they dubbed "dreams within conflict," whereby people try to see the positive dream inside what looks like a partner's negative position. At the top–the pinnacle of a great relationship–came helping each others' dreams come true and building a shared sense of purpose, like volunteering or traveling the world.

The "dreams with conflict" technique was inspired by the Gottmans' own marital strife. One fight involved Julie's wish, for her 50th birthday, to climb above Mount Everest's base camp with 10 female friends. "John gets altitude sick on a ladder," Julie said. He didn't want her to go. In bed at night, he'd pepper her with questions: "What if you get caught in a blizzard? What if you fall in a glacier? What if you get altitude sick?"

LOVE
IN THE AGE OF BIG DATA [Eve Fairbanks/Huffington Post]
(via Metafilter)